Every web or mobile application needs an admin page. And every great web or mobile application needs a great admin page. Yet, you don't need to be a pro to built a great one. All you need is a simple, functional, efficient and versatile template that will inspire and aid professional developers and website owners in creating and developing stunning dashboards and control panels with ease. Based on the Bootstrap framework which is great for mobile-biased web pages as well as desktop landing pages, it's a rock solid foundation in building a great online empire.
Get inspired by this collection of the best Bootstrap admin templates with cool and sleek designs for your admin pages. Loaded with terrific features in a simple and user friendly package, these admin page templates are sure to get you going. It comes in a variety of colors and schemes from cool and dark  to a more gay and colorful look and everything in between. With a wide variety of themes to choose from, you are sure to find one that will fit your web and mobile apps' needs. And with a wide user demographics in mind, these templates are built from the ground up with the impressive Bootstrap platform.
Magilla
First on the list is Magilla, an ultimate multipurpose admin dashboard template based on 3.3.7 CSS SASS framework. It is a responsive HTML theme makes use of all its Bootstrap components so it can serve as a powerful user interface for backend applications. The theme is built with a modular design letting you to build and customize your admin page easily.
This WebApp template includes tons of features such as dark and light demos that you can choose from, a toggle sidebar menu that can be scrollable or fixed, a responsive layout, special mobile menu, live social feeds, working apps, various color schemes, a huge set of UI elements and icons, many chart options, table examples, form elements with validation and more.
MaterialPro
Next is Material Pro. A premium web app UI kit and a fully responsive HTML theme based on the CSS Bootstrap 4 framework. It is characterized by a clean design and simple layout to highlight the information and content more. With lots of features included in the theme, this template is a great way to build a stunning user interface for your web and mobile apps.
Among its many attributes are 6 different dashboard variations and demos including an RTL version, different applications and tons of UI elements, light and dark color and sidebar schemes, various pages and Font Icons, many chart options, table examples and validation forms; along with a Megamenu, Lightbox, Summernote, and Range Slider among others.
Lumino Pro
Lumino Pro is a Bootstrap admin template that comes with a dark and semi-transparent design with high-quality blurred backgrounds which creates a stunning visual appeal to your admin and dashboard pages. Aside from 10 definitive color backgrounds available for you to choose and use, it also includes everything you need to run a backend administration panel.
This fully responsive HTML5 template offers various powerful features like the dashboard overview page, different custom widgets, responsive charts, advanced data tables, a sample login page, forms, and a load of diverse UI elements. All of these features are highly customizable and extremely flexible to let you create a beautiful dashboard for your apps.
MonsterAdmin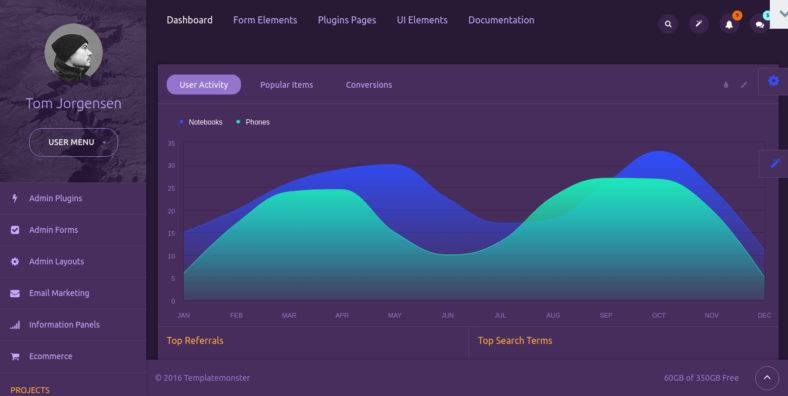 Another colorful admin dashboard theme is Monster Admin. This dark and elegant website template is built upon an HTML and jQuery UI kit that comes with top-notch plugins which help you customize widgets and other elements on your site. Built with Bootstrap 3, this theme also features ultra responsive layouts with clean, valid, and well-structures HTML5/CSS codes.
With professionally thought-out designs, the theme is tailored to cater various types of real-life projects along with a huge library of features and options. Among these are the integrated admin forms that include dozens of custom form elements and widgets as well as different types of menu layouts and multiple pages with an on and off variables for flexibility.
Sing App
This brand new admin dashboard template is designed with a perfectly stylish layout and a number of ready-to-use features. Sing App is created with an intuitive programming framework which includes seven versions; namely basic Bootstrap 3, Bootstrap 4, Angular 4.0, Angular 1.0 plus Angular 1.0 seed, Angular 4.0 seed, and ReactJS seed.
Built with the industry's latest web design trends, best practices, and trusted approaches; the theme includes features that help boost the speed, quality, and maintenance of your web and mobile applications. It also simplifies the development process of your web projects with a large set of built-in components, plugins, and other dynamic features.
Kuta Admin
A simple but bold admin template, Kuta Admin is a simplified and advanced version which comes with bright colors, striking icons, and a unique design. Compatible with Bootstrap 3.o, this theme comes with tons of robust features that will help you build a functional and utilitarian backend user interface for both of your mobile and web applications.
This theme is attributed by several custom panels that you can customize according to your preference and needs, various charts to choose from, a range slider, and date picker along with a custom file input, custom check box, and custom sleet. It also features alternative colors and styles with hundreds of font icons and typography that you can use.
Quantum Able
Quantum Able, on the other hand, is a simple and clean responsive admin template made from Bootstrap 4 framework. It consists of many components and modules that are very useful for all types of projects, from basic to complex ones. The theme also offers great solutions to your back-end interface requirements, boasting of flexibility and versatility.
Its many features include 4 dynamic dashboards, over 11 menu style, 5 built-in color schemes, 50+ loaders, 80+ charts, 10+ data tables, 10+ CMS pages, 10+ email templates, a landing page, some eCommerce pages, and a social timeline among others. The theme also comes with 240+ pages, 500+form elements as well ass hundreds and thousands of icons and widgets.
Homer
This clean and minimal website theme for admin pages is created for small to medium and large mobile and web apps. Homer is a dashboard template that comes in four versions: HTML/jQuery, AngularJs, ASP.NET MVC5, and Meteor. It is a fully responsive and a premium website template built with the Bootstrap 3.3 framework.
The theme's main features include reusable UI components and latest jQuery plugins. Other features are a flat UI with a clean aesthetic style, responsive layout, fluid view, a special light shadow skin, loading buttons, C3 chats, clock picker, invoice page, extended forms, code editor, a landing page as well as login, register, and error pages, and so much more.
Orion
On the contrary, Orion presents a dark website template for sci-fi inspired dashboards and admin pages. A modern and creative theme, it includes 70+ widgets, charts, graphics, tables, and more; which are all vector-based, therefore, customizable. They are well-organized and structured over a neat and elegant dark background which exudes professionalism.
This PSD template comes with properly-named layers to give you more flexibility and ease in modifying your theme to suit your taste. Its pixel perfect vector shapes and collection of gorgeous free fonts also help you create a visually appealing admin page. Perfect for any modern and state-of-the art web applications and mobile apps.
Mercy
Next is Mercy, a clean and simple admin dashboard theme built with the Bootstrap framework. This responsive HTML5 website is packed with a library of user interface elements taht help you create a standardized backend tool for your web and mobile apps. They are well organized an structured properly to make the theme easy to use and customize.
Coded with HTML5 and CSS3, the theme boasts of powerful features such as a beautiful flat UI design, various form components, different types of charts namely, Flot Charts, Morris Chart, and Chartjs; a full W3C valid code, and major browser compatibility. It also includes an impressive set of plugins like Font Awesome, Google Web Fonts, Bootstrap Colorpicker, etc.
Luna
Luna is another dark-themed admin dashboard theme but with a bright yellow color motif to make this template more exciting. Built with the latest Bootsrap 3+ framewok, HTML5 and CSS as well as Media query, this theme can be used for monitoring or managing administrative web applications, project management systems, and other backend custom projects.
This special admin panel theme comes with a full dark user interface with specially designed views for monitoring web apps. It also provides all basic and additional advanced components like tables, charts, lists, forms, and other user interface elements to build modern web apps. The theme package also includes four versions: Static, Meteor, Angular JS, and HTML/CSS.
Best Admin
This top Material Design admin theme is built upon the Bootstrap 3x framework with CSS support. Inspired by Google's Material Design, Best Admin is a Bootstrap dashboard template that provides a clean and beautiful user interface design over a fully responsive layout that is compatible with all desktop and mobile devices of different screen sizes.
The theme comes with multiple layouts and various color options to give your web apps the look that you want. It also has four navigation layouts with wide and boxed versions, Material Design stats and widgets, CSS animations, and more than 50 plugins for graphs, forms, and other UI elements. As it names implies, it's one of the best admin themes to consider.
Casperoboard
A bright and brilliant website template, Casperoboard is an HTML dashboard theme that carries lots of useful features such as its grid system, set of CSS components and additional HTML elements. Mobile optimized and multi-device ready with its flat design and fully responsive layout, websmasters and web owners alike enjoy working with this theme.
Built using the Bootstrap framework, this template comes with plenty of user interface kits whihc help you set up your desired admin web page seamlessly. Along with various personal and blog pages, thousand of free icons, CSS animations, colored buttons and check boxes, and more; this theme lets you create an admin page with an engaging design and rich functionality.
Dboot
Dboot is an awesome-looking Bootstrap and AngularJS website template that is HTML5, CSS3, and jQuery powered with Material Design elements. It has a flat design and responsive layout that is perfect for any modern and trendy web app admin panel and dashboard pages. It is built on Less and comes with all Bootstrap UI Kits and components.
Among its key features are its unlimited color schemes, editable data tables, thousands of icons, different chart plugins and map plugins with markers and routes, hierarchal menu with a unique timeline, masonry and rotated galleries, advanced notifications, form wizards and validations, beautiful form layouts, stylish pricing tables, a handful of animations, and so much more.
Meter
Another modern and professional admin dashboard template is Meter. This Bootstrap-based theme is carefully designed to give its users an amazing user experience. With a well-structured design and layout, this theme can be used for all types of web applications, such as project management systems, CMS and CRM for personal and business websites or web apps.
Built with HTML5 and CSS3, its robust features include a clean flat UI design, form components, Flot charts, Morris charts, and Chartjs as well as a fully responsive and cross-browser compatible layout. It includes a large library of elements with a wide variety of options which boosts this theme's customizability and functionality.
Nifty
This nifty and stylish template for admin pages is built with Less CSS based on the Bootstrap 3 framework, making Nifty easy to manage with lots of useful elements, variables, mixins, and more. With a clean code that is very to follow, this template is quite a recommendation for all types of users, from professional webmasters to amateur website owners.
An HTML theme, it does not put a limit on the number of plugins or features you want to use. You will be able to build a frontend platform with its rich UI components. It should also be noted that this theme is fully responsive and mobile-ready, therefore, you are rest assured that your admin page looks good and is equally functional no matter what device you use.
Dexter
On the contrary, Dexter is an ultimate multipurpose admin template based on the CSS Sass framework Bootstrap 3.3.7. This responsive theme for web apps made for admin dashboards and control panels. With a modular design, it is  includes all of the Bootstrap components to build a stunning user interface for any type of backend applications.
This theme comes with tons of features and options with over 90 HTML pages to choose and use, a couple thousands of icons, 500+ UI elements, lots of widgets, many chart options, table examples, form elements with validation, and various essential pages. It also includes mobile responsive tabs and first menu, a gallery with filter, modal windows, and so much more.
Stack
One of the most advanced and best-selling admin template out there, Stack is a responsive Bootstrap theme for admin panels and dashboards of web and mobile apps. This Bootstrap 4 admin theme is packed with 7 pre-built templates which is integrated with an organized folder structure as well as  clean and commented code for easy and flexible customization.
Other features are covered with animated statistics, advance search and widgets, searchable navigation, social cards, and more; along with a JADE template engine, Grunt and Gulp automation system, and RTL support among others. It also includes 3 niche dashboards, 16 color schemes, multiple menu options, and other awesome elements.
CRM Admin
CRM Admin is a Bootstrap CRM admin and dashboard template built particularly for customer relation management. This fully functional and responsive HTML template is based on the Twitter Bootstrap framework which gives it a lot of features and options to use as well as its availability for all devices of various screen sizes.
Its main features include a customization-friendly design, a modern and responsive layout, a fresh and clean code, all browser support, and many others. The theme is characterized by a bold color scheme with striking typography and gorgeous graphics, all to give your admin panels and dashboards the visual appeal that makes you want to work on it more.
Mare
Lastly, we have Mare. This Material UI and React.js admin template based on Material Design offers a fully responsive design with multiple themes, multi-languages, and high-resolution graphics among its many awesome features. It also includes other themeable items and dynamic components which will help you create a working admin page or dashboard.
Among its many features are three nice dashboard designs with multiple layouts, awesome charts, a number of tables, forms, and form elements, colored SVG and Material icons, extra pages, Sass styles, Webpack, and many others. Mobile-ready, this theme will also make your web app's admin page look great in all devices with various screen sizes.
So, make sure not to miss this chance and get one of these powerful and remarkable themes for your admin page and dashboards from this awesome compilation. Integrated with the latest web design trends and advanced features, all of the items on this list are guaranteed to give you the best functionality and extreme customizability. For more ideas, you can take a look at another list of Bootstrap admin themes and templates available here at Template.net.