They say learning never stops. Even after years of schooling and getting a degree at the end of college, we still learn a lot from the different challenges life throws at us. Some people choose to expand their horizons by taking up another degree higher than what they had in college, or pursue a different path. Some go to regular universities while others take a course online to fit in with their tight schedule samples.
The team behind online courses create a website that condenses and provides all learning materials based on the course being taken. They need to have a functional website to carry out these duties. If you are planning to design an online course website, refer to our collection of templates to get you started. You may also see online eduaction WP themes.
Online Course HTML Site Template
E-Learning and Events HTML Template
Responsive Education HTML Template
Designing The Online Course Website
Most of the website templates that can be purchased online are easy to customize. You just have to know what to do with the raw template before making it your own. First, you have to purchase a template that fits your simple budget. It is best to go for a clean and minimalist design so it wouldn't be much of an inconvenience. Templates with clean designs are better to look at. Second, use clean and simple fonts for your website. This gives the readers a comfortable feeling when they go over and read content on your website.
Third, make sure there are functional features to make your website useful to the online students. Online students have to log in to a convenient website for a more enhanced learning experience that's worth their money. Make a comprehensive course program before launching the site. Everything has to be set and arranged first. When all of the settings are done, you are now ready to launch your website. You may also see the best school website themes.
Education Learning Theme For Education Course
Education Center WordPress Theme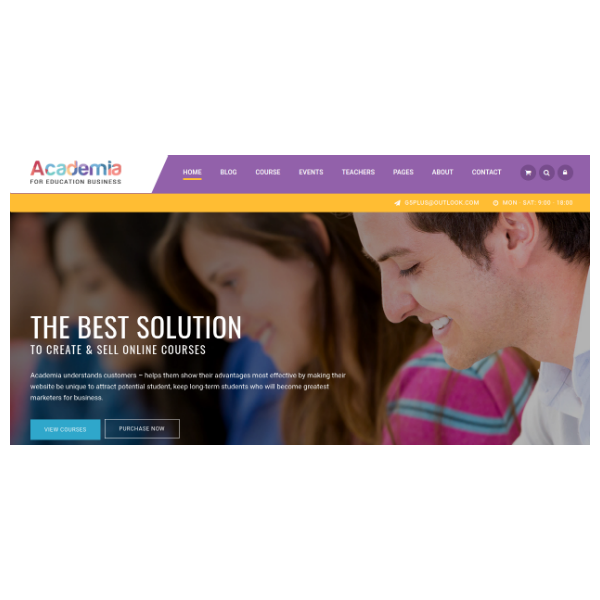 Responsive Online Course & Education Email Template
Benefits of Taking an Online Course
Just when you think that the online course takes so much of your time, it offers some benefits that can help you to do better in your field. You may also see college website themes.
The following are the benefits of taking an online course:
1. A wide variety of courses to choose from.
In online courses, you get to choose a lot of programs to enroll yourself in. There are crash courses in language, writing, and graphics. You can even study business administration and sociology. Just choose one that suits your passion and preferences and you're always good to go. You may also see school website themes.
2. Lower costs.
Taking an online course costs much cheaper than enrolling in a regular university. You only have to pay for certain fees. On the other hand, regular universities require you to pay tuition fees and other payments just to get by. You also have to spend some more money on projects and research outputs. Online courses offer a lower rate and can still give you intensive learning. You may also see education PHP themes.
3. Flexible schedule.
If you have a hectic work schedule and you want to expand your learning horizons, taking an online course is the best option. You can set your own schedule for taking the classes and attend them regularly. If you are caught between busy days, you can reschedule your classes. You can make a schedule that meets your needs and enables you to balance work and studying.
4. Moving at your own pace.
The good thing about online courses is it allows you to move at your own pace. You don't have to keep up with the demands of the course just like in regular universities. In online courses, you move either fast or slow with your course, as long as you can learn better. You may also see education bootstrap themes.
5. Learn to discipline oneself and manage tasks.
Taking online courses trains you to discipline yourself and manage your tasks. You have a lot on your plate and your studies should also be given some time. It's up to you on how to devote your time between work and studies. Scheduling tools such as online calendars can help you in managing your time better. You may also see education landing page themes.
6. No stiff competition.
Most of the time, there is no stiff competition when you take online classes. You are taking a class alone. You don't have to compete with anybody else when you share your thoughts and ideas about a certain topic. You can also learn better without getting too tied up with competition against your classmates. This is what sets online courses apart from traditional classes. You may also see education PSD themes.
7. Reviewing modules repeatedly.
Most of the time, the data, and the lessons that you take in online courses stay for a long time. You can go back to them and review them again before the exams, or when you just feel like studying. Repeated studying allows you to master the craft of the course you are taking. You may also see teachers website themes.
8. Convenient communication with instructors.
Online courses have a convenient communication system with the instructors. Most of the time, you can reach them via email. During class, your attention is solely focused on the teacher and vice versa. It is also easy to reach your instructors when you are having a hard time with your lessons. You may also see top Drupal education themes.
9. Get scores immediately.
In online courses, you get the score right away after taking an exam. You won't have to wait until the next class to find out your score. The endless wondering and nerve-wracking feeling are relieved when you see your score right away. It also gives you a chance and driving force to study harder. You may also see education moodle themes.
10. Pursuing passion.
Each person has a craft they feel a strong passion for. But when they get into college, they are not able to pursue this passion due to practical purposes. This is true in some countries, where certain professions are held on a pedestal and look down on others. This is the reason why people take online classes. They need to give attention to honing their skills in pursuing their passion. At the expense of money, pursuing passion entails a lot of sacrifices and freedom. You may also see drupal website themes.
Online Learning Platform HTML5 Template
HTML Template dor Education & Online Training
Conclusion
Online courses need to have strong and functional websites to give a comprehensive lecture to students. New ways of learning have evolved, and the online realm is slowly making its way to establish itself as a learning alternative. You may also see education wordpress themes for a university.