Website Templates
11+ Digital Marketing Agency Themes & Templates
With the advancement of digital technology, businesses have gone an extra mile. Business owners promote their business through electronic devices and the internet. The digital realm can reach anyone in any place as long as there is a stable internet connection. Digital marketing has taken people by storm, that advertisements are everywhere when you connect to the internet.
For a budding business, marketing is an important thing to do for them to raise awareness on their product. When a product is being made aware to the people, it will eventually build a loyal consumer base. They need to have a sample digital marketing website that can suit their business needs. Go over our collection of templates for some fresh ideas.
Modern Blog HTML Template
Digital Marketing Agency Joomla Template
What Is Digital Marketing?
Digital marketing is the process and practice of promoting products with the use of the internet. It aims to reach a wide variety of consumers. Venturing into digital marketing means making content for the internet, be it through graphics or video. Coming up with one needs a good concept and simple budget for the whole ad to push through. After the content has been made, it is released online and will be played before you watch a video on Youtube. Depending on the success of the advertisement, this kind of marketing can yield big or small revenues to the company.
Digital marketing has a big impact on businesses who practice it. As brands get more awareness and recognition to the masses, money is generated from the views of the advertisement. Digital marketing also includes channels that do not use the internet such as mobile phones. It can be done through social media, display advertising, and search engine marketing. Digital marketing strengthens the brand's reputation among its consumers and amasses a big amount of money which can be used for future ventures.
Digital Marketing Agency Premium Moto CMS 3
SEO and Web Design Company WordPress Theme
Simple Digital Marketing Agency Template
SEO, Digital Marketing, Social Media Theme
Sample Digital Marketing Agency Theme
Why Go Into Digital Marketing?
Now that the age of the internet is in its maximum potential, digital marketing offers endless possibilities for your product to be known by the consumers. These are just some of the reasons why digital marketing is a huge help to your small business.
1. Provide direction.
Most people are consuming online content more than any kind of media platform these days. With easy connectivity to the internet, they are exposed to thousands of different content every day. If you are planning to promote your business, going into digital marketing will give you the direction you need. You should come up with a clear online strategy on how to convey your product and its message to potential consumers. It helps you build deeper relationships with your audiences and gain customer loyalty.
2. Knowing online customers and market share.
Having a digital marketing strategy helps you know your online customers more. You would know their preferences and behavior when it comes to consuming products. By making a feedback form on your website, you would know their sentiments and live up to their expectations. You can also determine your market share by going into digital marketing. You know where your business stands among all the competition with other businesses as of the moment.
3. Be able to compete with other businesses.
Top websites such as Amazon and Google are on top of their game when it comes to profitability in the digital marketing. This is because they take different approaches in marketing. Digital marketing helps you compete with other businesses by taking on several approaches to selling your product to your consumers. Good content and product help you gain and keep your online audiences for a long time. You may also see marketing agency themes.
4. Boost the site traffic.
One of the things digital marketing can give is boosting the traffic of your website. When an advertisement plays online, people tend to click on it and it directs them to the official website of the brand. This commonly happens whenever one connects to the internet. When a website has too much traffic, it usually gets to the top ranking in search engines. This is also backed by search engine optimization or SEO features.
Digital Marketing Agency Website Template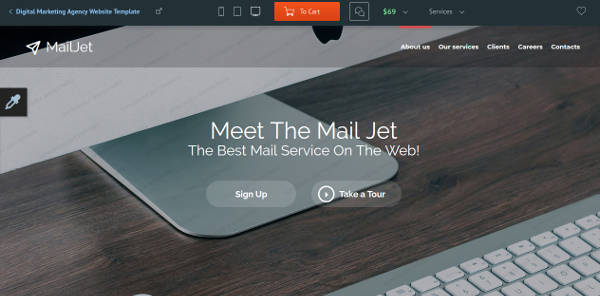 Digital Marketing Agency WordPress Theme
Digital Marketing Agency WordPress Theme
Social Media Digital Marketing Agency Template
Tactics In Digital Marketing
People working in the field of digital marketing use different ways in promoting products online. This list breaks down the tactics used by digital marketers to attract potential customers:
1. Social media.
Almost everyone has social media accounts. All over the world, more and more people are tuning in to social media for the latest trend. Business owners promote their product through social media to boost the traffic of their product's website samples. A short video or a graphic content for the product is made. Social media sites such as Facebook, Twitter, Instagram, Pinterest, LinkedIn, Snapchat and Google Plus allow people to put up advertisements.
2. Online PR.
Online public relations or PR is the practice of securing online coverage of products for content-based websites. It's pretty similar to traditional PR but it is done through the internet. Publications and blogs also get online PR. This kind of practice can help in engaging online reviews of your company and engaging comments on your personal website.
3. Affiliate marketing.
This kind of marketing gives bonuses to people who promote the online content of their affiliated partners. The promotion of affiliated content is usually done through the website of the business owner. Websites such as Youtube can be used as a partner in promoting affiliated content. You may also see marketing themes.
4. Marketing automation.
Marketing automation is the software that automatically repeats the daily basic marketing operations. It includes email newsletters, social media post scheduling, and campaign track and reporting. It won't be that hard for you to go over the marketing operations day by day since the software provides ease of use for you. The operations just happen on its own.
Digital Marketing Agency WordPress Theme
Conclusion
Digital marketing is an important thing to venture on if you want your business to stay afloat and be on its right track. The internet offers a sea of possibilities for your business to thrive and secure its place in its target market. Make sure to maximize every part of it and never be afraid to experiment on new approaches to attract more audiences. You may also see social media website themes.
More in Website Templates