Application Templates & Forms
Rental Application Template – 12+ Free Word, PDF Documents Download
If you've ever tried renting something, say a property or other possessions like cars, you'll know that you're expected to write a rental application. A Rental Application Template is basically a document where you officially declare your interest in renting something. It is addressed to the owner of the property, and states that you're ready to accept the price and terms and conditions as stated by the owner. You also have to add some details about yourself. Once you submit the application, the owner will go through it and compare it to other applications that have been submitted. He will finally decide upon the renter, based on the application.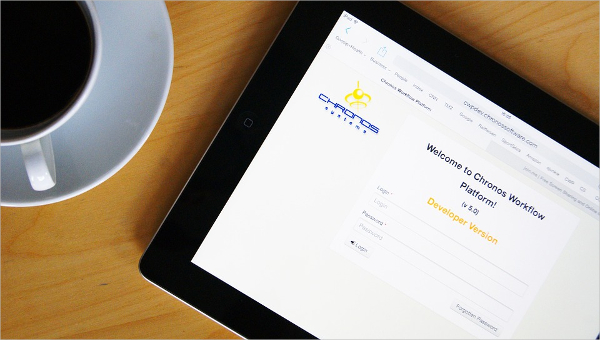 So you see, a rental application is almost like a job resumes where you will be judged on the basis of a piece of paper. That is why you have to make sure your application stands out head and shoulders above the rest. You need to be honest and truthful in the application and glorify the good aspects about your application. To know how to write a rental application, take the help of Application Templates online.
Generic Rental Application Template
mrlandlord.com
House Rental Application in PDF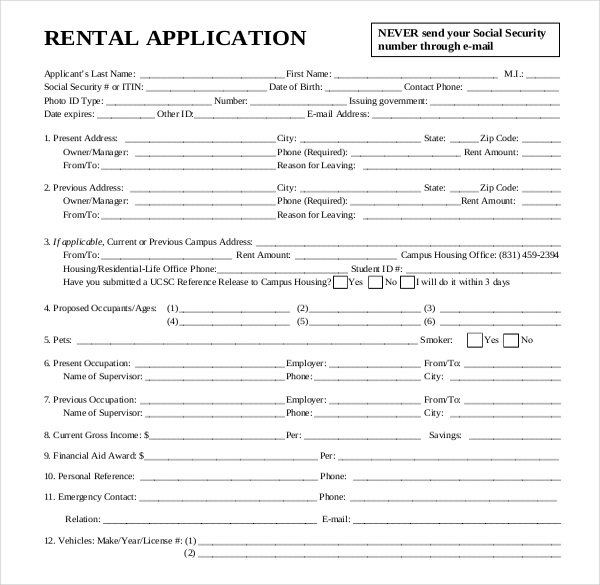 housing.ucsc.edu
> Types of Rental Application Templates
Have you been wondering how to create an effective and a professional rental application? Well, you need to know about the numerous types of rental application templates online-
Rental Agreement Templates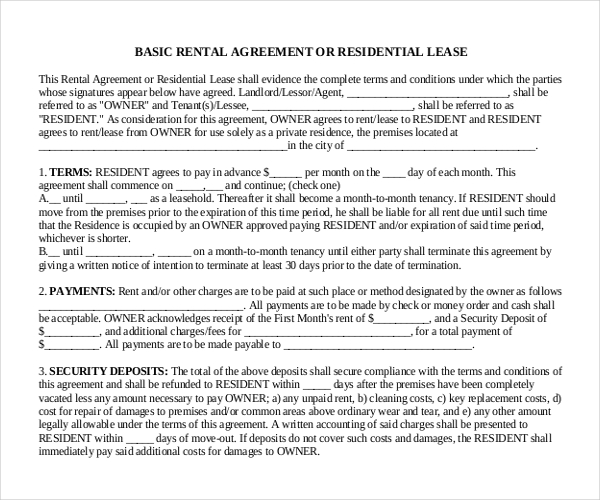 dca.ga.gov
If you have come across a property for rent that you like, you can take the help of rental agreement templates to write a rental application. In this application, you will be writing about yourself and why you want to hire the property. Sometimes details like income details are also required. These documents can be uses to rent any kind of property.
Lease Rental Application Templates
heritagegr.com
Most people today prefer to lease property. It is much more simple and hassle free. A lease rental application template would allow to gain possession of a property for a fixed period of time while you pay a certain amount at regular intervals to the owner. Most residential properties and commercial property are now given out to others on lease.
Email Rental Application Templates
housing.ucsc.edu
Gone are the day when you would actually have to submit a rental application physically to the landlord or the owner of a property. That is particularly difficult if you live far away. In such cases, you can just email your rental application to the owner. Special email rental application templates are available for this very purpose.
> Why Should You Use Rental Application Templates?
Your rental application needs to be stunning. It needs to be impressive and stand out from the rest. The landlord should be able to single out your application and one glance should be enough to catch his attention. Why else would he hand over the responsibility of his precious property to you? You need to show him you're worthy enough. You can do that with the help of Rental Application Templates in Word.
These templates have been designed in an attractive way so as to create a lasting impression. Also, most rental applications have a similar format and pattern. So you can just use the text and content used on the template. That will save you a lot of time and energy. If you're planning to rent a house, you can send the same rental application to the landlords of all the properties you've shortlisted.
Auto Rental Application Template
autorentalcoverage.com
> How To Create Rental Applications Using Templates?
Now that you've decided to download rental application templates, well done, you've made the right choice. But editing and customizing application templates are not as easy as it seems. You still have to be careful and cautious while doing it. There are a few things you need to pay special attention to. The content of the Transport Template for example, it needs to contain all the essential information that a rental application would be incomplete without.
You need to keep searching till you find the template which contains all the details. The font of the text is important as well. It needs to be clear and clean. If its too stylized, the landlord is likely to discard it at the first glance. You don't want that, do you? Also make sure you edit the little details that need to be customized.
Car Rental Application Form
perrygolf.com
> Tips While Using Rental Application Templates
Planning to download a rental application template? Then these are a few things you must keep in mind-
First, you must create a rough draft of the rental application. You can note down all the points that you're planning to insert into the template on a piece of paper. The best part about a rough draft is that you can cross out points or add as many as you want. There is always scope for improvement in a rough draft.
Try to go with the unexpected and the unconventional. Think out of the box. If you follow the same conventional Patent Application Template, your landlord may not even be interested. You need to do something striking enough, something that stands out. For that, you must look up sample rental application templates.
Go for rental application templates which can be customized. While the format is certainly given in the template, you need to make edits within that format and add your own details. For example, in spaces provided on the template, you will have to write about your income status, marital status and so on.
Do not forget to mention any details that might be important. There is no point hiding something from your landlord. Be very clear in your modes of expression. You cannot afford to miss out on important details and if you do, it might lead to severe consequences later on. Remember, the power rests with the landlord.
Free Rental Credit Application Template
greenupstprop.com
Commercial Rental Application Form
allenorth.com
> What to Do And What Not to Do With Rental Application Templates
Dos
Mention the date, time and subject.
Try to keep the design simple and classy.
Use large font for the text so that it is easily readable.
Thinking out of the box is appreciated
Don'ts
Do not jumble up the design
Do not miss out on important or relevant details
Do not forget to create a rough draft
Do not be impulsive while choosing the design
> We Can Help You Out!
At template.net, we have a vast collection of downloadable wedding templates. We know how important this is to you, and we can help you put your best foot forward. We guarantee the best rental application templates. With our amazing templates, you can create the smartest and most well designed rental applications. One look at our rental application template examples is sure to impress you. So come on, try one out and see for yourself!