Application Templates & Forms
15+ Membership Application Templates – Free Sample, Example, Format Download!
The need of membership template formats has increased in time due to business offers services. To better serve their customers' requirements, businesses, small, big that offered their services in the type of a membership. Samples of Membership templates are available nowadays if you want to join membership so need to fill these forms according their preferred field and submit it without any problem. You can also see Rental Application Template.
Membership permits individuals to receive many benefits, for example to avail of few of the small services, for that they had to bill their consumers each and every time, into a particular package, Application Templates which contains all of the services plus an additional benefit. This led to better consumer services, thus growing customer fulfillment significantly.
Free Downloadable Rotary Membership Application Form Download
Example Membership Registration Application Free Download
hamsva.org.uk
Membership Application Templates
If you run an organization, you need members to function in your organization properly. And candidates who are interested in being their members need to fill membership forms. You can check out Membership Application Templates for ideas to prepare a membership form. Whether you are organizing a program, or you need a club membership application, take note of the following points when you are preparing a Membership Application:
Your Name, Address, and contact details for communication

Name of the course, or program

Duration of the course, or program

Fees (if required)

Starting and ending date of the course, or program

Other personal information, such as gender, age, nationality, etc. are also included in the form
Sample ECCT Membership Application Form Free Download
ecct.com
What Purpose does a Membership Application Template Serve?
A membership application template is basically the first impression an organization makes on the general public. Hence it should be informative and easy to complete. It defines the first connection an individual makes with the organization. It also provides the opportunity to the organization to capture details about the individuals, which may prove helpful in building relationships.
Hence it is important that the membership application template is easy to understand and conveys information about the organization. A complicated and time consuming membership application form may create a negative image of the organization.
Sample Format Gym Membership Application Download
greenbanksportsacademy.co.uk
Free Downloadable NGO Membership Application Form
wango.org
Sample YMCA Application Membership Form Free Download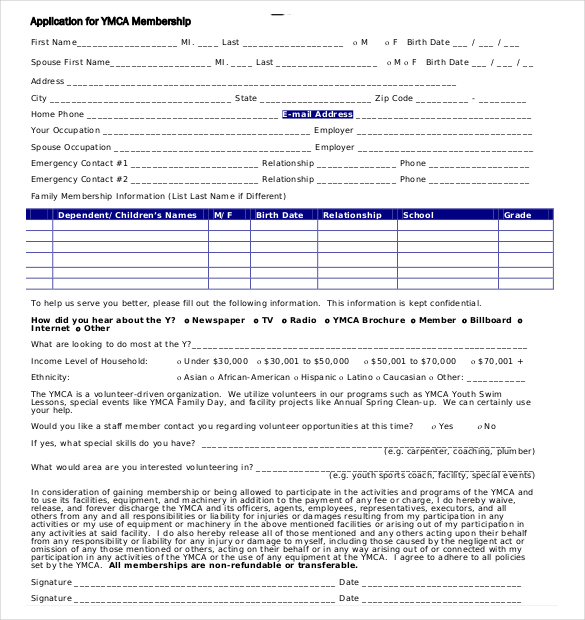 ymcanb.org
Example Individual Membership Application Form Download
southyorks.polfed.org
Free Sample African National Congress Membership Form Download
anc.org.za
Points you must include while Creating a Membership Application Template
While designing a membership application template, it may be important to consider the following aspects:
Essential Information
The template should capture all relevant information about the candidate. However, it is important to ensure that the candidate is not over burdened with the requirement for unnecessary information. Considering this, the key points which may be included in the template are:
Type of membership and the fees
Membership requirements such as educational qualifications, designation and other credentials.
Term of membership
Personal information of the applicant.
Contact information including contact number, address and email id.
Conditions of membership including responsibilities and privileges given to members.
Online and offline payment options available.
Details of previous membership if applicable.
Details of reference sponsors.
Chapter or affiliation information in case of a multichapter organization.
Personal interests of the applicants.
Example 2016 Membership Application Form Free Download
qwa.org
Example Invitation Application for Membership Free Download
lionsclubs.org
Free Sample Membership Application With Payment information Download
toastmasters.org
Sample Format Business Student Association Membership Application Form Download
csudh.edu
Sample Membership Application Form Free Download
sport.wales
Free Sample Membership Application Form Download
colnbrook.info
Printable Club Membership Application Template Free Download
aallnet.org
Dividing the Application Template into Sections
A long application may look complicated. Hence it is important to divide the application template into sections. Bold headings may be used to separate various fields. Some online membership application templates allow the creation of a multi-stepped process, which takes the applicant from one section to another. This gives the template a neat and uncomplicated appearance.
Information about the Organization
Use of color or graphics can help in catching the applicant's attention.Using appealing background colors, and incorporating the brand logo can help to capture the applicant's attention and arouse curiosity regarding the organization.
User-friendly Templates
Membership application templates can be made user friendly by offering checkboxes, drop down menus or pre-filled answers. This can help to save time of the applicant.
Concise Template
The information required in the template should be concise and the questions asked should be positive. This can help to capture the attention of the applicant.
If you have any DMCA issues on this post, please contact us!