Application Templates & Forms
10+ Application for Employment Templates in Google Docs | Word | Pages | PDF
A regular business document that is provided with questions considered important by an employer in order for the employer to decide the best applicant to be given the duty of accomplishing the work needs of the organization is referred to as an application for employment. Have a look at the application for employment templates provided down below and choose the one that best fits your purpose.
Table of Content
10+ Application for Employment Templates in Google Docs | Word | Pages | PDF
1. Restaurant Rejection of Application for Employment Template
2. Simple Job Application Letter for Employment Template
3. Job Application for Employment Template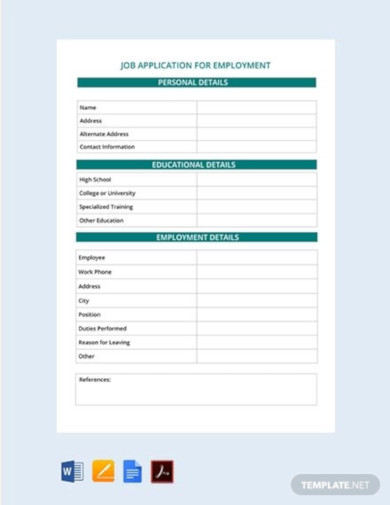 4. Job Application Letter for Employment Template
5. Application For Employment Template
calstatela.edu
6. Generic Application For Employment Template
iowaworkforcedevelopment.gov
7. State of Texas Application For Employment Template
texas.gov
8. Application For Vocational and Employment Services Template
michigan.gov
9. Standard Application for Employment Template
rocklinusd.org
10. Application for Employment Template in DOC
womankind.org
11. Master Application for Employment Template
opportunityjobnetwork.com
How To Write An Application Letter?
When writing a cover letter, you should follow the given points:
Introduce yourself
Specify the job or kind of job you're applying for
Show your abilities and background to meet the skills and experience needed to do the job
Inspire the reader to go through your resume
Conclude with a call to action, for example, asking for an interview or a meeting
How To Write An Application For a Job?
To write an application for a job, check out the following points:
Compose in a professional method
Specify where you learned of the job vacancy and reveal your enthusiasm for applying
List down the skills that you have. Add your resume as well
Finish in a professional and uplifting aspect
What is An Application Letter For Employment?
A letter of application is a document sent with your resume to give supplementary data about your skills and experience to an employer. It is also known as a cover letter. The letter of application is designed to present specific information on why you are are an adequate applicant for the job.
What Information is Needed For a Job Application?
Following are the information which is required for a job application:
Work experience
Education
Evidence of qualification
Expression of interest
References
Now that you're qualified for the job application, check out these suggestions on writing an efficient cover letter
What is the Contrast Between an Application and a Resume?
An application consists of essential information that your employer will go through instantly. But your resume or CV is your opportunity to reflect and determine what you are actually made of. A job application is a regulated form while your CV is unusual.
What Should an Application Letter Consist of?
When composing a cover letter, particular details need to be added like a contact segment, a greeting, an opening to the hiring manager, detailed information on why you are equipped for the job, a closing, and your signature.
How To Email a Resume For a Job Application?
To email, a resume for a job application, consider the points given below:
Utilize an efficient subject line
Address the hiring manager by name
In the first section, tell the hiring manager who you are and why are you reaching them
In the second paragraph say what purpose you'd bring to the organization
Conclude the resume email body by stating you're anxious to meet in person
What is a Resume Application?
A resume is a composed accumulation of your education, work experience, credentials, and achievements. Most professional conditions need candidates to submit a resume and cover letter as part of the application method.
What are the Central Parts of a Cover Letter and Their Purposes?
A well-written, employer-centric cover letter will basically consist of three central parts:
the introduction, the body, and the ending.
What is the Goal of a Cover Letter?
The goal of the cover letter is to present yourself to an organization, confirm your interest in the organization or a particular vacancy, attract attention to your resume and propel the reader to interview you. Usually, this letter is the first connection you have with a considered employer.
What is the Mission of a Resume?
The objective of a resume is to give a synopsis of your skills, experiences, and achievements. It is a fast advertisement for who you are. It is a "snap" of you with the purpose of obtaining and highlighting interests and ensuring you an interview. 
More in Application Templates & Forms