Application Templates & Forms
8+ Grant Application Templates
Writing successful grant applications is a long process that begins with an idea. In preparation for applying for grants, it may be useful to develop a grant application template of your project and/or organization. A grant application template will develop a profile of who you are, what you do and what you would like to achieve. This process should clarify your aims and abilities and helps you customize your applications without having to re-invent the wheel every time you decide to apply for a grant. Here we have some common grant application templates developed to facilitate the application process for grantmakers and grantseekers.
Free Grant Application Rejection Letter Template
Sample Grant Application Template
Simple Grants Writing Template
mrsc.vic.gov.au
The above template will assist you in the process of grant writing with our easy- to-understand grant writing template. This template is helpful in recording the history, the growth and achievements of your group.
Budget Grant Proposal Template
lac.org
The Grant Proposal Template addresses to the organizations by stating the background of the initiated program and mentions the approximate budget required and the duration of the work to get done.
Global Grant Application Format Template
rotary.org
The above simple template is designed professionally for the global grant application. Download it for free and start designing it today.
Growth Grant Application Outline Template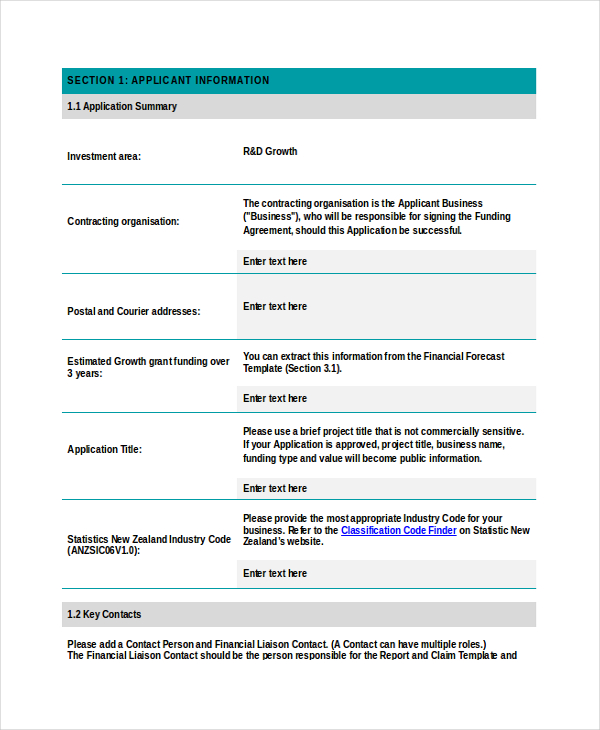 callaghaninnovation.govt.nz
The above growth grant application template in word is aimed at businesses experienced in research and development in New Zealand, to support an increase in investment. Use this template by adding the required text.
Basic Donegan Burns Grant Application Template
doneganburns.org
The above template indicates that in order to receive a grant, organizations are required to complete the application and submit a proposal. So download our template for free and start writing a proposal.
Printable Travel Grant Application Template
otago.ac.nz
Editable Breast Cancer UK Grant Application Template
breastcanceruk.org.uk
> Aim of Using Grant Application Templates
The above grant application templates are written with the aim to convince either a private foundation or a government entity to provide funding to a cause, research project or other projects that typically receive funds from such sources. These kind of templates are important tools that should be well crafted to get the attention of the potential source of money and get them to understand why they should contribute to your cause. You can also see Application Form Templates.
> General Tips
Be clear about management. Who will do what jobs and who will have what responsibilities, obligations, and powers.
Follow all the guidelines for the particular grant you are applying for. This may require you to reframe your project in a different light or language.
Be as explicit as possible
Style matters because the way you write your grant will tell the reviewers a lot about you
Format the application so that it is easy to read. Use headings to break the proposal up into sections. If it is long, include a table of contents with page numbers.
> Target Audience
For many people, applying for a grant is a mysterious process. You may have the feeling that those who are successful and receive grants are either lucky or have "inside connections." But grant writing does not have to be mysterious. In most cases, grants are awarded based on a careful review process with criteria that everyone has access to. The above templates can be used by business managers seeking grant funding to support their business activities.
Thus once you've decided to pursue a funding opportunity, use the following resources to guide you through writing your application or proposal. Fortunately, it is not necessary to spend money on copies of grant proposal examples or on grant writing books because we have provided numerous free printable grant samples. All you have to do is download them and start writing.
More in Application Templates & Forms