If you're making a questionnaire for your employees or your students or just people for one reason or the other, there is nothing like a Likert scale that could allow them to answer the questions in the greatest and the most efficient manner. To use a Likert scale examples that you know is going to help you with your questionnaire, use the host of Likert scale templates that we've got. You can also see Venn Diagram Template.
Surveys Interactive Activity Examples of Likert scales
Collecting feedbacks and presenting them in a detail can be tedious task. Many a time, you may get engaged in tasks wherein you require collecting responses and feedbacks of target audiences about a particular product, service, or experience. To help you with the same, the Likert Scales Template is available for download.
Sample Likert Scales Free Template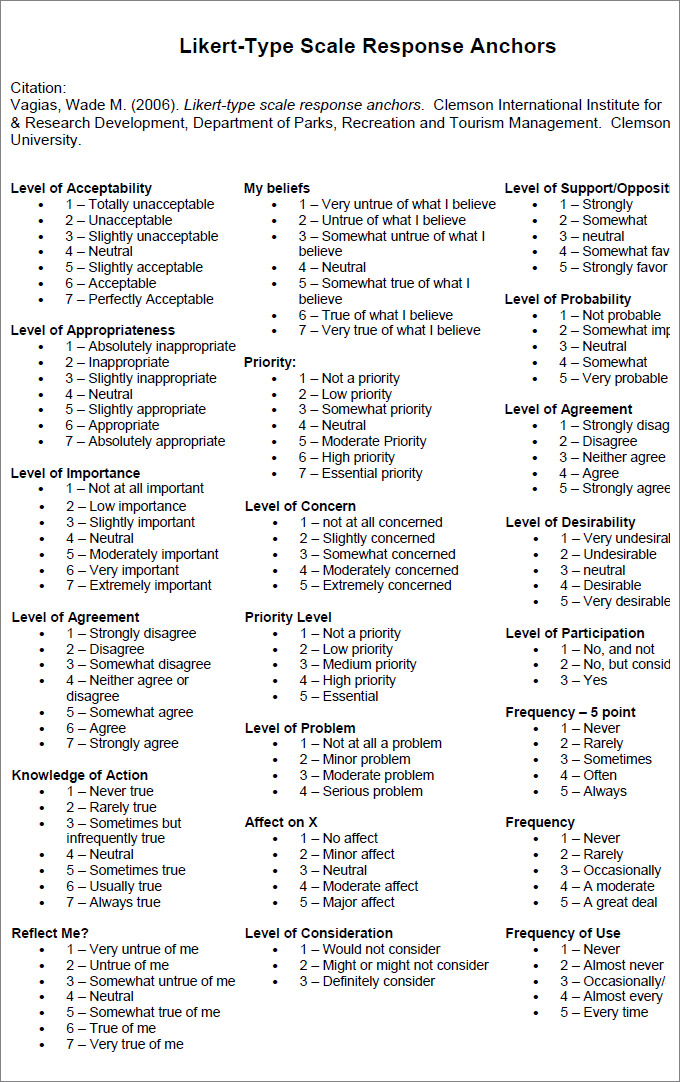 The Likert Scale Questionnaire Template includes a lot of details that can help you create a type of survey that consists of several questions. You can easily download and use these templates for collecting exact response of audiences while rating something on a scale. You can customize the template, re-construct the questions or replace them with your personalize one, and get the final questionnaire printed on a paper to ask others to filling in an answer to a question.
Likert Scale Questionnaire Free Template
The Rating Scale Template helps you to get your questions answered in the most efficient manner. Using MS word and drawing several sections, then breaking them down into various fields can be quite challenging. Owing to the simplistic design and easy to understand interface of these templates, you can easily modify them to make a questionnaire for your employees or students.
>

What is a Likert Scale?
A Likert scale is a psychometric response scale that is used in questionnaires to get the participant's answer or agreement with a statement. Likert scales are a non-comparative scaling technique and are used to measure just a single trait. In short, they are a great way to measure the exact response of a user to a question or a trait.

> 

This is how you use our Likert Scale Template Word
We've got a host of Likert scale templates, some with smileys, some with a scale with numbers on it and some with the shade of a colour on it. Choose the likert scale survey template that you like, download it for free and print it out. Fill it up with the questions you want to use and your questionnaire is ready (likert scale questionnaire,likert scale example,questionnaire.

> 

Features of Likert Scale Template
Finding their usage in most of the surveys and research work, all of these templates enable you to collect responses about a particular product, situation or event. All of these templates incorporate different rating scales to measure attitudes, findings, behaviors, and findings of people directly. Collecting all of the responses, analyzing them, and then presenting the findings in an organized manner can help in completing a survey or research in meaningful way. All of the templates available under this category uses non-comparative scaling technique and enables you to measure a single trait with a lot more detailing.

> 

Conclusion
They available for download to ensure that you measure the exact response of a user with great ease, different ratings scales and strategies can be applies to various questionnaires in order to get accurate reactions recorded for a particular question or a trait.