An arrow shape may seem simple. However, it comes in a multitude of designs that users can get confused regarding which design to use. Do you feel like you just can't find the ideal arrow shape for that particular presentation or paper you are creating? Look no further.
The perfect Photoshop arrow shapes are here and available for you to download in different colors and sizes. From hand drawn arrow shapes to doodle arrow styles, all you have to do is choose the right one that you think might be perfectly suited for your design needs. You can let loose your creativity with Photoshop custom shapes below.
Arrow Custom Shapes
Download
Vector Chalk Arrows and Shapes
Download
Arrow Photoshop Shapes
Download
Hand Drawn Arrow Shapes
Download
How to Create Photoshop Arrow Shape
There are many ways to create an arrow but creating an arrow shape with Photoshop is one of the highlights of this page. One may not be too familiar in creating with Photoshop but with the guidelines provided for you right here, you will certainly go a long way in coming up with your own design.
Here are the right steps on how to create a Photoshop arrow shape:
Rectangle and Polygon Tool – Both of these tools are essential in coming up with a basic Photoshop arrow shape. First off, draw the body of the arrow using the rectangle tool. Use the polygon tool on either end to shape a triangle for your arrow pointer.
Arrow Feathers – It's not really necessary to include feathers to your arrow design but you could always consider adding this detail. You could use the same rectangle tool however thinner that could be applied in a diagonal position for about a 45 degree slant. A duplicate of which could make at most 3 arrow feathers of each side of your arrow tail.
Custom Shape – To make a custom shape out of your arrow, use the direct selection tool and look for more shapes you could simply edit to define.
You might want to combine your newly created Photoshop arrow shapes with other abstract Photoshop shapes for a more creative and stunning design.
Arrows Symbols Shapes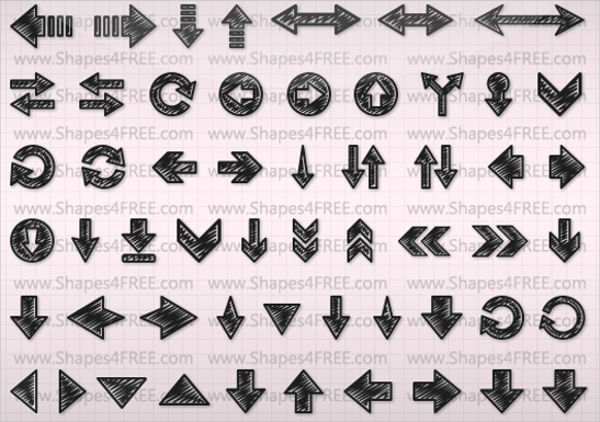 Download
Free Photoshop Arrow Shapes
Download
Photoshop Brush Arrow Shapes
Download
Photoshop Arrow Shape Samples
We have an endless array of arrow shape designs all for creative blogs, sites, and web pages. Our set of Photoshop arrow shapes aren't limited to interesting geometric Photoshop shapes alone. Below are arrow shape samples that have been extracted from this page's set.
Free Photoshop Arrow Shapes – This sample suggests that you could be creative with distressed and curve arrows provided that it could still be used for its purpose.
Vector Chalk Arrows and Shapes – This arrow shape design perfectly portrays arrows that are creatively hand made with chalk. It is available for you to download in a medium size collection.
Arrow Symbol Shapes – These arrow symbols are striking in a shade of black that could best compliment plain designs. It's shape is ideal for smaller designs since these arrow symbols do not use long lines as its body.
Hand Drawn Arrow Shapes – These arrow shape samples sport the illusion that they've been drawn by hand as they are shaped quite irregularly. These are mostly arrow shapes that do not go with a pattern and have a more free hand design.