Clock or time worksheets are common for little students in kindergarten, 1st & 2nd grades. If you are the class teacher, it would imply a humungous task to compile the clock sheets for every student. Thus, it's wiser to count on free clock templates offered from the online sites. You may also like Paper Folding Templates
Make your Own Clock Face Template
A clock face template usually comes in handy for teachers who are in the process of teaching the reading and marking of time to their students. Here is how an Analog Clock can be designed using Microsoft Word.
Open a Word document.
Select the Insert tab and then choose the option Shapes.
You will be presented with a drop down menu. Here choose the circular shape.
Your cursor will convert into a plus sign. Place this on the document and drag it to create the outer border of the clock. You can also choose a square shape if you please.
Next in Insert -> Shapes, select arrows, straight line or a small circle to put in the markings for the numbers.
Move the cursor inside the circle by pressing Tab and bring it to the markings. Here, type 1, 2 3 ….12.
Your watch pattern is ready.
Sample Analog and Digital Clock PDF Format
mathwire.com Check out this printable clock template. It features both analog and digital clock designs. As a teacher you can download and take print outs of this particular template and hand out to your students and make them practice time on them! Did we add, the template is easy to download and modifiable?
Clock Face Template Free Download
Here is a clock template which you can use in your home, insert in inside any round-faced wall-clock and you're good! Of course the template is replete with the basic format, however, users will have to insert time data on their own. This template can also be used in office wall-clocks!
Paper Clock Template PDF Format
eduplace.com You are getting a detailed paper clock template here. One has to input the hour and minute hands on the clock as per requested time and there are even individual spaces below for the time data in figures.
Printable Blank Clock Template Free Download
autismoutreach.ca This template here is a practice sheet for the students who have just learnt to calculate time. You are getting 9 readymade clocks here to be filled up with hour, minute and second hands.
Free Printable Clock Template Download
If you're planning to have a time-clock test in class, this big-clock template would be apt choice for the purpose. Students will be able to draw the the hour, minute & second hands. The template has space allocated at the bottom wherein students can write down the time shown in the clock using numbers.
Free Digital Clock Word Download
You are getting a full digital clock here in Word document which arrives with a pre-structured time. You can customize the time written here easily with your own desired time.
Example Analog Clock Template Free Download
In case you are not sure how to design a clock shape, go ahead and use this example analog clock for the purpose. With all the essential markings in place, you just need to download it and personalize it with details like worksheet number, term etc.
24 hr Clock Template Free Download
Printable Clock Template for Students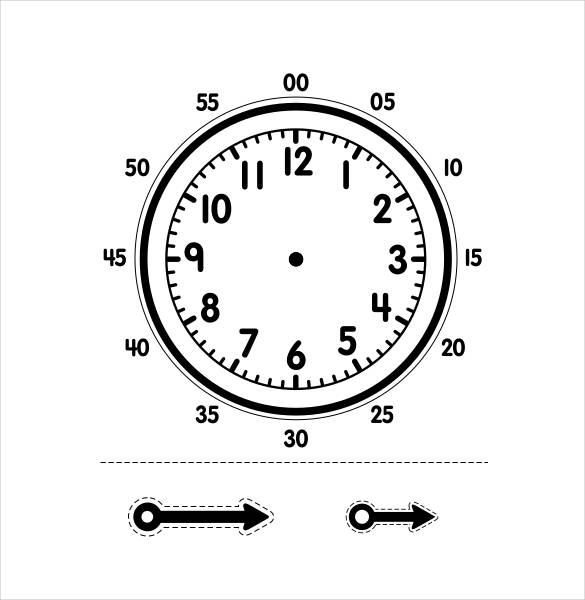 lakeshorelearning.com
As the name indicates, this clock template is a perfect pick for teachers who are teaching the children the fundamentals of time. With an attractive clock face and essential markings, the students will find the worksheet interesting as well as easy to complete.
Printable Blank Clock Template Worksheet
havefunteaching.com
If you want to distribute worksheets among your students to help them learn the concept of clock markings, you can use the aforesaid template for the purpose. With square clock icons in place, your students just need to draw large clock arrows to mark the time. The picture of the clock looks rather attractive, thus prompting the students to complete the assignment with interest.
Printable Clock Hands Template
eduplace.com
Clock Minutes Hand Template Printable
cdn.mathletics.com
Printable Free Wall Clock Images
edilportale.com
Free Clock Cutout Printable Template
learnenglishkids.britishcouncil.org
Printable Learning Time Clock Template
minieco.co.uk
This clock template is printable as well as editable making it easier for the teachers to make changes to the worksheet according to their preference. The updates can be made using moveable stencils that are available online and then the template can be printed to be distributed among students.
Blank/Empty Clock Face Template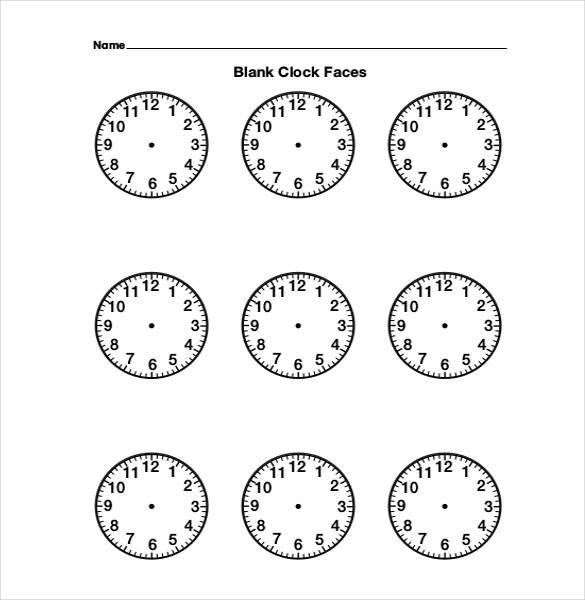 eduplace.com
Printable Color Wheel Clock Image Pdf
ilovetocreate.com
Sample Handless Clock Format
readingquest.org
Here you will get a readymade clock structure which might or might not come with the numbers. You would simply need to print them put and pass on to students. Some of the free download clock templates would even allow you to add on your preferred memo line for further instructions on the clock sheets.
Conclusion
Teachers teaching the concept of time to their students need to provide them with worksheets to ensure that they get ample practice. However, designing a clock face for such worksheets can be monotonous and at the same time, time consuming. Using printable clock templates simplifies this work as the teacher just needs to download it, add relevant questions and then get it printed. With a wide range of DIY paper clock templates to choose from, the teachers can be assured that they capture the fancy of their students using new clock faces every day.