Have you ever noticed that small hard piece of paper hanging from an item you've purchased? Or a piece of Gift Tag that you bought? Well, that is known as a tag. In simple terms, by tagging something you are basically marking something. A tag can serve as a mark of identity in other words. It is usually a strip or a piece of strong or hard paper which contains certain important information. Every item you buy will contain a tag of some sort.
But did you know that a lot of hard work goes into making a tag, even though it appears rather insignificant? Ever tried making a tag for yourself? Well, it is a rather complicated task. You have to make sure the format matches the item, you have to choose the design, you have to insert the details which are relevant to the item and so on. In order to do all that, why don't you just download Tag Templates? These can help make your job much easier.
Free Download Name Tag Word Template
umaine.edu
Star Address Label Tag Word Template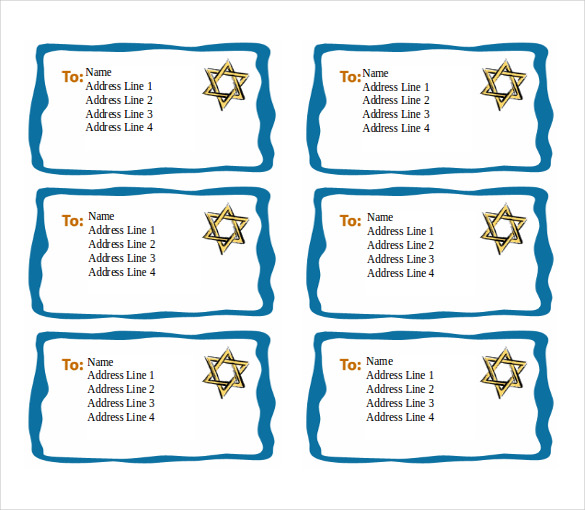 onlinelabels.com
Thanksgiving Address Tag Word Template
onlinelabels.com
Name Badge Tag Template Free Download
iadd.org
Free Download Word Price Tag Template
onlinelabels.com
Blank Tag Word Format Template
onlinelabels.com
Quote Tag Word Formt Template
onlinelabels.com
> Types of Tags
A tag can be used for a number of purposes. Some of them are- 1. ID tag- An id tag serves as identification of a particular person or an object. Men in the military are given certain ID tags made of metal which contain a unique identification number. Similarly, all ID tags consists of a unique identification code.You may also see Vintage Gift Tags. 2. Dog Tag– The collar around a dog's neck usually consists of a tag. This tag will contain his name, the name of his master and the address. In case the dog goes missing, the tag can be used to track him down. 3. Product tag- All products you purchase, both online and offline, contain a tag attached to the label. This tag will include the name of the product, the brand and often consists of the price of the item as well. It also includes other details like material and instructions for users. You may also see thank You Gift Tags.

> Why Should You Use Tag Templates?
A tag may seem like an insignificant piece of paper, but in reality, it is of the utmost importance. How else would you find out about the important details regarding a particular product? Similarly, soldiers are identified by their ID numbers, present on their individual tags. In that case, you need to know exactly how to create tags. That is precisely why you need to try out tag templates in word. A tag template in MS Word format would be best way to create efficient tags. These have specific formats depending upon the type of tag itself. Accordingly, you can choose downloadable tag templates.You may also see round gift tags.

> Tips to Keep In Mind While Creating Tags
These are just a few things to keep in mind while choosing tag in Free Template Word document- 1. First, you need to decide why you need the tag. Is it for identification purposes? Or is it a product tag? Each tag has a separate format. That is why the purpose is of the utmost importance.You may also see blank gift tags. 2. The format of the tag is a must. An attractive design is likely to be eye catching, and appeal to a large number of people. You can go for tags with stylish designs or even ones which are simple and minimalistic.You may also see plastic gift tags. 3. Different tags will have different formats. A military ID tag will contain the identification number and the battalion, while a product tag will have the name of the brand, material used and instructions for users.You may also see wedding gift tags. 4. Brevity is important in a tag. It is small in size, which means you'll have to incorporate all your details into a small space.You may also see birthday gift tags.

> We Can Help You!
You must try out the free tag templates we have in store for you at template.net!