Let your cards reflect your character; just design them using crafter business cards and bring out the best in you. Created for use with crafts businesses, the card templates offer a multitude of options for making stunning business invites. Use the hundreds of stock themes provided to instantly generate the design, also include photos from the stock library to personalize the cards for your business.
You can also customize the cards yourself by importing them to professional editing software such as Apple iWork pages, Adobe Illustrator, CorelDraw and so on and simply drag and drop content into the layout of the design. The cards feature a layered design concept that allows customizations to be applied to elements individually.
So resize and reshape your cards without worrying about overall outlook. The card templates can also be edited online by simply swapping the default logo with your own and typing over the default text provided. The text box dimensions can be altered simply by adjusting the pull handles; and since the size of the template is fixed at 3.5"x 2" you can alter any dimension within the template and it will be automatically scaled for printing.
The templates also allow users to choose from a large library of colors enabling users to create the desired background effect. The full bleed and double side printing options let users to take advantage of the entire card template. Also watermark features included with the card templates allow for a better design as well.
Crafter Business Card Template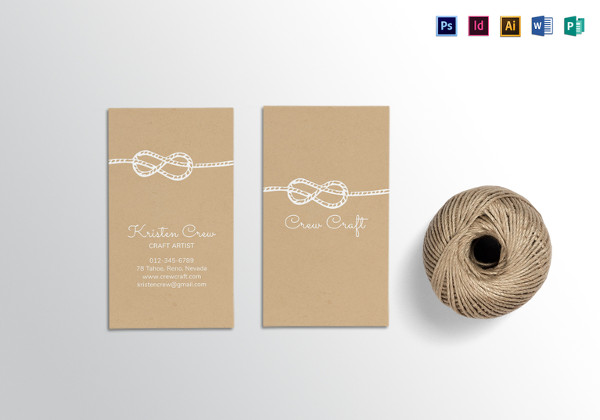 Download
Craft Rustic Modern Chalkboard Business Card Template
Craft Business and Visit Card
Craft Beer Cicerone Business Card Templates
Custom Photo Craft Business Card
Sewing Crafts Seamstress Bird Business Cards
Craft Business Card Templates
Arts And Crafts Business Cards
Art Workshop Business Card Template
Crafts Biz Business Card Template
Elegant Swirl Floral Business Cards
Custom Crafts Business Card
Flower Craft Gift Shop Business Card Template
Crafters Floral Handmade Business Card Templates
Crafter Wool Business Card Template
Hand Crafted Babinga Business Card
Bold Gold Artisan Crafter Business Cards
Crafter Jewellery Making Paper Beads Business Cards
Crafter Business Card Templates
Custom Crafters Business Card
Business Card for Crafters
Crafters Business Card Template
Crafters Etsy Shop Business Card
Crafter SRF Business Card