Business Cards
7+ Circle Business Card Designs & Templates – PSD, AI
A business card is one of the most efficient and effective ways to network yourself as a professional to other professionals. Although seen as a traditional medium in an age of technology, business cards proved to have never lost its power and effectivity. It has shown its persistence more and more amidst the technological advancements that surrounds it. And more and more has it continued to be one of the best go-to networking mediums for professionals despite the rise of smartphones and social media.
Most people, for their business cards, tend to go for a design that is simple and minimal in nature for the fear of looking unsure and unprofessional. That could change, as it is always nice to inject a little bit of fun and personality in your business cards, while still looking reliable and professional. Design elements, especially ones that go with your brand, add color to your card, in turn, giving your card more life. With that said, here is a list of business cards with circle designs. They are actually round in form, making you stand out as a professional from others who have given ordinary business cards.
Round Business Card Template
Circles Business Card
Elegant Round Business Card
What does the circle shape mean?
We see circles almost everywhere. We see it in the sun, the moon, the stars, and the earth. We see them in fruits and in body parts such as the iris of the eye. That is the very reason why the circle is associated with the heavens, life, order, completeness, and wellness. A circle can also mean energy and power, as they move without restriction— circles do not begin and do not end. They can also protect what is within their boundaries, for circles can mean defense, endurance, and safety. You may also like personal business cards.
In the perspective of graphics, the circle is one of the most used shapes out of there because of its versatility and timelessness. It is able to elicit positive energies and imply a number of meanings that can help with defining or redefining your brand, business, or even you. A testament to this is the number of brands that use this shape in their logo designs, whether it be a symbol, a backdrop, letter, or number. It is found in Target, AT&T, Chanel, and many others. That alone should attest to the fact that the shape can do more than just be an all-around design for your business.
Modern Business Card
Retro Round Shape Business Card
What does it mean to have the circle shape in your business card?
As a professional, you want to be able to market yourself in the most presentable light. Some people say that the way to do this is to go for a simplistic design. They may be right, but this isn't always the case. You can allow yourself to look reliable and professional even with designs on your business card. If you do opt to go with a design, it is suggested to use one with shapes that have positive psychological connotations attached to them.
Shapes have the power to affect a person's view of your brand or business. And if there is one shape that is able to convey positive energy, it is the circle. So going for the circular shapes will most likely give them all the positive effects, as the shape itself is beaming with positive connotations. Circles have different psychological connotations— completeness, love, movement, eternity, protection, intellectualism, femininity, and secret —attached to them. Choosing to put circular shapes in your luxury business card may also potentially bring out the same characteristics the shape connotes, which will benefit you and your business in the long run.
Elegant Circle Business Card
Personal Business Card Template
Round Business Card for Manager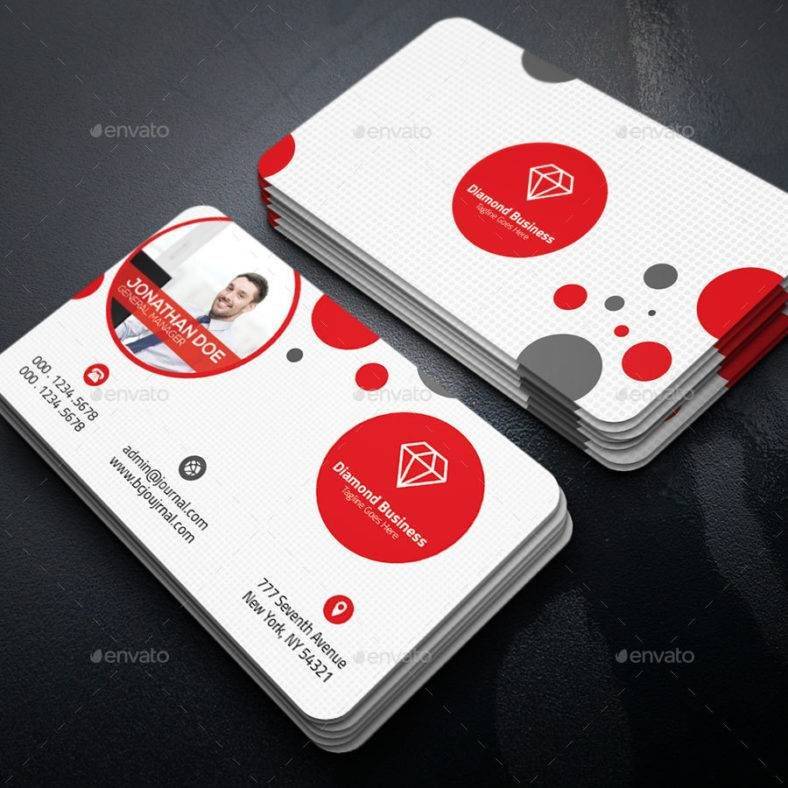 Why should you opt for a business card amidst the technological advancements?
In an age where technology is slowly taking over and its prowess seems irreducible, advertising or promoting your business or brand does not seem like such a daunting task. In fact, with just one click you will be able to promote whatever it is you are offering to thousands and thousands of people. We cannot deny the fact that digitally promoting your self or service comes with an ease, but it will not erase the uncertainty that it comes with. On the other hand, there is a traditional networking medium, that despite its age-old ways is very capable—the business card.
Business cards have been around for decades now and despite the rise of technology, have proven its power more and more. Professionals opt to go for professional business cards, despite the advancements in technology because with it they are assured of so many benefits when it comes to promoting one's self and business.
The very purpose of a business card is to be an information provider to your potential business acquaintances. It houses all the necessary information—name, profession, email address, etc.—needed for other professionals to reach out to you or inquire about the services you offer. More so, free business cards do more than just provide information as it is capable of things that can greatly affect your business and the way people will look at you and the services you offer in the long run.
Business cards help the professionals you acquaint yourself to remember you, who you are, and what you do. Also, if you decide to put a photo of you on your transparent business card, it will help other professionals remember you more easily and accurately, especially if they have been given a number of business cards in a day. With that said, business cards can potentially help you stand out amongst so many existing businesses out there. To also note, having a physical business card, unlike promotions through technology, allows you to give a tangible object to other professionals in which they can bring around with them.
As Shaun Caldwell, a commercial printer, points out "business cards never have downtime. They're always accessible and never have dead zones or internet outages", which means that your creative business card can be viewed anywhere and anytime. Furthermore, business cards are essentially cheap, they do not cost a lot compared to when you resort to promoting your business through the use of technology. You only need to have a design and have it printed, and then you are good to go. Also, business cards reflect and represent you as a person, a professional and your business as a whole. So when other professionals see that you have a well-designed vintage style business card they will not hesitate to think that you are and will give in to the services you offer.
Advantages of choosing to go for a pre-made business card design:
There are ways to have your business card done or made, either you can go to a professional graphics artist or just simply buy one online that is readily available. Some might think going for a pre-made cool business card means getting a generic-looking card that is designed with mediocrity, but no, business cards that are readily available online are as edgy and as unique as those custom-made.
Comparing the two side by side, they actually are in parallel when it comes to design (although, custom-made colorful business cards are tailored exactly for you), the only thing that sets the two apart are their price points. One is much more expensive and the other is a lot cheaper. Custom-made business cards that are tailored to your preference by talented professional graphics artist obviously cost a lot more. Why? Simply because of the time and effort they put in to actualize your business card. Compare it to when you just buy one that is pre-made and readily available online, which only costs a few dollars. To also note, these pre-made business card designs and templates are actually designed by equally talented graphics artists.
Other than being cost-efficient, pre-made business cards also come with other sets of advantages. First, it lets you tailor these pre-made business cards to your liking. These business cards that are readily available online are saved in a file that is easy to edit and customize to your preference from fonts to colors, to backgrounds and logos. They also come with a smart object layer that makes elements in your round business card easy to move around for a more personalized business card design. With that said, pre-made business cards, depending on how you opt to design it, will be able to reflect and represent yourself as a professional and your business as a whole, just as equally capable as those custom-made business cards. Pre-made business cards also come in different sizes other than the standard that is 3.5 x 2; they come in varying sizes that best fit your preference. Lastly, even though these cards are readily available online, it still has the capability to set your business card apart from the rest as it comes in very unique and different designs. There are simple business card designs, modern business card designs, even vintage business card designs, and obviously circle business card designs, so there is one for every different preference.
Business cards should not be discounted as a simple paper you hand out to other professionals you acquaint yourself with, as it does more than that. A business card is an extension of your professional life, so it should elicit the very same characteristics you try to present yourself to the public. Furthermore, elegant business cards do not have to be just simple and minimal in order to be effective, they can have designs— for this case, the circle or round shape —that have the equal capacity to impact your professional career as those minimally designed cards. Having circle elements or designs in your promotional mediums connote positive energies that will, in turn, translate to other professionals that will have a good impact on you as a professional and your business as a whole.
If you found this article helpful, bookmark this page for future references and do not forget to share this post with other professionals seeking the best business card designs and templates, or for circle business card designs and templates.
More in Business Cards