Business Cards
22+ Folded Business Cards – PSD, AI, Vector EPS
The growth and popularity of digital content and social media for marketing hasn't been to get rid of business cards from anyone's marketing arsenal. In fact, if you were to choose the most valuable business and commercialization tool in your existing collection, it would be a business card template. You can also see Free Business Cards.
Tom Egelhoff, a business author for Small Town Marketing, argues that regular and Folded Business Cards are even more valuable than your personal computer, especially because they are the cheapest, and, yet, the very best marketing solution. You can also see Cool Business Cards.
Folded Business Card Template

Download
Folded Laptop Business Card Template

Download
Laptop Folded Business Card

The card is breathtaking. You can use it to project the image of your business wherever you go. Note, though, that the text on the keyboard part of the template is not editable at all.
Front and Back Colorful Business Card

The color combination used in designing this card is perfect. The font used is awesome, and the content section is easy to edit. The card is small in size, which means it should fit in a pocket or purse. You can also see Photography Business Cards.
Folded Business Card for Make-up Trainer

If you want to share info about your makeup business, this would be the best card to use. The best thing about this card is that you can also save it an image and use it as a cover photo for your business page on Facebook.
Folded Style Business Card Template

This card is cheap, easy to edit, and simple to customize. Feel free to customize the design and the layout. However, the template should work fine without editing.
Modern Folded Business Card
Tri Fold Business Card Template
Creative Notebook Business Card Template
Corporate Identity Folded Business Card Template
Magazine Folded Business Card
Fold Corporate Business Card Template
Dry Cleaner Folded Business Card
Exsys Solutions Business Card
Design Folded Business Card Template
Folded Paper Business Card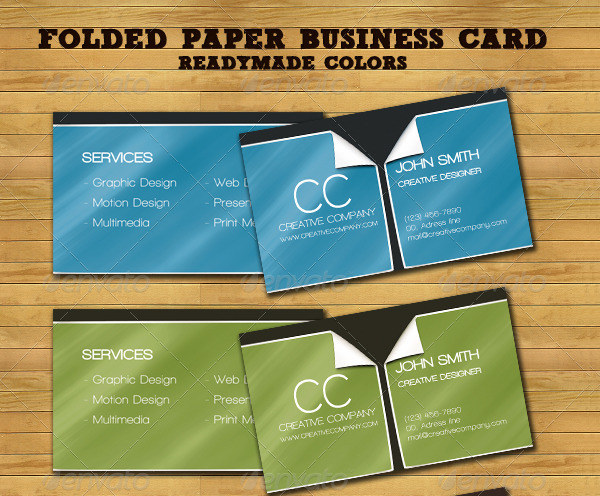 Folded Business Card Set
Creative Folded Business Card
Corporate Folded Business Card Template
Art Folded Business Card
Die Cut Folded Business Card Template

This template would be a very nice identity of your company. Moreover, it will remind the recipient about the existence of your business after the two of you have long parted.
Fabulous Business Card Template
What Role do Business Cards Play?
Understand this: your card has a purpose. The preliminary goal of a business card has always been to communicate. However, a business card goes beyond the margin of sending a marketing message to potential customers. Feel free to turn it into an event's ticket, a note card, or an object of reminder and you will see a significant change in the number of people interested in doing business with you. How good a card speaks about your enterprise depends on the content printed on the cards. Reliable, sensible messages can increase the rate of conversation for your business. You can also see Blue Business Cards.
Are Business Cards a Burden?
How can an item that adds credibility to your business become a burden? It simply can't, and those who treat business cards as a waste of time or unnecessary expenses often get it all wrong. To prove that the cards are always helpful, you need to understand that customers always relate to one another.
In fact, many of your clients are even friends. So, how do you attract these customers to your business without incurring the burdensome costs of advertising? It's simple; you add credibility to the card with sample testimonials, and you will be ready to start converting. You can also see Wooden Business Cards.
Do Business Cards Guarantee Results?
The quickest answer to this question is YES. Besides, to help your business get attention and turn irregular customers into long-term business, business cards will also present your company as reliable, credible and legitimate to the outsiders.
People who have used the Tri-Fold Business Card Template have seen quite some significant improvements in their business. Moreover, the fact that you don't have to spend hours creating the template yourself means that you can spend much of your time concentrating on other business matters. Overall, each template is 100% editable, thus simple to customize. You can also see Beauty Parlour Brochure Templates.
More in Business Cards
| | |
| --- | --- |
| Printable Business Cards - 9+ Free PSD, Vector AI, EPS Format ... | 30+ Photography Business Cards Free Download Free & Premium ... |
| Tri Fold Brochure Template – 45+ Free Word, PDF, PSD, EPS ... | 20+ DJ Business Cards Free Download |
| 21+ Wooden Business Cards – Free Printable PSD, EPS, Word ... | 15+ Small Business Cards - Free PSD, EPS, AI Format Download ... |
| 25+ Artist Business Cards - Free PSD, AI, Vector, EPS Format ... | Cool Business Cards – 23+ Free PSD, AI, Vector EPS Format ... |