HR Templates & Forms
26+ HR Complaint Forms
A HR department of any organization is liable to receive a huge number of complaints on a daily basis. A company's structure is composed of several layers and often there are problems between groups or individuals for various reasons, work related or otherwise. You can also see Free HR Forms.
Employee Complaint Form Template
Restaurant Employee Complaint Form Template
Sexual Harassment Complaint Form Template
HR Documents & Templates
Employee Complaint Form Template in Word, Pages for Mac
Thus, by using these Sample HR Guidelines templates, the department can ensure a smoother process of receiving and responding to complaints lodged by employees with a ready channel of communication provided, working similarly to HR Feedback Forms.
Free HR Complaint Form Template
Free HR Employee Complaint Form
Free HR Professionals Association Complaint Form
Editable Employee Complaint Form on HR PDF Format

case.edu
Sample Employee Complaint Form on Company HR Printable

midwesthr.com
Human Resources Professionals Association Complaint Form Sample

hrpa.ca
Form Discrimination Harassment Complaint Company HR PDF

hr.osu.edu
HR Management Employee Complaint Form Template Free Download

manuals.ucdavis.edu
Human Resource Services Compaint Form Free Download PDF

hr.ufl.edu
Human Resources Complaint Form
Employee Complaint Form

case.edu
HR Grievance Form

hr.qmul.ac.uk
Workplace Complaint Form

health.qld.gov.au
Employee Concerns and Issues Form

losrios.edu
Employee Harassment Complaint Form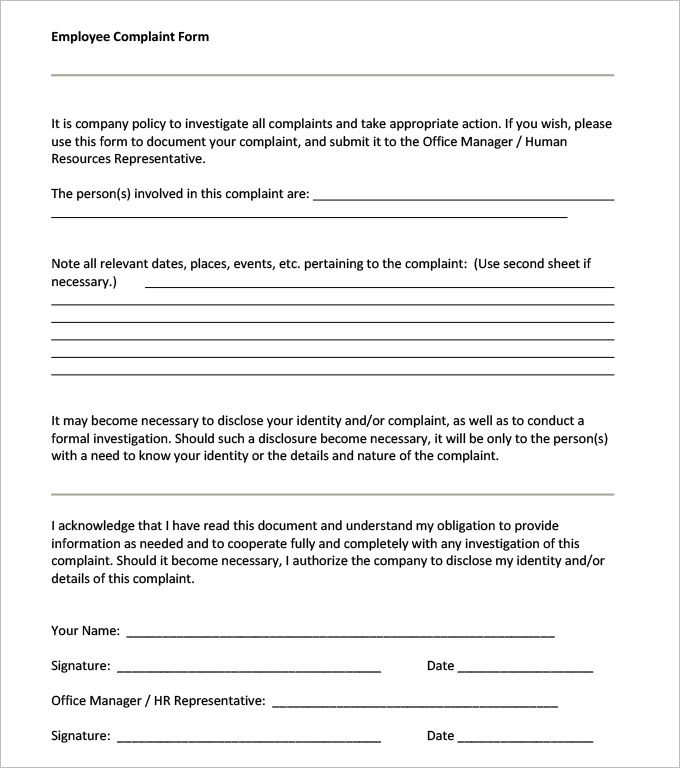 midwesthr.com
Complaint Form PDF Download

hrweb.berkeley.edu
Emotional Abuse Letter of Complaint
Sexual Harassment Letter of Complaint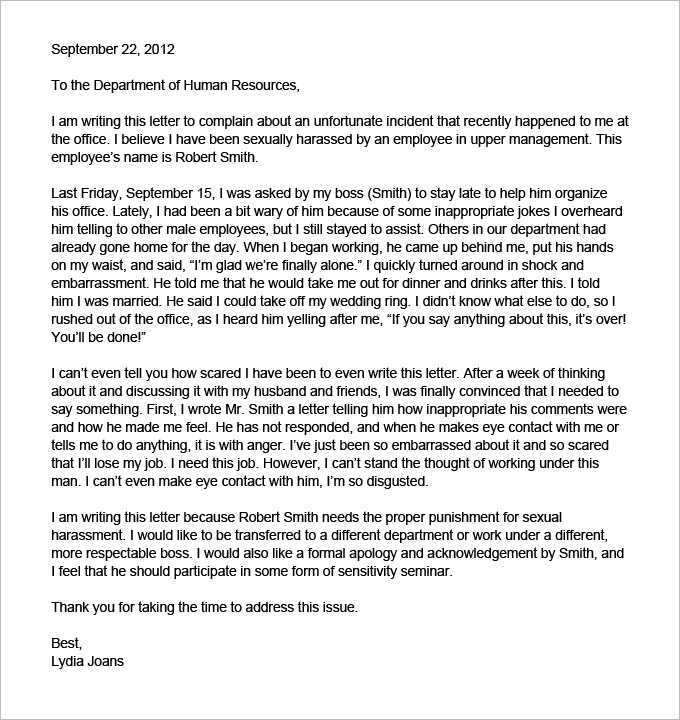 Unfair Treatment Letter of Complaint
Free Employee Complaint Form PDF

cityofnewhaven.com
Free Complaint Form Download

hr.ufl.edu
Human Resources Employee Complaint Form

neisd.net
>

Various Forms Suitable for Reception of all Kinds of Complaints

These templates are extremely versatile. The content is easily changeable, including the various categories that are required to be filled up in order to file the appropriate complaint, whether it is for insubordination, sexual harassment, verbal abuse, physical altercation, theft, damage to personal belongings. Whatever other grievance the employees may have. Available free for download, the forms can be edited in any manner, with categories and questions the department wants to add being easily integrated. Employees may also utilize HR Legal Forms in tandem to lodge particularly serious complaints.
>

Full Range of Customizations
You can use all kinds of fonts as the templates support a variety of styles.
The efficiency of the department is increased as they can simply store one such template and make such alterations and distribute them.
Being available online, they can be distributed through emails, discreetly. Employees will be encouraged to use these forms to communicate with the department without attracting too much attention as such matters are often very delicate.
If u have any DMCA issues on this post, please contact us.