HR Templates & Forms
375+ HR Letter Templates – Free Sample, Example Format Download!
There are few kinds of letters which you will definitely encounter (and have to write) in business in general and human resources in particular. They include the offer letters you send to selected candidates, the rejection letters you offer to those who didn't make the cut, termination letters signifying the end of employment, and even those used to provide an employee with recognition for a job well done, either formally or informally. Whether you need job offer letters or candidate rejection letters, recognition letters or resignation letters, you'll find free samples right here. Download them and get started.
Job Invitation Letter Template
Promotion Announcement Letter Template
Interview Appointment Letter Template
Employee Dismissal Letter Template
Employee Warning Letter Template
HR Letter Templates
Hr letters are required in any business you are in. Whether you are running a business or you are holding hr positions, you must have your letters ready for purposes such as job offer letters, rejection letters, thank you letters, appreciation letters, etc. These letters are used as an excellent opportunity to express appreciation towards your employee(s). For any business situation(s), Hr letters are essential. As an Hr manager, these letters are ways of showing that you care about your employees. In addition to the other infrastructure(s), the only way to grow your company is by making your employees feel appreciated for their hard work, dedication, and commitment to their work.
HR Package – Includes Checklist, Letters, Email Templates, etc
Job Performance Warning Letter Template in Word
Employment Offer Letter Template
Letter of Recommendation Template in Pages for Mac
Employee Warning Letter Template
Notice of Termination Template in Pages for Mac
Experienced Hr Resume Cover Letter Template
HR Resume Cover Letter Template
Free HR Reference Letter Template
You're bound to get a lot of applications for every unfilled position, but there are only so many jobs to go around, and you're going to be turning down a lot of candidates. It's important to acknowledge the efforts made by each and every applicant, which is why you need acknowledgment letters, even if they don't get offer letters or letters of appointment. Look at these free samples to find out what goes into one. [ 31+ Acknowledgement Letters ]
At the end of the recruitment process, after all the interview forms and screenings and offer letters, is the appointment letter, confirming that the position has been filled. The drafting of the appointment letter is, for obvious reasons, very important. These free samples will show you what goes into an appointment letter. [ 25+ Appointment Letters ]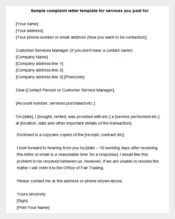 There are many methods for dealing with disputes in the workplace. The use of a complaint letter formalizes the problematic situation, simply by putting it into writing. It shows that there is a serious problem which the writer is trying to resolve. A well written and professional complaint letter can work wonders, avoiding resignation letters and resignation letters. Get started right away with these free samples. [ 25+ Complaint Letters ]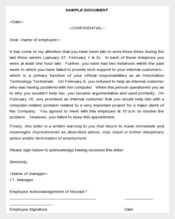 If you're dealing with issues of non-performance regarding a particular employee, then a disciplinary or warning letter is the first step to letting them know that there is a serious problem. A carefully worded reprimand can deal with the situation before it gets any worse, and you're writing complaint letters or termination letters. Use these free samples for more information. [ 20+ Disciplinary Letters ]
As a member of the HR department, you will be constantly faced with employees leaving the organization. Now you can make this transition a more seamless process, if you download these free notice period forms that you can use to create real and sample notice period letters or rejection letters or termination letters, that contain all the extra information related to an employee's notice period. [ 18+ Notice Period Letters ]
If you have a growing business, you probably have regular promotions going around the office. As part of the HR department, make your work easier and download these free promotion letter templates that you can use to draft a sample of a promotion letter, thank you letter or appraisal letter. These templates are fully customizable and come with extra features. [ 21+ Promotion Letters ]
As and HR executive, you might receive a numerous applications for the various positions within your organization. However, it is not possible to hire all the candidates that applied. You can now let them know about their rejection with these rejection letter, resignation letter or termination letter templates that you can download for free and create a sample with extra fonts and designs. [ 10+ Rejection Letters ]
If you're a member of the HR department and are fed up of having to type out fresh resignation letters every time an employee leaves your organization, you should download these free resignation letter or termination letter or warning letter templates. Create a sample to use as your standard format and add some extra personalization to your employee resignation letters. [ 25+ Resignation Letters ]
Dissatisfied with an employee's performance, behaviour and conduct or some other extra reason? As if terminating an employee isn't enough hard work, you can at least make the task of drafting a termination letter easier by using these free termination letter, warning letter or resignation letter templates that you can download and use to make a sample or actual termination letter. [ 20+ Termination Letters ]
Managing HR activities can be difficult in an organization that has branches in more than one location. A particular challenge is dealing with transfers as they involve two offices. You can now make the task of transferring an employee easier with these transfer letters, welcome letter or new hire processing form templates that you can get for free, make a sample and download extra fonts or styles. [ 31+ Transfer Letters ]
If you have employees within your organization that are behaving beyond the permissible code of conduct, human resource policies and HR rules dictate that you have to send them a warning letter regarding the issue. Download these free warning letter templates that you can use to create sample warning letters that only need to be modified with extra user-fed details. [ 25+ Warning Letters ]
As the Human Resource member of a growing business entity, your organization might be on boarding a lot of new employees over the course of time. Your HR checklist prompts you to make your new employees feel welcomed with these free welcome letter and employee record templates that you can download with extra details and create sample welcome letters. [ 21+ Welcome Letters ]
An important function of the HR department is to managing HR contracts and rolling out comprehensive offer letters that mention all details right from designation and salary to company HR rules & regulations. Save yourself the trouble of having to create them from scratch with these free to download offer letter templates, which you can use to create sample offer letters. [ 31+ Offer Letters ]
During the appraisal period, the HR department is tasked with the duty of handing out appraisal letter that contains detailed appraisal HR checklists. The task of creating HR notices for all of your employees can be simplified with these free to download appraisal letter templates that you can use to create sample letters and add extra bits of relevant information. [ 23+ Appraisal Letters ]
Another important support function of the HR department is to produce recommendation letters for its employees who have HR contracts or HR agreements, which can be another tough task. You can simplify this task by creating sample recommendation forms with these free to download extra letter templates. [ 21+ Employee Recommendation Letters ]
Every once in a while, human resource policies mandate that organizations hand out thank you letters to its employees for a job well done, or for performing tasks that are above and beyond their job profile. Handing out such HR notices of appreciation have an important psychological effect on employees and should be created by using sample letters from these free to download extra employee thank your letter templates. [ 12+ Employee Thank You Letters ]
Every organization has an occasional big meeting or annual event. And it's the HR rules and HR guidelines of an HR department to ensure that everyone concerned is aware of when and where such events are taking place. This can be done by choosing a sample letter that you can create from these free to download extra invitation letter templates. [ 17+ Invitational Letters ]
Letters from Human Resources come in a variety of shapes and sizes. Sure, that dreaded termination notice is a big one, but it's not the only one. Really. An HR letter can be for anything that the company wants to let its employees know about. And that's just letters FROM Human Resources. Letters to HR, meanwhile, are typically cover letters from job applicants.
> How to Use these Templates
For all important informative letter that requires etiquette, elegance, formality and professionalism, we bring you the HR letters templates. Irrespective of the type of HR letter that is required, we bring you all forms of templates that can be easily downloaded, printed or customized accordingly as per the requirements of an individual.
> Make the Letter Your Own
Do remember that these templates are meant to serve as a reference for you; don't quote verbatim. Personalize! Make your letter unique, so that it stands out and so that the person reading it will not only remember it, but remember it well. After all, a good cover letter can make all the difference in the world, giving you a better shot at that coveted appointment letter, instead of just an acknowledgment letter.