HR Templates & Forms
17+ Sample Disciplinary Letter Templates – Word, Apple Pages, Google Docs
While complaint letters are the first step in letting company miscreants know of the HR department's intention of taking action with regard to their actions, disciplinary letters example are far more severe and are used by the department in dealing harshly with those who break the rules of the corporation. You may also see Letter Samples.
These, along with notice period letters, are a more serious form of the formal complaint letters. There may be disciplinary letter samples suspending employees, or letters that reduce the employee's salary for the month as compensation for something, etc., the layouts of which are provided by these templates
Simple Restaurant Disciplinary Letter Template
HR Package – includes Policies, Letters, Email, Job Descriptions
Disciplinary Action Letter
Disciplinary Letter Template
Disciplinary Letter Sample
Disciplinary Letter of Suspension
Disciplinary Decision of Suspension Letter
hr.unc.edu
Disciplinary Letter on Review of Suspension
Sample Employee Disciplinary Meeting Letter
acas.org.uk
Disciplinary Letter of Ending Suspension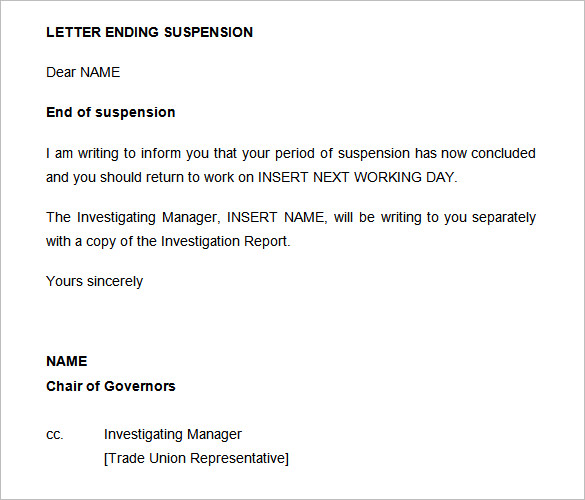 Letter of Employee Disciplinary Meeting
Sample Written Warning Disciplinary Letter
hr.unc.edu
Alter the tone and content to address the rule broken and the necessary penalization. A variety of activities generally considered breaking company rules are outlined in these templates, although greater alterations are possible. You may also see disciplinary warning letter tips.
Choose from a number of suitable, pre-built templates that save the department the hassle of writing such letters every time. A sample is stored for such occasions. You may also see first warning letter templates.
Notice of Probationary Dismissal Disciplinary Letter
hr.unc.edu
Sample Disciplinary Letter of Re Investigation
Disciplinary Letter of Enclosing Investigatory Report
Sample Letter Inviting to Disciplinary Meeting
Select From Many Fonts and Other Customisation
A number of cool fonts, of differing sizes and styles, are present for use in the templates, where the color can also be changed. The main body of the letter is also alterable, although if the right template is selected, then the need to do so will be rare, as many are available for free Disciplinary Letters, for download from the web.
We have collected some Sample Disciplinary Letters, hope these templates will help you.
If you have any DMCA issues on this post, please contact us!