HR Templates & Forms
142+ Free HR Forms – Free Word, Excel, PDF Documents Download!
Forms are one of the most significant tools for human resource departments of an organization. So many tasks, duties ad tew responsibilities fall in the bracket of the HR Forms; they play an important role in helping the HR department gather up all the work-related data and maintain it. Different tasks and situations use different forms. These forms range from the salary appraisal, performance reviews, leave of absence, and the list goes on. In this article, we have compiled templates of various important form templates that you can use to make the best forms as and when needed.
Table of Content
142+ Free HR Forms
HR Investigation Report Form Template
Employee Exit Interview Form Template
Most companies do not conduct an exit interview. But if you're one of those employers who want to interview before letting go of an employee, then this Employee Exit Interview Form template is definitely for you. By using this template, both parties will be given a chance to hear each other's feedback about their experiences and business relationship. We have made this Word form template to be as convenient as possible for you to download and utilize for whatever your business wants or needs may be. This template can certainly do the job for you. All you would have to do is download the template, edit and customize it to suit your needs. Download it out now!
Applicant Appraisal Form Questions Template
This template will help you evaluate candidates and determine who is fit for the role. You can make this template yours as it has professionally written content that you can change as per your needs. On top of that, it can also be edited with any file formats and downloaded on any electronic device with ease. Just edit and customize as you need. Try it out now!
Employee Complaint Form Template
There are times when issues come up within a company or organization. To give your employees a proper line of communication to complain about certain issues within the company, you would need our accessible Employee Complaint Form template. This premade file is designed to handle complaints filed by employees so that the company can investigate and resolve the problem. Save yourself time and effort since you do not have to create forms from scratch. It is professionally designed, making use of content that users can fully customize to suit their needs better. Check it out now!
Payroll Deduction Form Template
Employee Appraisal Form Template
HR Bundle – 215+ Documents and Templates
Employment Application Form Template in Google Docs
Employee Correction Form Template
Employee Appraisal Form Template in Word, iPages
Applicant Appraisal Form Evaluation Template in Word
Staff Self-Evaluation Form Template in Word
Self Evaluation Form Template in Google Docs
Superior Improvement Form Template
Free HR Complaint Form Template
Free HR Application Form for Reclassification
Free HR Assistant Job Application Letter
HR Manager Job Application Letter
HR Evaluation forms are used from time to time whenever there is an employee performance review or any or HR-related evaluation is taking place, these forms come in handy. We have made the forms easily gettable for you as we have piled up an assortment of HR Evaluation which are user-friendly and very customizable.
(13 Sample HR Evaluation Forms & Examples)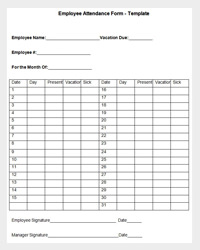 Maintaining employee attendance and in & out timings according to HR guidelines can be a very tedious task, especially if it is required to be kept manually. This task can be made much easier of your download these free time & attendance forms, create extra sample forms with an HR dashboard template and choose the one that is best suited to your time keeping requirements. ( 5+ Time & Attendance Forms – Free Samples & Examples )
An HR department is almost always held up in some legal formality or the other, either from a disgruntled employee or even ex-employees. To makeneurr tywt all the legal issues are sorted out in the perfect systematic order in accordance with the rules of the company rules and guidelines, download the HR legal forms that are available online. You can create sample legal forms that can hold extra information with regards to the legal procedures, if any, to be taken. Take a look at the Sample HR legal examples for more.
When you are dealing with new hires, there is a lot of processing to be done in the form of the job role and designation, salary, perks, etc. It also deals with issuing requirements such as laptops, credit cards, etc. To process all the data. You can also download these free new hire processing forms and job descriptions templates. These are great samples from which things can be altered to add extra guidelines for the Human Resources Department. Check the sample new hire forms for more.
The interviewing candidate is a big part of any HR department, with interviews ranging from one to dozens in a day, depending on the size and requirements of HR contracts. In such cases, it is useful to have standardized HR checklists pertaining to all applicants. You can do this by downloading free HR interview form templates, creating sample interview forms, and adding extra inputs. ( 6 Sample HR Interview Form Templates )
HR departments are required to obtain feedback from employees, management, and even their colleagues regarding the efficiency of the Human Resource policies, HR guidelines, the HR department, and all of its major functions. You can now easily obtain this data by creating sample HR feedback forms when you download these free HR feedback forms that you can alter to hold extra information.
An HR executive id often faces a barrage of complaints and concerns from both the employees and also, the management of nay. These issues could be payment, harassment, work efficiency, etc. Gathering and deciphering how to go about solving such issues is governed by human resource policies. HR rules can be made simpler if you download these free HR complaint forms that can be used to fulfill your needs and preferences as needed.
If it's time for appraisals in your office, obtaining all the data necessary to evaluate and appraise an employee in your HR checklist can be quite the challenge. You can now collect this crucial data much simpler by first creating an HR guidelines approved sample with these free download HR appraisal forms and then adding all your extra fields. (12 Sample HR Appraisal Forms )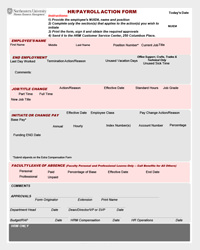 Creating and managing payroll functions is probably the most important human resource policies of any HR department and involves having all of the employees updated payroll and salary information according to HR guidelines. You can also download there payroll form template, which you can easily make a sample payroll form that can be easily modified to hold all the extra information that is relevant to the payroll needs. ( 4 Sample HR Payroll Forms )
HR Survey Forms – Templates to Help you Make Killer Surveys
HR departments and HR contracts are often tasked with conducting routine surveys regarding employee satisfaction, peer relations, and employee-subordinate communications within their company. Creating such surveys according to human resource policies can be quite a task. But, you can now download free HR survey form templates, create a sample survey, and add extra inputs as needed. ( 7 Sample HR Survey Forms )
HR departments are usually swamped by incoming resumes and application forms, making it stressful to go through so much unorganized data and choosing the right candidates according to HR rules and HR guidelines. But, you can now make your work easier and more organized with these free to download HR application forms, which can be used to create sample forms with extra inputs.
HR Forms:
HR forms are documents used by the human resources department to manage employees of any company. These forms are beneficial in many ways. You can use these forms to check employees' development in terms of their work and find out where they need to improve. It will also help the company to keep track of where it is going and what actions need to be taken for the company's growth. So, if you are looking for HR forms for your company, you can create on your own using online resources.
The median pay for human resources managers in 2019 is $116,720 per year, based on the Bureau of Labor Statistics data.
Studies show that 75% of recruiters utilize software to track applicants when they need someone to hire.
Meanwhile, 79% of employers plan to invest more in technology for recruitment.
Forms Available in Many Customizable Formats:
There are many kinds of surveys an HR department is required to undertake. These range from the general conditions of work, the average emotional state per wading across the company's workforce, incidents of misbehavior, and misdemeanor among the workers. Also, the relationships between the staff members, their equals as well as their superiors, etc.
There are form templates for each of these tasks, with various categories that make it easier for HR Department Functions to conduct the surveys. The contents of the form can still be customized should the default forms not suffice.
A Lot of Fonts and Other Efficient Choices:
The forms are available free for download and can be easily stored as samples in the computer for several printouts, thereby saving the department the hassle of making a new form each time.
Choose from a huge selection of fonts or various styles and shapes, choose all kinds of colors, highlight important sections, mark sections as compulsory, etc.
Distribute efficiently through emails as attachments, since the forms are available virtually, to begin with, saving on costs of printing them out.
Increase the efficiency of the templates by integrating various kinds of tables and charts, which make it easier to collect certain data.
Being in the HR department involves communicating with a lot of people over a wide spectrum of roles and responsibilities. So, why not make your communication easier with these great HR forms, and HR notices that you can download and use for your business.
Having the right kind of draft letters, fillable forms, and detailed HR checklists can save you plenty of time, and also help you manage all your required information quickly and easily. These free documents include various samples of descriptions of the job, evaluation forms, employee appraisals, etc. These forms will help you in all your needs, like recruiting, managing, and communication needs as and when needed.
General FAQs
1. What are HR Forms?
Human resource forms or HR Forms are documents that are used by a company's HR department. With the help of these forms, they can manage employee information, employment verification, and satisfaction, job applications, etc. They can also keep a check on the leaves and time-off requests of the employees if any.
2. What is the purpose of an HR Form?
The primary purpose of an HR form is to recruit and manage employees. It also helps in maintaining the various needs of the employees of a company. These range from financial to legal matters, and this helps in increasing the efficiency of an organization.
3. What is the role of an HR in a company?
An HR employee is one of the most valuable resources of a business entity. He/she develops and manages the company's culture. They recruit new talent, maintain payrolls, manage conflicts, and are involved in the training and development of the entity. Their role is the backbone of any business entity's success.
4. What does an HR Form include?
An HR form must include the following:
Job profiles
A hierarchical structure of the entity
Salary structure in brief
Time-offs and others
Business staffing plan
A tool to measure performance
All these make the HR form what it must be.
5. What are the relevant aspects of an HR Form?
The most important and relevant aspects of human resources include:
Candidate evaluation forms
Performance review forms
Onboarding checklists and forms for new hires
Form W-4
Relation notices
Termination forms