Forms are one of the significant tools for the Human Resources Department in an organization. As so many tasks, duties and responsibilities fall in the bracket of the HR forms play a big role in helping the HR accumulate work-related data and maintain it. Different tasks and situations call for different forms – such as salary appraisal, performance review, leave of absence etc. I this article we have compiled templates of various important HR Appraisal Form Template which are regularly or famously used by the HR. Take a look!
492+ HR Templates in PDF, Word, Excel, PowerPoint, Google Docs, Apple Pages, Google Sheets, Apple Keynote, Google Slides - START DOWNLOADING
Employee Exit Interview Form Template
Applicant Appraisal Form Questions Template
HR Forms
Hr Forms are documents used by Hr people in a company to manage employees. You can manage documents such as Job applications, online employee forms, employee information, employment verification, employment satisfaction, cv submissions, etc. These forms are beneficial in many ways. You can use these forms to check employees' development in terms of their work and find out where they need to improve. It will also help the company to keep track of where it is going and what actions need to be taken for the company's growth. So, if you are looking for Hr forms for your company, you can create on your own using online resources.
Employee Complaint Form Template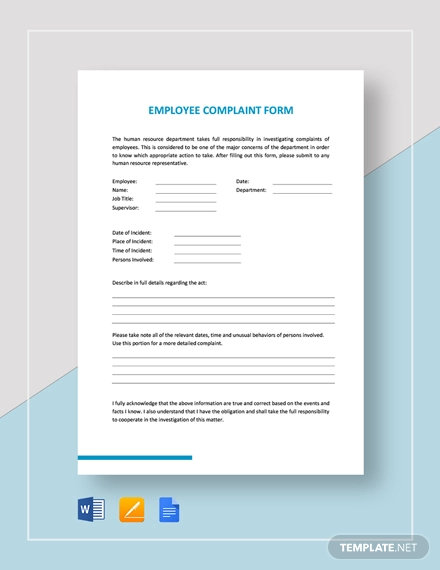 HR Bundle – 215+ Documents and Templates
Employment Application Form Template in Google Docs
Employee Correction Form Template
Employee Appraisal Form Template in Word, iPages
Applicant Appraisal Form Evaluation Template in Word
Staff Self-Evaluation Form Template in Word
Self Evaluation Form Template in Google Docs
Superior Improvement Form Template
Free HR Assistant Job Application Letter
HR Manager Job Application Letter
HR Evaluation forms are used from time to time whenever there is an employee performance review or any or HR-related evaluation is taking place, these forms come in handy. We have made the forms easily gettable for you as we have piled up an assortment of HR Evaluation which are user-friendly and very customizable.
(13 Sample HR Evaluation Forms & Examples)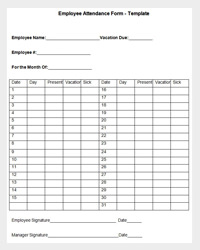 Maintaining employee attendance and in & out timings according to HR guidelines can be a very tedious task, especially if it is required to be kept manually. This task can be made much easier of your download these free time & attendance forms, create extra sample forms with an HR dashboard template and choose the one that is best suited to yourtime keeping requirements. ( 5+ Time & Attendance Forms – Free Samples & Examples )
An HR department is almost always held up in some legal formality or the other, either from a disgruntled employee or even ex-employees. To make sure that all the legal issues are sorted out in a systematic order in accordance with HR rules and HR guidelines, download these free HR legal forms that can be used to create sample legal forms to hold extra-legal information. ( 4 Sample HR Legal Forms & Examples )
When dealing with new hires, there is a lot of processing to be done in the form on Job role and designation, salary and perks, and issuing equipment such as laptops or credit cards. In order to process all this data seamlessly, you can download these free new hire processing forms and HR job description templates that are great for creating sample forms that can be altered to add extra HR guidelines. (
13 Sample New Hire Processing Forms
)
The interviewing candidate is a big part of any HR department, with interviews ranging from one to dozens in a day, depending on the size and requirements HR contracts. In such cases, it is useful to have standardized HR checklists pertaining to all applicants. You can do this by downloading free HR interview form templates, creating sample interview forms, and adding extra inputs. ( 6 Sample HR Interview Form Templates )
HR departments are required to obtain feedback from employees, management and even their own colleagues regarding the efficiency of the Human resource policies, HR guidelines, the HR department and all of its major functions. You can now easily obtain this data by creating sample HR feedback forms when you download these free HR feedback forms that you can alter to hold extra information. ( 
5 Sample HR Feedback Forms Must Download
)
An HR executive is often faced with a barrage of complaints and concerns from both employees as well as management regarding issues such as payment, harassment, and work efficiency. Gathering and deciphering how to go about solving such issues is governed by human resource policies and HR rules but, can be made simpler if you download these free HR complaint & concern forms that you can use to create extra sample forms. (
18 Sample HR Complaint & Concerns Forms
)
If it's time for appraisals in your office, obtaining all the data necessary to evaluate and appraise an employee in your HR checklist can be quite the challenge. You can now collect this crucial data much simpler by first creating an HR guidelines approved sample with these free download HR appraisal forms and then adding all your extra fields. (12 Sample HR Appraisal Forms )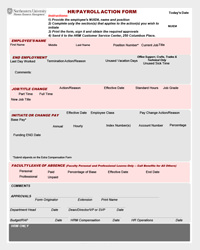 Creating and managing payroll functions is probably the most important human resource policies of any HR department and involves having all of the employees updated payroll and salary information according to HR guidelines. If you download these free HR payroll form templates, you can easily make a sample payroll form that can be modified to hold all the extra information that is relevant to your payroll needs. (
4 Sample HR Payroll Forms
)
HR departments and HR contracts are often tasked with conducting routine surveys regarding employee satisfaction,peerrelations and employee-subordinate communications, within their company. Creating such surveys according to human resource policies can be quite a task. But, you can now download free HR survey form templates, create a sample survey and add extra inputs as needed. ( 
7 Sample HR Survey Forms
)
HR departments are usually swamped by incoming resumes and application forms, making it stressful to go through so much unorganized data and choosing the right candidates according to HR rules and HR guidelines. But, you can now make your work easier and more organized with these free to download HR application forms which can be used to create sample forms with extra inputs. ( 
10+ Sample HR Application Forms
)
All Sorts of Forms Available in Many Customizable Formats
There are many kinds of surveys an HR department is required to undertake, ranging from the general conditions of working, the average emotional state per wading across the company's workforce, incidents of misbehavior and misdemeanor among the workers, the relationships between the staff members, their equals as well as their superiors, etc.
There are form templates for each of these tasks, with various categories that make it easier HR Department Functions to conduct the surveys. The contents of the form can still be customized should the default forms not suffice.
A Lot of Fonts and Other Efficient Choices
The forms are available free for download and can be easily stored as samples in the computer for several printouts, thereby saving the department the hassle of making a new form each time.
Choose from a huge selection of fonts or various styles and shapes, choose all kinds of colors, highlight important sections, mark sections as compulsory, etc.
Distribute efficiently through emails as attachments, since the forms are available virtually to begin with, saving on costs of printing them out.
Increase efficiency of the templates by integrating various kinds of tables and charts which make it easier to collect certain data.
Being in the HR department involves communicating with a lot of people over a wide spectrum of roles and responsibilities. So, why not make your communication easier with these great HR forms and HR notices that you can download and use for your business.
Having the right kind of draft letters, fillable forms and detailed HR checklists can save you plenty of time, and also help you manage all your required information quickly and easily. These free documents include various samples of job descriptions, evaluation forms and employee appraisals. These extra forms will aid you in all your recruiting, managing and communication needs.