HR Templates & Forms
20+ HR Policy Templates
HR policies comprise a set of rules and regulations regarding how a company's employee or a team are to be treated by the firm, the benefits that they will receive, the hiring and termination processes, and how their training sessions will be conducted. One of the most important functions of an HR personnel is to monitor, evaluate, and manage the resource of the company and there are HR form templates to help them here.
Email Policy Template
Company Policy Template
Privacy Policy Template
HR Templates for Small and Medium Business
Company Policy Template in Word, iPages
Employee Attendance Policy Template in Pages for Mac
Computer Use Policy Template in Google Docs
Flexible Workplace Policy and Procedure Template
Working Hours and Reporting Policy Template
Rehire Policy Template in Pages for Mac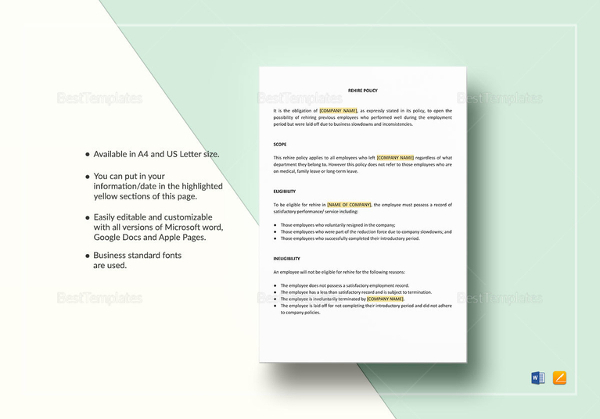 Paid Time Off Policy – PTO Template in Google Docs
Sick Leave Policy Template in Word, Pages for Mac
Overtime Policy Template in Google Docs
Travel and Expense Policy Template in Google Docs
Holiday Vacation Policy Template in Word
Free Training and Development Policy Template
Basic Hr Policy Template
a-apps.com
This is a basic format of the HR policy template. It comprises of the policies that can be implemented in a particular company, the considerations that they will allow the employee to avail to and the process of how a corrective action process is to be taken.
Human Resources Management Policy Template
caravanindustry.com.au
This particular HR policy template is easy to edit and can be accessed with ease, with the help of MS Word. The HR can talk about employee and management relationship, how it can be made better, and their policies regarding the two.
Hr Training and Development Policy Template
ucd.ie
This template can be used by companies who would want their HR managers to input strategies and development based ideas into the form. Also, you can add policies and guidelines to follow, their purpose and scope that will help a person to create good leadership development and organization development in the company.
Hr Retirement Policy Template
wirral.nhs.uk
This particular template can be easily edited and modified according to the requirement of the HR personnel of a particular company. You can use MS Word to make the desired modifications and create your own version of an hr manual template. HR manager, when wants to deal with the retirement policies of the employees concerned, can put this form to use.
Hr Policy Manual Template
icb.org.au
> How can you use this Hr Policy Template?
This policy is to be implemented and put to use by HR personnel whose duty is to create a harmonious relationship between the management and the employees. The policies that the company might want to use so as to defend the employee in times of need, or want him to abide by certain rules and guidelines, are mentioned in the policy forms.
The management and the employee, both need to give their consent before agreeing to follow them. Also, they have every right to raise a question to the HR Interview Evaluation Forms if they are having some doubts on their mind.
> What can you Include in the Hr Policy Template?
As an HR manager, you need to talk to the management and ask them about the policies that will make sense when added to the HR policy form. The document should also include training and development related details that a newcomer needs to know of. Also, various sorts of company policies and procedures need to be followed by an employee.
So the HR person needs to make sure that he or she gets informed on that part as well. Hiring and firing policies, company leaving policies and the amount of notice period that an employee needs to serve are also mentioned in the form. You can also see HR Templates & Forms.
> What are the Benefits of such Hr Policy Template Forms?
HR Complaint Form Templates will basically help the management to keep a sense of discipline in the company. Employees need to know the background of the place where they are working, what it needs from them, and what can they expect in return. Such details are also mentioned in the form so that people have some idea about them as well.
Also if any particular designation requires multiples sessions of training and evaluation from time to time, such things are also mentioned in it. Basically, both the management and the employee get an insight on the rules and regulations that they need to follow.
Such policies are to be set down on papers which will be beneficial to keep a harmonious relationship in between the employees and the management. With the use of a particular manual template, you can keep the entire team satisfied and at peace. So use the basic structured forms as shown above and create such a document.