HR Templates & Forms
39+ Acknowledgement Letter Templates – PDF, DOC
When recruiting candidates for a job, there lies a step between getting letter templates from candidates and the screening process. The candidates applying should submit a written confirmation letter from the Human Resources that states the candidate's resume and simple cover letter has been received by them and he/she is duly considered for the position. Acknowledgement letters can be of different types. You can Also See HR Welcome Letter Templates.
Employee Acknowledgement Letter Template
Acknowledgement Letter Example
Acknowledgement Letter Sample
Acknowledgement Letter Format
A standard applicant response letter to job applications is quite, for lack of a better word, standard. Without notice that you have actually received their sample resume, the applicant may believe that their application is not being considered and move on, contracting your applicant pool. Remember to thank them for their interest, and let them know when the first round of interviews is expected to begin.
Job Acknowledgement Letter Template
Employee Acknowledgement Letter
Job Training Acknowledgement Letter
Acknowledgement Letter for Business
Payment Acknowledgement Letter Template
Order Acknowledgement Letter Template
Training Acknowledgement Letter Sample
Appraisal acknowledgement Letter Sample
acknowledgementsample.com
Appraisal acknowledgement letters are generally to be signed by loan applicants to get the appraisal report of the acknowledgement letter acknowledged. In an appraisal acknowledgement letter, the candidate applying for the job has to fill up the name of the borrower, co-borrower, address, city, state, zip-code, property code and full property address.
Acknowledgment Letter for Receiving a Report
samplelettersworld.com
Acknowledgement letter for receiving a report is generally used during a deal between two companies or when documents, reports or any memo templates is exchanged sent by one company to the other. It contains designated place for filling up the letter date, recipient's name and address lines 1 and 2 at the top and sender's name, sender's title and enclosure number at the bottom.
Acknowledgement Letter Sample for Receipt of Resume
acknowledgementsample.com
For resuming the process of recruiting a candidate for a job, a company needs to send an acknowledgement letter for receipt of resume to the candidate. In this acknowledgement letter the company appreciates the candidate's interest to work with them and mentions the candidate's career drawbacks and unavailability of the position the candidate is looking for. At last, the company advises the candidate to submit his/her resume along with the application letter.
Letter of Acknowledgement for a Charitable Contribution
samplelettersworld.com
After receiving a charitable contribution from an individual person or any company, a foundation or organization has to send an acknowledgement letter for charitable contribution to the sender. In this acknowledgement letter, the foundation gives letter date, recipient's name and address and state and zip-code. In the acknowledgement letter the foundation expresses its gratitude to the recipient for making the charity. The foundation must mention the project for which they need the donation made by the recipient. You may also see Business Acknowledgement Letter.
Acknowledgement Letter of Funds Received
acknowledgementsample.com
Acknowledgement of a Resignation Letter Template
samplelettersworld.com
Letter of Email Acknowledging Registration for a Course Example
aabacosmallbusiness.com
Application Received Acknowledgement Time Frame Letter
nau.edu
Sample Acknowledgement of Receipt Letter Template
Sample Acknowledgements of Funds Received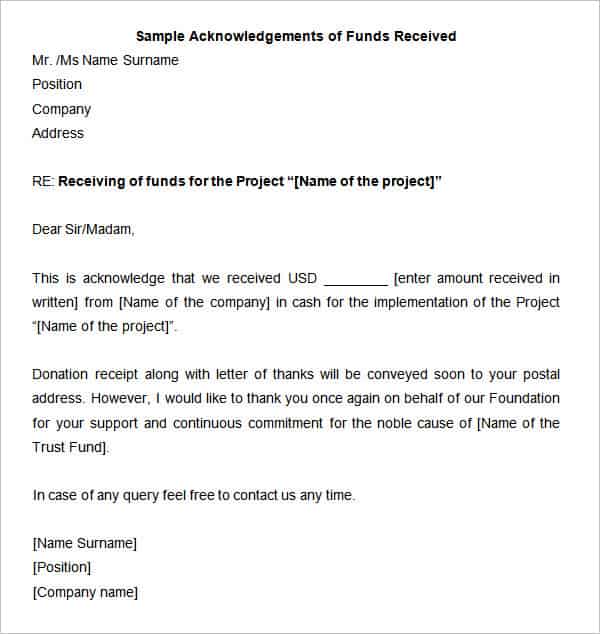 Acknowledgement letter for Receipt of Resume
Grievance Acknowledgement Letter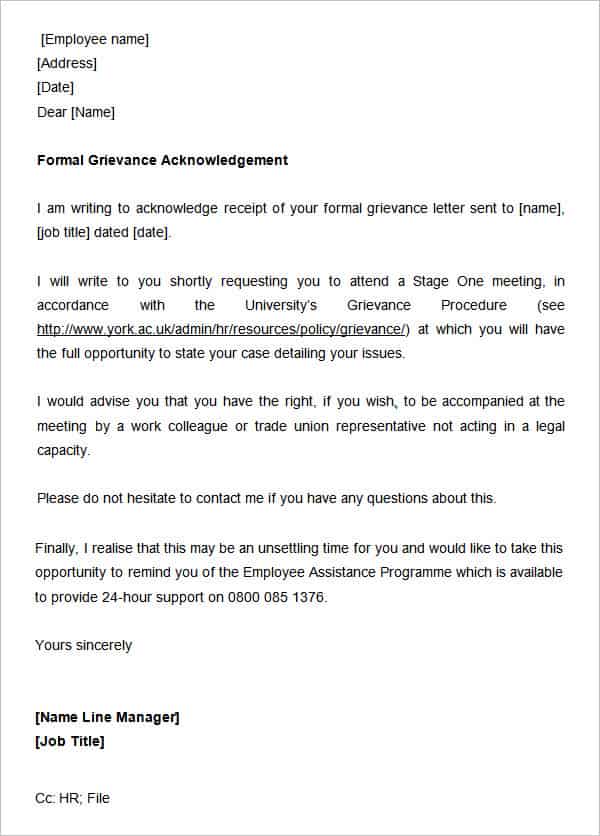 york.ac.uk
Acknowledgement Sample of Receipt of Estimate
Acknowledgement of Appeal Letter Sample
Sample Acknowledgement of Resignation Letter
Acknowledgement Letter Sample for a Great Customer Service
Acknowledgement Letter Sample for Order Cancellation
Acknowledgement Sample for a Job Interview
Acknowledgment of Payment Letter
Sample Acknowledgement Letter for Donation
Acknowledgement Sample for Internship Report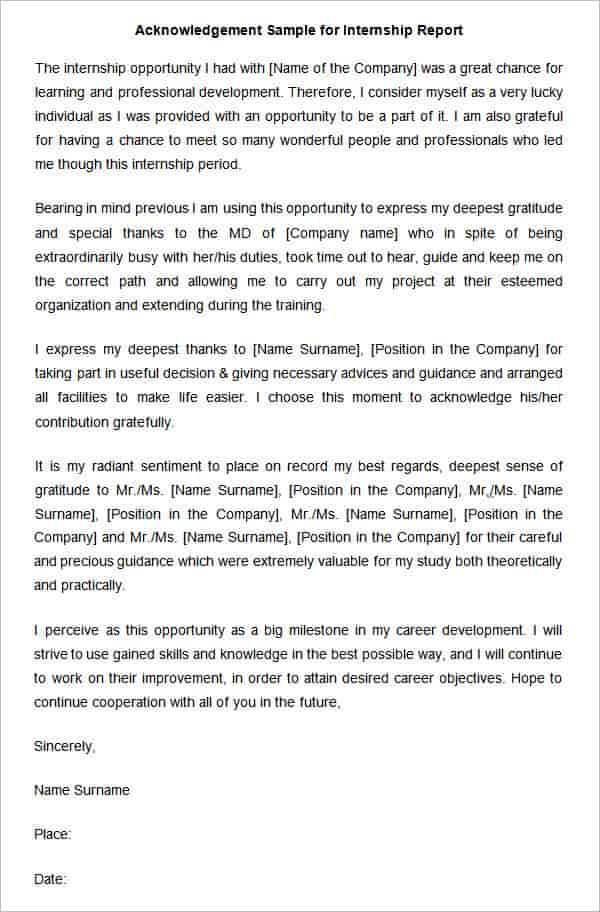 Acknowledgement Sample Letter for On the Job Training
Sample Acknowledgement of Acceptance Letter
Acknowledgement Sample for a Job Offer
Sample Order Acknowledgement
Sample Acknowledging a Job Offer
Acknowledgement of Application Receipt Template
Sample of a Notary Acknowledgement
Sample Acknowledgment Letter
Why Need Acknowledgement Letter?
An acknowledgement letter is written to appreciate an individual, candidate or a foundation's efforts towards a meaningful purpose. Sometimes they are also used to give advice or help to the individual. Acknowledgement letter format are also used to start a healthy business relationship between two companies or organizations. Acknowledgement letter are to the point, compact and standard. They serve as a proof of approval to the recipient. Acknowledgement letters are sent by a company to the applicants to inform them when the first round of interviews will begin.
When Is An Acknowledgement Letter Needed?
During recruitment of new candidates for a job, before the screening process, a company needs to send free acknowledgement letters to applying candidates to let them know about the beginning of the first round of interview. Also, after receiving a charity donation from an individual or a company, the foundation or organization need to send an acknowledgement letter to the donator as a sign of gratitude for making the donation. Sometimes newly recruited candidates of an office need to get acknowledgement letters confirmed and signed by Human Resources in order are considered referable for the job.
Benefits of Acknowledgement Letter
Acknowledgement letters are time saving formal letters that are used to communicate and transfer information. The information can be of any type regarding a debt, complain, confirmation, gift, project recruitment, retirement, resignation, order of subscription, follow up or donation. They also serve as a proof of approval or a notice to new applicants of a company. Sometimes acknowledgement letters are used to accept a formal or informal invitation to any social event or business meeting or appointment.
What These Letters Should Contain
An HR acknowledgment letter should include the date and the applicant's name and address. Make it more personal by listing the specific position that they have applied for, and let them know how you will be in touch should they be selected for an interview. Mentioning a tentative time frame is a good idea as well, as well as sincere thanks for the time and effort they have invested in their application. See Warning Letter Templates.
These free, easily downloadable templates are great examples of standard acknowledgment letters. It is also standard practice to have rejection letters and offer letters, for those who don't make the final cut, and those who do.
We have collected some Sample Acknowledgement Letters, hope these templates will help you.
Conclusion
Depending on the type of acknowledgement, acknowledgement letters can be of different formats. However, after sending an acknowledgement letter, it is very important for the sender to get it confirmed and signed by the recipient individual or company. Sometimes, it is important for the sender to keep a copy of the acknowledgement letter with himself, as a sign of proof.
If you have any DMCA issues on this post, please contact us!
More in HR Templates & Forms