Job Descriptions
5+ HR Clerk Job Description Templates – PDF
The heart is one of the most important organs in the human body. Do you know why? Well obviously, it makes everything work including different body parts to function their purposes. We can say that it is one thing that the human body cannot live without. If at the moment that the heart would malfunction, or one of the worst-case scenarios; stop functioning, so will the whole human body too. This analogy is like of one of the most under-rated jobs ever; being an HR clerk. You may also see manager job description templates.
To give you a better understanding of what a Human Resource clerk is, better read the next paragraph below. In this article, we will not only explain what is a Human Resource clerk but also what are its duties and responsibilities that make it so important in a company with some sample templates of its job description. Adding to that, some essential and effective tips are given on how to be a good Human Resource Clerk.
Office Clerk General Job Description Template
Free Human Resources Clerk Job Description Template
General Job Description of Human Resource Clerk
lk.usembassy.gov
HR Clerk Job Description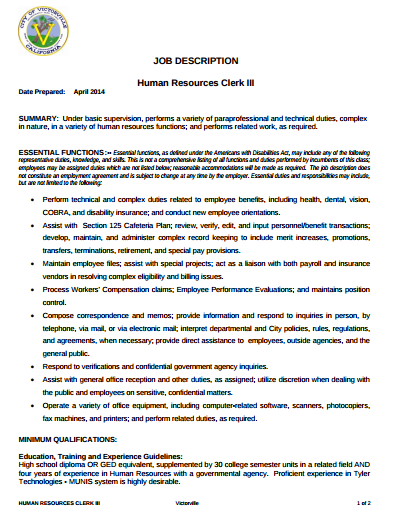 victorvilleca.gov
Who is That?
This part of the article is where we explain what is a Human Resource Clerk and what are his/her duties and responsibilities in the office or in the company. So if you have any plans of applying as a Human Resource Clerk or assistant, do take notes as this may guide you in your journey in that field and know what to expect if you'll be accepted and be prepared. You may also like general manager job description templates.
The clerk is somewhat like the heart of the company. They help in the hiring process for new employees. But they are not only limited to that. They interview employees and keep track of their records once they are hired. They also typically help the HR in keeping in touch with everybody in the company like the boss, employees, partnering clients and etc. Basically, he/she does the basic administrative work of the human resource department office. They are also not limited to human interaction but also should be proficient in the software world where they handle application sheets and tracking applicants through a software. Some of its additional duties and responsibilities are stated below this sentence:
Posting on job websites about the availability of a certain position in the company.
Presenting the packages and the benefits if one is hired in the company.
Looking at the records of employees like sick and vacation leaves.
Organizing background checks.
Explaining and setting up the employees for Policy Training.
Scheduling job interviews.
Inform the applicant about the schedule of the job interview.
Prepare the spreadsheets and worksheet needed for everyone in the company (Assessment sheets, attendance sheets, and etc.)
Conducting seminars for employee learning and development.
Key Responsibilities of an HR Clerk
vmrc.net
Skills and Abilities
As you might have read already, the HR Clerk somewhat is an over-all worker in the company. This at times can be so painstakingly exhausting if one does not possess the necessary skills in order to still give him the edge and push he/she needs to achieve his/her duties and responsibilities. Listed below are the qualities one should have or work and prepare for if he/she is going to apply and get accepted as an HR Clerk. Here are the following:
1. Good Communication Skills
Since the HR clerk or assistant mostly will do social interactions between employees, managers, business partners and applicants, it is essential that he/she should possess good communication skills so that smooth interaction will be achieved and misunderstanding would be avoidable and limited.
2. Conflict Resolution Skills
The clerk should know how to spot, handle and resolve conflicts between employees or any member of the company. To do this, he or she must remain professional and be unbiased in the event where a conflict management interaction is underway. He/she should know how to keep the employees head cool and would also consider and listen to their concerns. If this is achieved and maintained, the ship will still sail smoothly in the ocean. You may also see HR job description samples.
3. Writing Skills
While writing the job description for a job ad, the clerk should make sure that his/her sentence construction is readable and presents no errors with concerns of the grammar. Besides, if an applicant spots an error in the grammar, chances are he/she would likely show it to his/her friends and this would just decrease the credibility of the company.
4. Collaborative Skills
If one possess good communication skills, then it won't be that hard to let people collaborate with each other or to you if ever there is a task that would involve everyone to plan on and achieve. Being a team player is good especially if one has good leadership skills. With the clerk being good at making people collaborate, he/she also gives them the opportunity to bring out the leadership they have within. You may also see HR manager job descriptions.
5. Organizational Skill
The individual who wishes to be an HR clerk also needs to be orderly. This is an important skill to possess because as what was stated earlier, he or she is responsible for handling all the documents and files and keeping a track record of the employees. He or she also updates them from time to time whenever changing one's personal information is needed while still being able to work on his/her other duties and responsibilities thoroughly.
Attributes of an HR Clerk
bwbllp.com
Tips on How to be Better
An individual can never be good at anything if he/she does not have the passion and the eagerness to be good or be great at something. So, if you're applying to be an HR clerk and know that this job is quite hard and exhausting, be persistent and consistent in following the tips we're going to give you in order to be a high performing clerk in the company. These are the tips:
1. Be good on the computer
What I mean by this is that one should learn the basic MS word and other things that are needed for office documents. Ask a friend's help on how to be better or watch youtube videos on how to be good at it. Research. Research. Research. As you research, also understand what you're reading. You may also see human resource job descriptions.
2. Know the laws
As a clerk, you are going to be interviewing people every day. One must be knowledgeable about what to ask and what not to ask while interviewing a client to avoid lawsuits and being filed a case on. You may also see HR assistant job description templates.
3. Check the files once in a while
It is important that a clerk must have the discipline to check if the records of the personal information about the employees are still accurate and true. He/she can achieve this by reminding the people to update him or her if ever there is a change in information. You may also see HR assistant job descriptions.
4. Communicate
If you're an introvert, then it is time to step out of your comfort zone and practice communicating with people one step at a time. If you want to stay longer in the position or even possibly, get promoted, be consistent in developing your communication skills. You may also see recruiter job descriptions.
Those are just a few of the many tips on how to be a good Human Resource Clerk or Assistant. Again, one cannot achieve this if one is not persistent enough and easily would be dismayed if he/she fails in attempting to be better. Just like the heart, it makes everything work in the human body. Being a clerk is like being a heart. It is important and it has to be strong since it will face many challenges along the way. He or she should handle all the other pressures of the duties and responsibilities within a day with ease. To achieve that, one must work and work and work on developing skills that are needed for an HR Clerk. You may also like administrator job descriptions.
More in Job Descriptions