When an employee takes time off from work due to an illness, he/she would have to submit a doctor's note to show that they were ill. The doctor's note template for work can help explain why you have not been at work for the past few days.
12+ Doctor Note for Work Templates
Doctors Note For Work Template
For any medical hospital, it is important to have a note written specifically for its patients to keep them informed about what is happening with them. This template will keep you away from the stress of creating a note from scratch. It has ready-made entries that can be edited with respect to the patients you get. If you were ill and you couldn't inform your boss, a note from the doctor is the thing that could possibly get you out of trouble.
Doctors Note For Work Template
A sample note template shows you how a doctor's note is and what are the details that have to be mentioned in it. Since not everyone has the time to make a note from scratch, it is always better to have them ready to be filled, signed and stamped. Use this template above as it is worth the download. You can customize this template in any way you want and include the entries that you want to include in this template.
Sample Doctor Note Template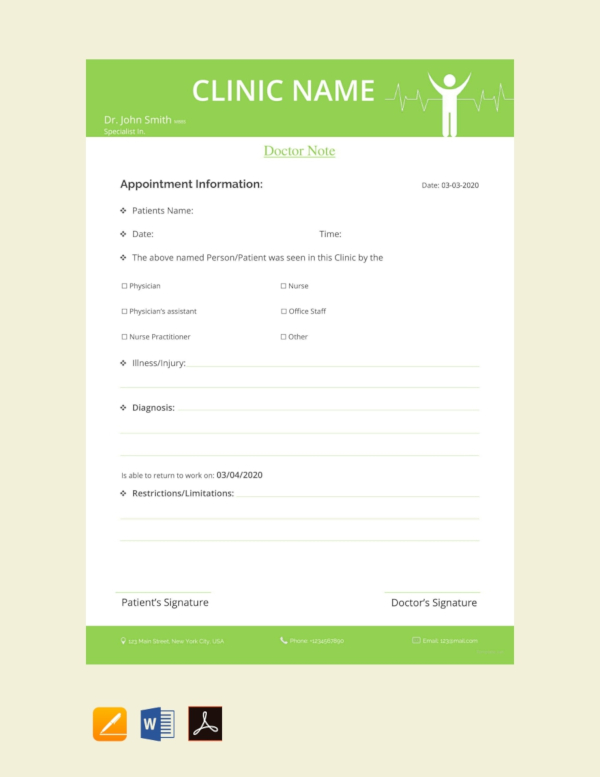 The above template is a sample doctor's note to work. It offers a brief letter where the doctor can state briefly about the medical condition of the patient that is preventing him/her from going to work and also for how long s/he would be at home for rest. It also mentions the restrictions or limitations the patient has to follow ill he/she gets better.
Blank Doctor Note Template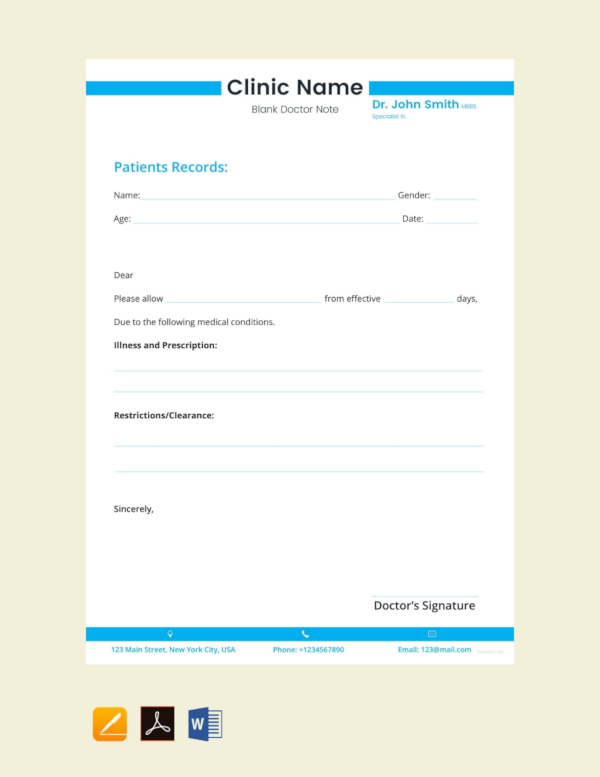 A blank note template is that which medical doctors can use for prescribing or excusing a patient from work as he/she is sick and that could spread easily to other employees of the workplace easily. Remember, the signature of the doctor in charge is very important, otherwise, the note will not be eligible. This is easy to edit and fully customizable in many file forms.
Create a Doctor's Note for Work
1. Simplify the Note
Your details should be clearly visible and easy to understand to the person reading it. If that doesn't happen, your employer might not believe that you were sick and you would get a loss of pay(LOP) for the days you weren't available at work.
2. The Details
Details like the name of the patient, the doctor's name, the hospital he/she was treated in, the contact information of both the clinic and patient, etc. Medical doctor note templates can help you and the doctor gets this note written within the shortest time possible.
3. Doctor's Comments
This section in your note would be about what the doctor has to say about your sickness. It should mention what are the precautions you are supposed to take and whether or not you are permitted to go to work since you were sick.
4. Certify
Once the doctor prescription certifies that you were/are sick and cannot go to work, get him/her to sign it as a doctor's note is not eligible without a signature. In case you have any x-rays or prescriptions to show your employer as proof of you being sick, mention them and take them with you to work.
Simple Doctor Note Template
Not every doctor's not will be the same. The above template is a well-formatted doctor's note template which you can download for free and make use of for your patients, leaving the thought of making the note from scratch every time. Make a certificate that is also an excuse as to why you are not at work.
Doctor's Note for Work Free Word Doc Download
If you are looking for a readymade doctor's note to seek leave from work, this is the perfect note for you. You have the entire letter here with blank spaces to be filled with your contact data. Always be truthful about why you didn't make it work, otherwise, it could cause serious consequences for you in the future if you are caught.
Doctor Note for Employee Work Free Word Download
With the help of this template, you get a precise and simple doctor's note, which does not get too elaborate and is short, to the point and simple. The entire information is mentioned through the main points like the cause of leaves & dates for absence. Doctor excuse template, also called as medical certificates, which will be obtained by you if you were sick and have taken a leave from work.
Work Based Doctor Note Template Free Word Download
Printable doctor notes are those notes that are a hard copy and can be submitted if asked. The note focuses mostly on comments by the physician that will leverage the gravity of the note before your HR department. It starts with a small statement from the doctor where s/he clarifies that you are under his care. It also shows what was the sickness you have had when you were under his/her care.
Doctor Note for Work Free Word Template
Medical Doctors Note for Work Free Word Download
Doctors Excuse Note for Work Word Free Download
The note comes up with a small statement from the physician that the student or employee is under his care – and concludes with a note on special remarks about the typical condition of the patient.
Doctors Fit Note Template for Work
Doctor Note for Employee Work Free PDF Download
doctorsns.com
Conclusion
Employees, even those who hold bigger positions in popular companies in your city, often fall sick suddenly. In a case where the sickness is sudden, an employee may have little time left to explain why they are not at work. Missing work often might lead to loss of pay or losing ones job. A doctors note can help you keep your job and position at your workplace once you recover from your illness.