Print
15+ Comic Book Templates – PSD, Vector EPS
Do you like to narrate stories through comics? We have a variety of Comic Book Templates which will help you start with your comic project with minimal difficulty. These templates are great tools for comic book writers as they include exhaustive graphic art depictions and call-out bubbles. They are colorful, vibrant and make the characters come to life. You can integrate these designs directly into your project with vector element support across platforms. You can also see Book Templates.
Comic Book Page Template
The template is brilliant for creating comic book page layouts. It has call-out bubbles, sound effects and halftone backgrounds, everything that you need, in PSD, JPG, AI and PNG formats. You can also see Childrens Book Template.
Comic Book Strip Template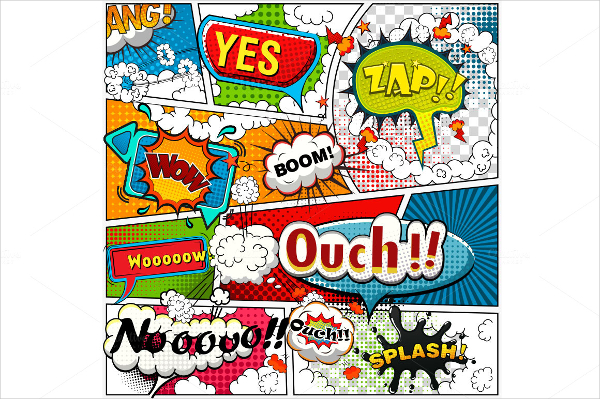 The strip template offers a number of speech clouds, action effects, and mock-ups with vibrant colors that are perfect for comic strips. These are available in AI, PNG, JPG, and EPS files. You can also see Coupon Book Template.
Comic Book Strip with Speech Bubbles Template
The template features speech bubbles in various designs. These have been drawn on vibrant color backgrounds and are easy to integrate due to the vector format. You can also see Family Tree Book Templates.
Fun Comic Book Template
This is a very useful and fun comic book template with bubbles, arrows, fonts, backgrounds, and cover. It is best for party and celebrations; comes in InDesign INDD format.
Retro Comic Book Template
The template features cool retro designs. It is suitable for action or superhero-themed comics. It has all action denoting graphic files with vector EPS format and JPG rendering.
Comic Book Cover Template
This is a cover design template for comic books. It has a title, side strip, area for graphic art with all the important description text options such as page count; comes from Shutterstock.
Comic Book Paper Elements & Template
The template features a collection of graphic elements inevitable to every comic book in A4 size. It has beautiful contrasting colors with scalable vector design. Downloadable in AI, JPG formats.
Comic Book Layout Template
The template features 4 different colors for the comic elements to be placed over them. This makes a beautiful layout with clean and efficient designs; in EPS and JPG format.
Comic Book Collection
It has a collection of exclamation slogans in 6 different formats to be used. These elements have classic rectangular separation with fully vector customizable properties; from Shutterstock.
Comic Book Bundle Template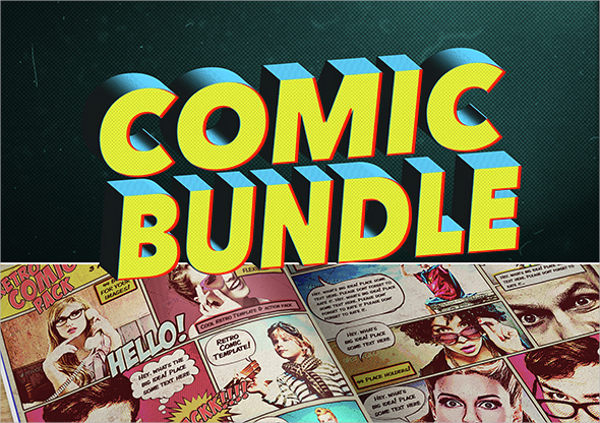 The design elements such as text fonts, layout sections, strip cut-outs and their respective files have been bundled for a retro style comic book. It completes the design needs with PSD files.
Crow Comic Book Template
Download
The template features detailed description and formatting for The Crow comic book. It is great for school art projects; contains all elements such as graphic art and speech bubbles.
Comic Book Creator Bundle
Download
This is a complete comic book design template bundle with 50 colored and 50 uncolored pages. It also has 45 bubbles and 15 sound effects; all are in AI and PSD files.
Color Comic Book Page Template
The comic template features a collection of call-out bubbles with 3 different layouts. It has multi-colored and textured formats with great customizability in PSD, PNG, JPG, EPS, and AI files.
Cartoon Comic Book Clouds
Download
The template has cartoon clouds in 7 different shapes and sizes. They are provided with a traditional comic textured background and can be downloaded for free with graphic files.
Comic Book Elements
Download
The template features 120+ comic book design elements such as speech bubbles and action arrows. They also have readymade and time-saving clip arts for integration with illustration.
Comic Book Resume Template
It's a creative approach to resume design with comic book layout. It can work really well for design artists seeking jobs. The template has a description and Photo ID option; in JPG format.
If you are an aspiring comic book or review writer, there is a basic set of element design and text layouts that you'd need and the listed Comic Templates offer these designs with great compatibility for every kind of project. They are made keeping many kinds of art projects in mind with multiple file types and graphic software support.