Roll-up banner designs provide an effective way for you to advertise your business services to potential customers or clients. Apart from being eye-catching, banners are easily movable so you can place them wherever you want. If you are in need of a template that you can rely on for your rollup banner needs, you can feel free to check out and download our impressive range of banner templates.
Security Services Roll-Up Banner Template
Promote your security services just the right way by making use of our smartly designed security services Roll-up banner template. You can add images of your services that are being offered along with a brief description of each one them. This way, you can attract your buyers to try out your services.
Corporate Roll-Up Banner Template
Do you immediately want to grab the attention of a potential client? If so, then download and use our editable corporate roll-up banner template. This professionally designed template comes with well-written suggestive content that can be customized as per your preference. It also comes with royalty-free graphics so download it now!
Furniture Roll-Up Banner Template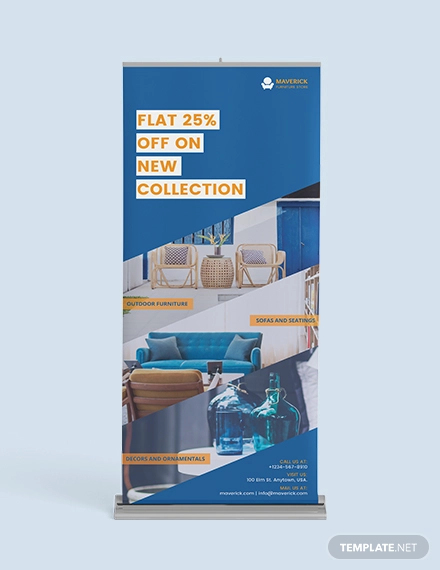 Present your furniture business in an attractive manner to potential customers by simply downloading this "furniture roll-up banner" template. This product banner has a unique design, and it allows you to display your products and discounts details in an eye-catching manner. Do not miss out on this one, avail it now!
How to Create a Roll-Up Banner in 5 Simple Steps
Step 1: Sketch the Outline
If you want to come up with a roll-up banner but do not know where to start, then you might as well sketch an outline of it. Start by writing down what details you would like to include in it and what images you would like to add to make the banner effective and meaningful. Once your rough sketch is ready, open a new document in any file format.
Step 2: Select a Background
Next, choose a background scheme that will go well with your roll-up banner. You can keep the color combinations simple or eye-catching depending on the type of service you are providing. Feel free to also go through our interesting collection of banner designs.
Step 3: Add Images
Once the background is decided, you can begin inserting images of your products or services. If you are inserting more than one or two images, it is recommended to follow a proper organization so that they do not look out of place. The images ought to be relevant and it should attract the readers to go through your services.
Step 4: Enter Text
Information such as the name of your company or business, contact details, address, and list of services offered should be mentioned in the banner. You can make use of colorful fonts and adjust the size of the font where ever needed. Do not overdo when it comes to the information. Keep it brief and interesting to read.
Step 5: Adjust the Elements
Now, check if there are any adjustments to be made when it comes to various elements of the sample printable banner such as the images and text. The purpose of this is to make sure that the elements are in proper sync with one another.
Step 6: Print the Banner!
Last but not least, save the rollup banner template and get it printed in the standard size. Following this, you can place the banner in areas where your interested clients can easily take a look at it.
Photography Roll-Up Banner Template
The requirement for photography services is at an all-time high now than compared to before. Stand out from the rest and make your services known to the possible clients by customizing and editing this above shown business roll-up banner template. Insert images and enter the services that you offer along with other business information. Print it once you save it.
Free Roll-Up Banner Template
If there is one best way where you can advertise your real estate agency, then it is by using our roll-up banner template. State the features of the property along with its description and images by editing this template in any of the available file formats. Try it out now! You may also see restaurant roll-up banners.
Clean Style Rollup Sample Banner Template
Advertisement Roll-Up Banner
Spa Ad Banner
Multipurpose Roll-Up Banner
Real Estate Roll-Up Banner Template
Check out this really smart and clean roll-up banner design that can be used for all corporate purposes. You even have a preview of template-based banner here. Get it right now by clicking on that download button! You may also see corporate roll-up banners.
Advertising Roll Up Banner
Get creative when it comes to your roll up banner design. Just download this above-shown template that can perfectly add to your stand, whatever business you are in. This covers spiritual, photography, and other such printing business designs. You may also see advertising pull up banners.
Awesome Roll-Up Banner Mockup
What transmogrification, this roll-up banner is! It shows the diligent efforts of the designer. After all, if you want your roll-up banner to bring on those sales, you ought to be really creative.
Free Download Event Roll Up Banner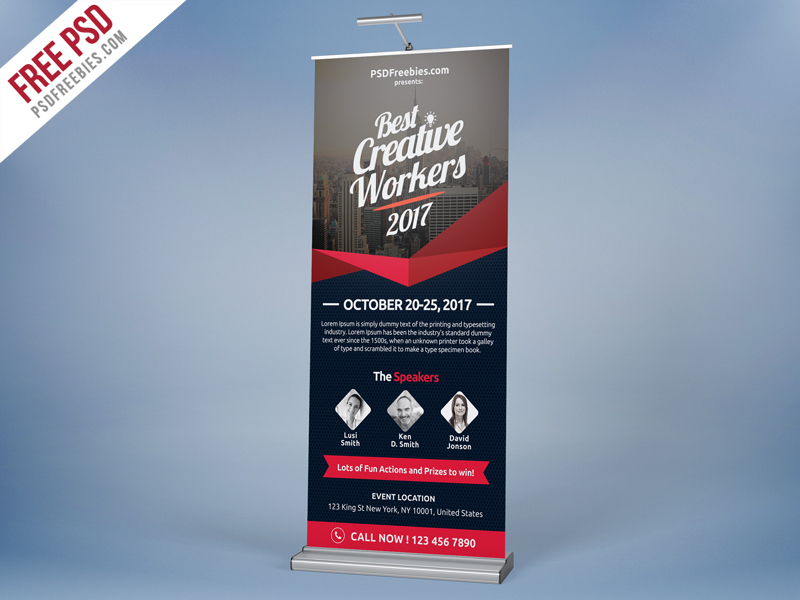 Here's a multipurpose event roll-up banner that is realistic and creative in its design. It is perfect for seminars, workshops, conferences, training programs, and other business purposes. Download this for free now and upload it on your website. You may also see funeral roll-up banners.
Branding Identity Roll-Up Banner
Are you all set to whip-up a Roll-up Banner that reflects the philosophy of the advertising? If yes, you can use this template for your brand identity. It has smart object layers that allow you to modify every element of the design. You may also see roll-up mockups.
Graphic Design Roll-Up Banner
This is for fashionistas. This particular "Graphic Design Roll-up Banner" has been designed keeping in mind today's glamorous damsels. The essence surrounding this template endorses your message in a beautiful manner. You may also see printable banner templates.
Stand Display Roll-Up Banner
Planning to promote your brand or services? if so, make sure to have this or at least some similar kind of a banner to promote your brand in the most powerful way possible. Just take a look at that color combination, it serves as perfect example for printable banners.
Summer Party Roll-Up Banner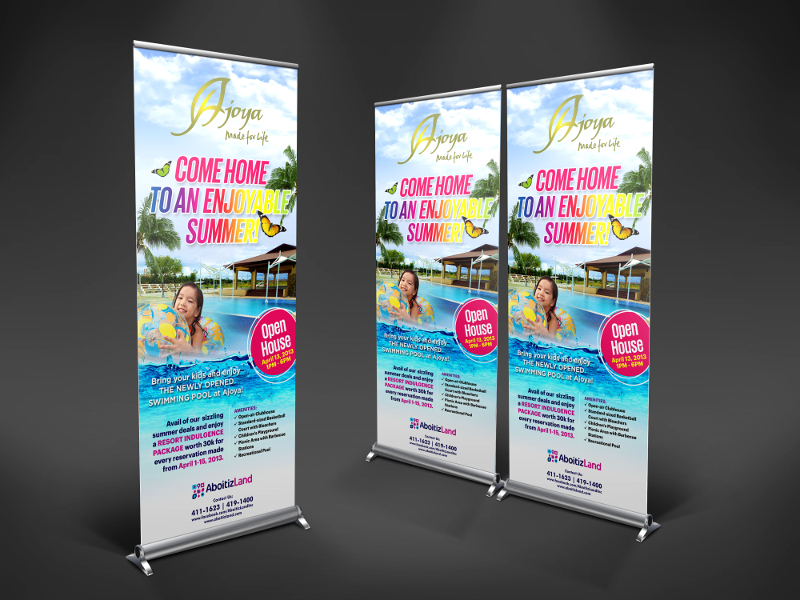 This stylish "Summer Party Rollup Banner" looks attractive. It invites all the families along with their children to soak up some sun in the most fun and exciting manner. You can even use this for pool parties.
Presentation Multipurpose Roll-Up Banner
You need to try out this A to Z Roll-Up vertical banner. That means this multipurpose Rollup Banner can be used for any and every task in your life.
Free PSD Roll-Up Banner
The cult of banner design templates is here. One can be used immediately and the rest two can be for future purposes. Above all, these red-themed roll-up banners with geometric shapes come for free of cost. So download it now!
Red Color Roll-Up Banner
Personalized Roll-Up Banner
Corporate Roll-Up Banner
Roll-Up Banner for Fitness
Polygon Background Advertising Banner
Custom Design Pull Up Banner
Customized Global Mark Business Roll-Up
Geometric Colorful Roll-Up Banner Design
Photoshop Roll-Up Banner for Yoga
Printable Fall Design Roll-Up Banner
Advert Jewelry Advertising Bundle
Models Roll-Up Banners
Photographer Advertising Bundle for Training
Classy Outdoor Roll Up Banner for Fashion
Restaurant Advertising Bundle
Ice Cream Advertising Banner
Real Estate Roll-Up Banner
Multipurpose Roll-Up Banner
Geometric Colourful Design Roll-Up Banner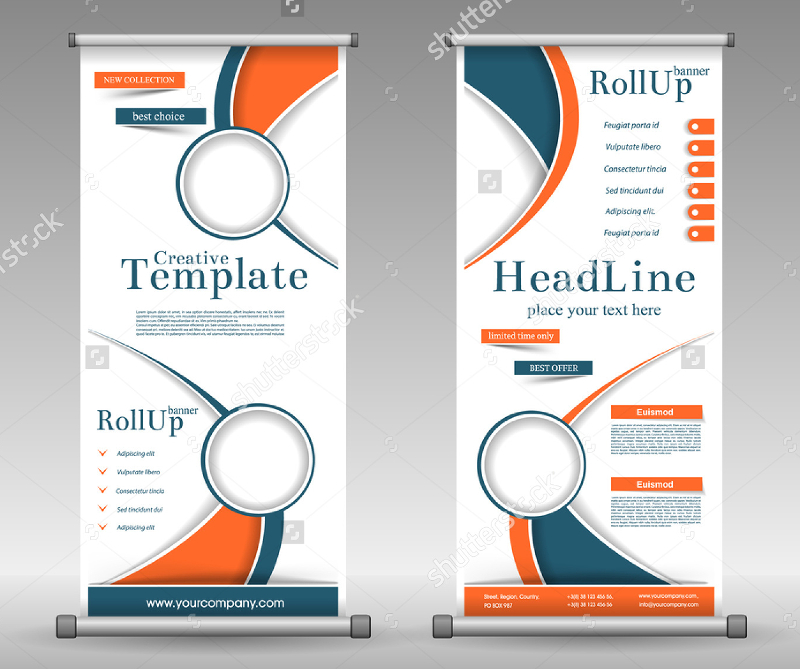 If you have stands, we highly recommend using our roll-up banner designs that are exclusively offered for you. You simply cannot miss out these jewels. In case you are working on your new marketing promotions, they are sure catches. Also, if you would like to know how to set up a rolling banner, you can watch some advertising banner examples tutorials online.