Website Templates
17+ Charity Website Themes & Templates
Opening a charity webpage is a good way to get more donors and increase your funds quickly. And with new html5 website templates popping up every day you can get the best look for your charity website. Informing the viewers of the cause or the amount of money needed for a certain cause can all be shown with the best Charity Website Templates.
With premium features like the donate button which will help people who want to donate to send money through the internet. This helps in getting donation from all over the world and not just your neighborhood. Stylish fonts and vibrant colors also come with these templates and it helps your charity website come to life. You can also see Charity WordPress Templates.
Nonprofit Charity WordPress Website Theme $44
These charity websites are been created and designed by experts thus making a suitable web template for satisfying the needs of the client. Loaded with unique style and stylish web background these are most appropriate for making designer website that helps the needy and poor.
Fund for Charities Responsive Website
Responsive Charity Website Theme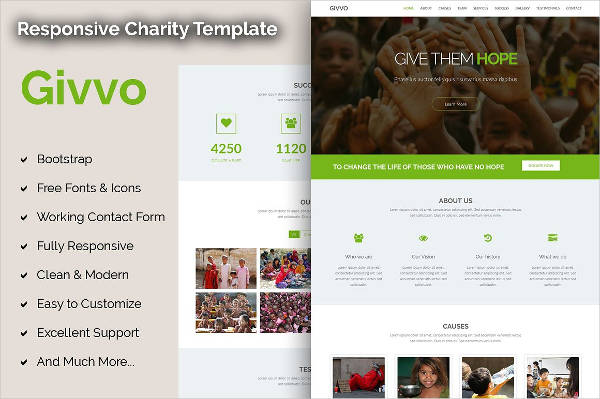 Charity Nonprofit Foundation WordPress Website Theme $59
Loaded with unique style and fancy background these templates are been made with extreme delicacy and fancy background that makes them suitable for charity websites. Loaded with eye-catchy and unique style these templates are handy and quite productive thus ensuring creativity at its very best.
Non Profit Charities Website Design
Non-profit Charity Template
Multipurpose Charity Website Theme $44
Used for multi-purpose these templates contain a customizable mega menu option along with slider facility that makes them appropriate for usage. Loaded with fancy web background along with easy donation payment option this template flaunts its creativity through expert craftsmanship.
Non Profit & Charity Donation WordPress Website Theme $29
Mostly used to raise non-profitable charity funds these templates are quite productive and thus results in making a suitable designer template for the clients. Loaded with creative style and candid text style makes them innovative and productive.
Charity Website Template
Charity Responsive Website Theme $48
These templates are mostly suitable for raising charity in any promotional events. Featuring unique style and eye-catchy web background these template are pretty useful and thus results in making a stylish website for the users.
Charity Fundraising WP Website Template
These fund raising templates are been designed and crafted with delicate web design along with creative style that makes them stand apart from the rest. Featuring a crafty web style along with fancy texture makes them appropriate for usage.
Candidate Political & Nonprofit WordPress Website Theme
These templates are been designed for political parties and their contribution to the social charity events. With a classic style and premium design these are pretty useful in promoting their accomplishment and thus resulting in promoting their political parties.
Charity Nonprofit Fundraising HTML Template
Non Profit , Organization WordPress Website Theme $54
These WordPress templates are been designed by trained experts and thus results in making suitable websites for fulfilling the requirements of the client. Loaded with unique style and eye-catchy background these are pretty useful and effective in designing a creative web background.
Awesome Charity Website Template
To secure top marks for your website use these templates since they are easy to get hold of and no coding is required to make sure you have a professional webpage. And most of these templates are free. With these Blog Templates your website will look as serious as your business. You can even add a list of donors who have donated and a feedback page with these customizable templates which offer almost anything you need to keep your website in the running.
These templates are been designed and created for making suitable background for websites. Mostly appropriate for creating charity websites these templates are quite handy and productive.