Financial Planning websites are ones that allow users to design and approach their financial planning on their computers only. They will be able to access some amazing and brilliant templates through which they will be able to plan and implement better financially. There are many different types of financial templates available online. You may also see Best Coupon Website Templates. Make easy charts using these templates, and pie charts to visually represent your statistics to you clients. These templates are fully editable and you could even have even have custom post formats. For an international advisor, there is multilingual support that has official WPML certification. These templates have the added advantage of having filterable portfolios, so tat your user base gets to see exactly what you want them too, and no personal client details are leaked.
Intense Financial Advisor Website Template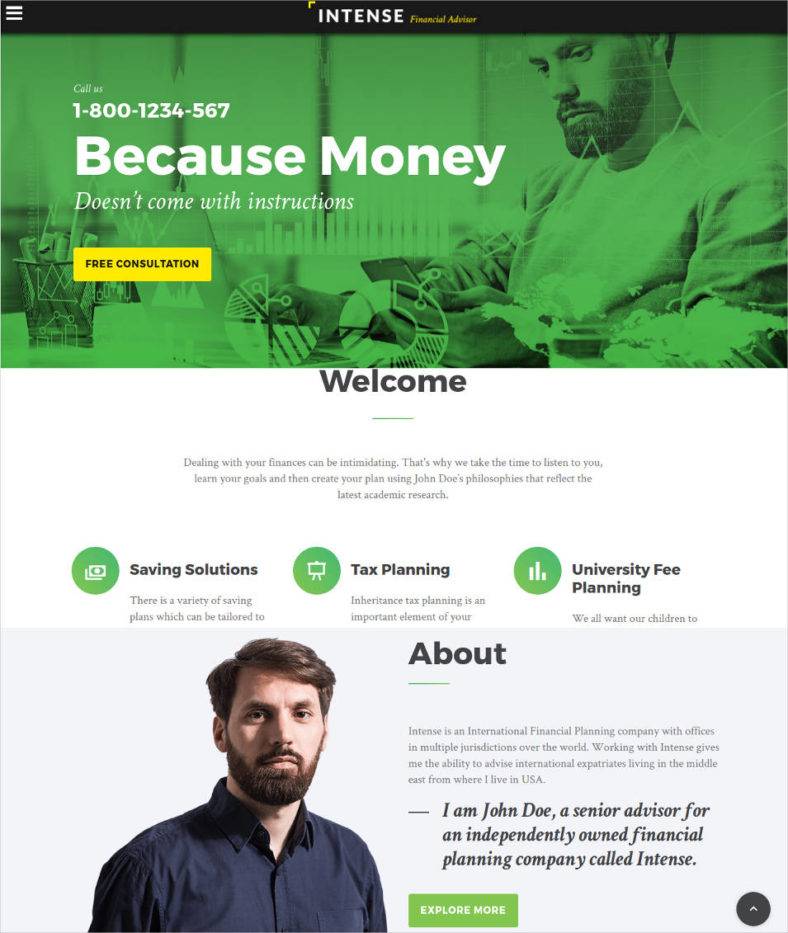 The Financial Advisor WordPress Theme is one that contains all of the information and tools that one requires to plan soundly. The theme contains some of the best widgets that one can use to compare and select the sort of financial planning that they require. The advisor template allows you to get the best for your money and investing so that you can reap the benefits.
Investments, Business & Financial Advisor WP Theme
Financial Advisor Website Design
Finance & Consulting Premium Motocms Template
Atrium Responsive One Page WordPress Theme
The Atrium Responsive OnePage Theme is a minimalist theme template that allows one to arrange and view their finances easily. The page contains some excellent tools and add-ons that one can use in order to design and customize it according to what they like. The page also contains a testimonial carousel in addition to other features including responsive pricing plans and a very responsive design.
Business Financial Consulting WordPress Theme
The Financial planner WordPress theme includes some very nice tools through which one will always be at the top of their game financially. The site is very interactive and has sections that are segregated to make it simpler for users. There are sections on global solutions, case studies, offers and other similar ones in addition to expert advice that one can bank on.
Financial Advisor, Business WordPress Theme
Financial Advisor Responsive Website Template
Insurance & Financial Advising WordPress Theme
Financial Advisory & Consulting Theme
Financial Advisor Website Template & Theme
Financial Consultant WordPress Theme
Financial consultant WordPress theme includes some tools and sections that are excellent for both personal and global financial planning. The tools present are simple and they include loan solutions, investment solutions and risk assessment to ensure that one gets some solid advice before investing their hard earned money.
Financial Advisor WordPress Theme
Simple Financial Consultants Website
Financial Advisor Responsive WordPress Theme
The Financial Advisor Responsive WordPress theme allows one to get their money invested in the right hands and is very responsive. It works with the variables that are provided and is very simple for one to use.
Tax Advisor – Financial Consulting Attorney HTML Template
Financial Advisor Responsive WP Theme
On the visual front, these templates are fully customizable on the colour front, as well as in the field of typography. These support Google Fonts, so you have over 600 fonts at your disposal. There are also custom widgets for commenting, customer testimonials and sharing on social media. Thus, there are plenty of other WordPress themes that are available for financial templates. One can select them and immediately start work on their financial planning and otherwise. These templates make it much simpler or one to manage their assets as well as get some excellent financial advice from the best.