Website Templates
16+ Financial Website Themes & Templates
Premium financial website templates are common in the financial market due to their simple design and rich features. Drop down menus which make sure that your visitors get easy access to information. Bold fonts and rich colors help the clients believe in the company's professional nature. These templates are free and easy to use. You may also see Law & Legal Templates.
They come with top notch features and are used by the best financial websites in the market. These Website Templates are sometimes also Flash based which results in the delightful experience to the viewers. Colorful yet elegant backgrounds and bold fonts make sure the companies maintain their professional outlook.
Financial Investment WordPress Website Theme $59
Financial Investment WordPress Website Template is perfectly suited for various platforms like wealth advisor, investment, business, financial advisor, accountant, law firm etc. This Template is designed ample of necessary features including blog, portfolio section, testimonial page etc. This template is fully responsive and compatible with mostly all ecommerce plugs in as well.
Income Premium Financial Business Theme
Financial Insurance HTML5 Website Template $18
Financial Consultants Website Theme
Responsive Financial News Joomla Website Theme $48
Responsive Financial Joomla Template is available in four color styles like blue, radian, green and red. This Template is suitable for various financial news, stock exchange, news, magazine, business or corporate websites as well. It works flawlessly on YT framework and compatible with Bootstraps.
Financial Services Agency Website Theme $69
This Financial Services Agency Website Template is fully responsive so that it can deliver hassle free performance in various devices including smart phones and tablets. This template ensures full responsiveness that can fit on all screen sizes from big screen to mobile phones as well.
Stunning Financial WP Website Theme $19
Finance & Consultants WordPress Theme $58
Finance and Business Theme $49
Financial Marketing Website Theme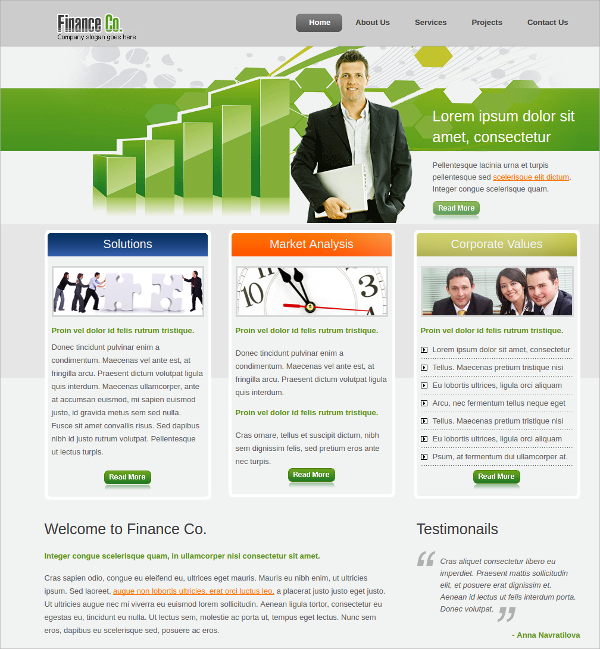 Financial Marketing Website Template is designed with bold fonts and rich color which help user to make their online presence very strongly. This template has five tabs namely home, about us, services, and projects and contacts us. It is completely easy to use and can be customized as well.
Responsive Financial Investment WordPress Website Theme $39
This template is designed with custom page templates and drop down menu for ease of navigation. This Responsive Financial Advisor WordPress Template comes with more than 100 Google fonts and Google map is provided with the design.
Financial Consulting Website Template $17
Financial Advisor Website Design
Business & Corporate Financial Investment Website Theme
Business & Corporate Financial Investment Website Template is easy to user can be custom made by adding various tags separately as per user requirements. This Template is widely used for designing various business and corporate financial portal for establishing their online presence.
Fantastic Financial WP Website Theme $19
Fantastic Financial WordPress Template is designed with custom widgets which allow user for displaying adverts and displaying site content in the sidebar. This template is fully compatible with WordPress and works on clean code features.
Financial Business Purpose Website Theme
Financial Business Purpose Website Template is designed with content management tool and admin template customization panel and unlimited template color versions so that user can choose their own colors. It is very useful for designing portfolio, blogs, corporate site, service presentation etc.
You can highlight the capabilities and targets of the site in attractive tabs, which will set them apart from the rest of the web site. The option of an easy navigation is also present in these templates. They help in providing hassle free services to their clients. You can also see Finance WordPress Templates
There are also premium templates which require a payment with added features and elegant features. You can go for these if you wish to take the extra effort. These templates also offer the feature of clocks of different designs and colours so viewers can follow the market. Getting a good template for your financial Website Templates can increase the reputation and outlook of the company.