Website Templates
9+ Magazine Website Themes & Templates
Magazines are the staple of the advertisement industries. Just as fashion and technologies keep rediscovering themselves; likewise magazines need to be versatile in their look and feel. The fast growing industry is turning to templates to have the websites designed for their enhanced virtual presence which have some of the fantastic qualities that make them very feasible and attractive. You can also see Magazine WordPress Templates.
The most essential component of such templates is they are extremely easy to install. With innumerable choices, one can make extensive personalization possible without any extensive coding. Such top notch professional looking templates can be availed either free of cost or can be picked up at economical rates. You May also See Magazine Joomla Templates.
Blog & Magazine Joomla Website Theme $43
This Blog & Magazine template is built on Gantry Framework. The unique proposition of this template is that it is well suited for both those who are the beginners and also those who are advanced in the field.
Joomla Magazine Website Blog Theme $48
This is a magazine template which provides you the facility of multicolumn layout. You get the opportunity to showcase your main features of the popular magazine in a column style projection. It is well responsive with all browser and device.
Responsive Magazine Joomla Website Template $48
What all like this template can a website designer's choice? This template consists all in one like user friendly layout builder, unrestricted module positions, helpful shortcodes, 6 preset styles with high responsive design available in it.
This type of magazine website design has all sorts of qualities required to match the needs of a clean and simple look. When your magazine is content rich and you wish to focus all of them in your website, this could be a great option for you.
Multipurpose Business Magazine WordPress Website Theme $49
This Multipurpose Business Magazine Word Press Website Theme is a one in its style design is available in HTML 5 Word Press format. This is a multipurpose one aptly suitable for artists, photographers, freelancers, bloggers and others.
Creative Portfolio Magazine Website Theme $39
This template is very much suitable for the online bloggers which has minimum involvement of clumsy layout. This is a mobile friendly theme which you can also customize according to your own style and preference.
Minimalist Blog Magazine Website Theme $49
As the name suggests this template theme has minimal involvement of blogs and more use of designs and pictures which depicts a more attractive. The theme and blog functions in this layout design are based on solid back-end framework.
Online Magazine Joomla Website Theme $35
Looking for a clean and professional content layout design, we can assure a satisfactory design with this Online Magazine Joomla Website Theme. This template based on Bootstrap framework has all features unique to attract a randomly surfing viewer.
Responsive Magazine WordPress Website Theme $49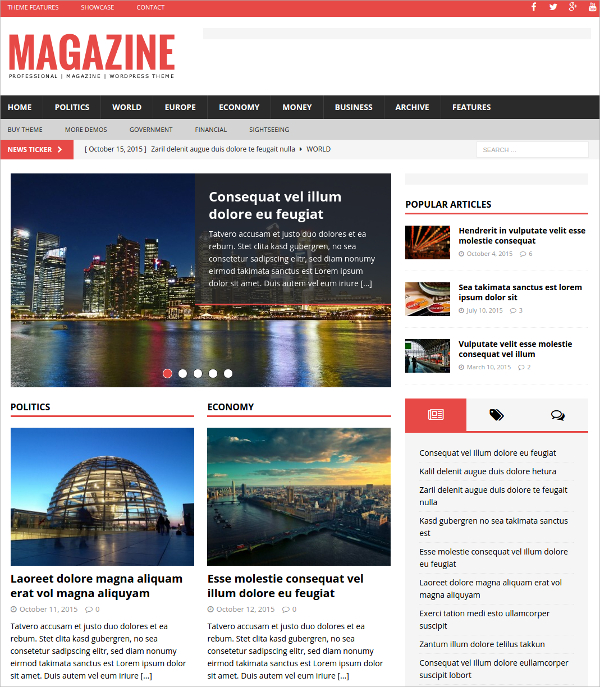 Presenting your blogs, videos, photos and images in a most creative and attractive way is now easier with this Responsive Magazine Word Press Website Theme for your fashion or travel website.
The choice of responsive layouts is undoubtedly a wonderful element which makes the templates functional in all kinds of mobile devices. Armed with the amazing revolution sliders, the templates also offer the best SEO edge which makes them truly premium. Make your website look exactly like the way you want with fabulous choices of colors, fonts and styles. You May also See Magazine HTML5 Templates.
The visual imagery is stunning with the use of compelling graphics that can set your Magazine Website Templates apart from the others. Try the templates for breathtaking websites and also look for further customizations through added CMS features.
The business of website designing is itself and interesting thing and that added with these stand alone website design theme templates have made the work easier. The variation in design and color combination is sure to make your work attractive and creative as well.