Website Templates
27+ Website Themes & Templates
Today, all companies and services have their own official websites. Even startup companies have a website as the first thing on their agenda. This is because people base their trust on a company or an individual judging by their online presence. A website which is attractive and looks genuine is likely to be more popular amongst viewers than a website which is shabby or poor designed. It might not seem fair, but people do judge a website on its external appearance. The layout of the website, the content, the colour scheme – all these do play a key role. For those just starting out, handing over large sums of money for websites is impossible. They would rather spend it on something more important! You may also see Free HTML5 Website Templates.
Weddings is a truly elegant and niche wordpress template for wedding websites. It is truly responsive and offers easy customization. It promises perfect compatibility with every browser.
The theme comes with multiple pages
It also includes gallery support and homepage slider
It also includes effective advertisement and testimonial features
Website – Responsive WordPress Theme
Multi-Purpose Responsive WooCommerce Theme
Perfect Free WordPress Wedding Theme
TwoGether is a simple yet unique and modern wordpress theme available for free. It would be apt to use with wedding invitation and event based websites.
The theme features 5 different custom post types
It promises to be translation ready
It comes with Google Map integrated
Free New Multipurpose Website Theme
Resi is an upgraded version of the Gridsby theme that promises to offer new features and more friendly in operation.
The theme comes with a responsive framework
It includes Google Font Selector
It offers Cross Browser Support
It is fully translatable and promises easy installation
Free eCommerce WooCommerce Website Theme
Mystile is a free, lightweight woocommerce theme that would be perfectly apt for ecommerce portals.
The theme is compatible with every latest wordpress version
It also comes bundled with several color schemes and customization feature
It also includes a couple of custom shortcodes
The theme is totally responsive
Free Kids eCommerce Website Theme
Estore is a flexible and uniquely designed WooCommerce theme perfectly suited for developing ecommerce portals.
The theme is totally compatible with YITH WooCommerce Wishlist plugin
It comes with 12+ custom widgets
It also feature 10+ widget areas
It also includes multiple color options and awesome slider
The theme comes with powerful options panel
It also promises translation ready
It is highly versatile and can be used with different websites
Free Popular Multipurpose Website Theme
Vantage is a niche and clean wordpress theme suited to meet the expectations while designing websites of different domain.
The theme is cross browser friendly and responsive
It is WooCommerce integrated and compatible with all the wordpress versions
It comprises of powerful page builder, CSS Editor, and some really wonderful widgets
Free Delicious Food Website Theme
Restaurant Free Website Theme comes with many features like menu items, sliders, and custom page templates. It is a responsive designed having the framework built with bootstrap. Its other features are –
Allows creating slide items, staff items, menu items
Enables creating today's special section on homepage
Allows providing settings for homepage, booking page
Allows customizing colors of the theme
Free Special Website Theme
Girlie Lite Free Website Theme is for exclusive use of feminine centric websites like recipes for cooking, beauty and fashion tips. Its main features are –
Compatible with E-commerce, WordPress, Gallery, multi-browsers, mobile phones
Enables link color change, using theme on various domains
Provides sliders, responsive design
Includes documentation, customizer for checking changes
Free Multipurpose Website Theme
Explore WordPress Theme is responsive designed and very easy to set up. It comes with various templates for businesses, custom widgets. It comes with some important features like –
Provides more than ten widget areas, dark or light skins
Allows using pages as services, choosing major color
Compatible with popular browsers
Comes with image sliders, boxed or wide layout
Provides live customization, documentation, translator
Free Awesome WordPress Website Theme
Rise Free WordPress Theme comes with plenty of templates and responsive framework. It is easy to install and its main features are –
Supports all major browsers, WordPress standards
Provides built-in color options, XML contents
Allows translating themes, selecting Google fonts
Provides documentation, theme customization, updated themes
SEO friendly, simple to use
Free Business WooCommerce Website Theme
The Morning After Theme comes with responsive design, and easily customizable. It comes with custom page templates and some of its important features are –
It provides options to change logo, color schemes
It comes with custom widgets, fonts, shortcodes
Allows embedding code from YouTube sites, translations to other languages
Integration with social media
Provides image resizing automatically
Free Portfolio Blog Website Theme
Spacious Business WordPress Theme is responsive designed and helpful for portfolio, blogging, and many more. Its main features are –
Comes with business templates, more than twelve widget areas, more than five custom widgets
Allows highlighting service widgets, single page widgets
Allows showcasing logos for brands, clients
Compatible with popular browsers
Free Medical Facilities Website Theme
Umbrella Premium Responsive WordPress Theme comes with plenty of features like custom pages, metaboxes, etc. It requires plug-ins and its main features are –
Enables creating sliders, services, staff item, testimonials item
Allows creating a page for adding contact form, social settings
Allows settings for banners, customizing colors for themes
Enables saving options of the themes
Customizable sections for services, blogs, portfolio
Allows adding, removing sections
Comes with latest slider settings, background color changer feature
Enables expanding blog sections
Free Beautiful Website Theme
SociallyViral Free WordPress Theme helps in increasing social sharing, SEO rankings. It comes with latest options panel, typography options, etc. Some of the main features are –
Provides numerous color schemes, more than six hundred
Google fonts In-built Lightbox, Transaction Panel
Allows adding category sections, creating child themes
Option to stop responsiveness, to eliminate Copyrights text, manage Blog Meta
Free Minimal Business Drupal Website Theme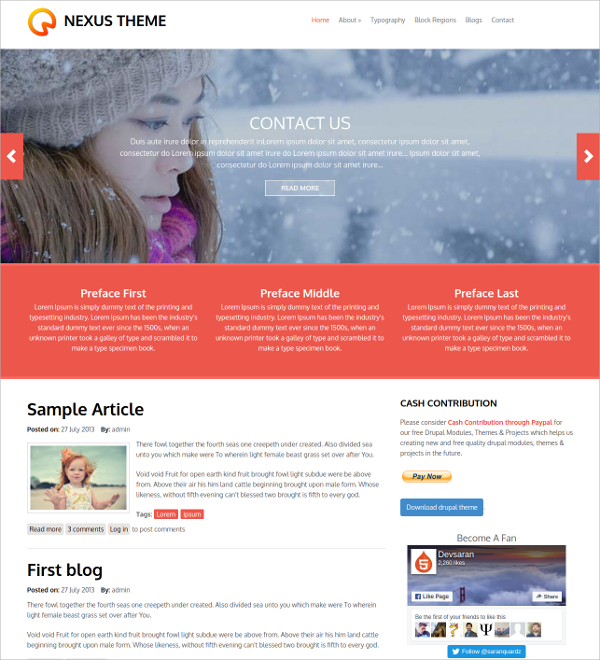 Nexus Theme comes with simple and responsive design. It provides single and double columns layout and its main features are –
Supports desktops, mobile devices,
Provides expanded footer area, customizable flex image slideshow, Multiple levels of drop-down menus
Consists of twelve block regions
Provides thorough rules CSS rules for node teaser, forms elements, etc
Free Modern Drupal Website Theme
Impact Theme is responsive designed theme and comes with elegance as well as clean. It provides smooth solution to make website outstanding, and supports mobile devices. Some of its other features are –
Supports single and double column layout, standard theme
Comes with white and dark color schemes, compliant with Drupal standards
Supports social media icons like Facebook, Twitter
Configurable image slideshow
Free Premium Ultimate Business Website Theme
Adobe Muse Template is user-friendly, highly customizable and simple to use. It comes with some of the best features like –
Provides Widget for Counter Up, Font Awesome, Hovers, Full Page Navigation
Comes with 5 inner pages, images provided by CCO authors
It is multi-purpose theme
Allows using on multiple websites
Free Services Premium Website Theme
Movers and Packers Free WordPress Theme is completely responsive and comes with customizer. It provides easy-to-use plug-ins, play settings. Some of its main features are –
It comes with three slides by default
Supports changing theme background color, five levels of drop down
Compatible with all major browsers, WooCommerce, HTML5, CSS3
Useful for portfolio, architect, shopping cart websites
Musgreen Theme comes with one page design, stunning features, and modern design. Some of its main features are –
Provides font awesome widget, CCO licensed images that are available under image folder
Supports desktops, Typekit fonts
Allows using for unlimited purposes, easy customization
Provides support, updates
Comes with sleek design, and quick to set up
WordPress Website Builder Theme
Multi-Purpose Website Building Toolkit
Responsive Multi-Purpose Theme
Whether you need a personal website, a professional business website, one page website or an online ecommerce portal at lowest possible rates then utilizing free website themes is the perfect solution for you. There is a wide range of Free Templates available for all kinds of websites in a wide variety of platforms. These themes come with a wide set of functionalities and customization features that make it convenient for you to give desired look, style and functionality to your website. All these themes come with mobile responsive layout.
For beginners, free websites are a blessing. They can get their hands on amazing websites free of cost. Maintaining these websites is easy as well, with lots of free website themes doing the rounds on the internet. If you've been looking for free websites, you need to look up free website templates. All you have to do is look for a reliable website to download templates from! You can also see Free Ecommerce Website Templates.
> Types of Free Website Templates
Given the numerous types of websites available, there are several types of free website templates online –
Premium free website templates – Premium websites would be available to you free of cost. What more could you ask for? You can get the top websites with the best designs and themes for free.
Responsive free website templates – A responsive website is a must if you want to attract more and more visitors. Such websites make is easier for the users to use and navigate through your website.
Free website background templates – All websites come with distinct backgrounds which sets it apart from the rest. For such amazing backgrounds, you need to look up background theme templates online.
> Uses of Free Website Templates
There is nothing better than an amazing website which you get free of cost. If you're getting free websites, why should you spend all that money on designing and maintaining it? That is why you need to download free website templates. These contain exemplary designs, which are sure to blow your mind away. Also, these free websites are really easy to use and edit! What more could you ask for? You may also see Free Personal Website Templates.
> Tips While Using Free Website Templates
While using downloadable free website templates, there are few things you should keep in mind-
Make sure you keep in mind the purpose while selecting the template. All websites have specific themes. Make sure your template is compatible with that.
Website designs are best left simple and minimalistic. It should have an elegant design which sets it apart from the rest.
Since the reputation of your website is at stake, you must be careful while selecting the template, there is no need to rush.
> We Can Help You Out!
At template.net, we have an amazing collection of the best sample Free Website Templates. If you're planning to start a website of your own, you cannot afford to miss out on our collection.