Website Templates
9+ Creative Minecraft Website Themes
These minecraft website templates are designed to quench your visitor's thirst for minecraft while showcasing your products and services the best way possible. These templates are download ready along with all HTML files and quick installation guide.You may also check Gaming Website Themes.
Premium Minecraft Website Theme $10

The entire theme comes with a unique design where you have the main message of the page framed in brief against a looming background. It will have your logo on top below the menu bar and on the right you can place featured item. You can control the background with in-built MCM image option.
Free Pretty Premium Minecarft Website Theme

You are getting a bright and smart theme here which is sure to render an edgy effect to the website. The different sections on the page have been designed in the form of calendars. If you are planning an elaborate text for your welcome message on the homepage, this theme would be ideal for you.
Multi Purpose Minecraft Website Template $10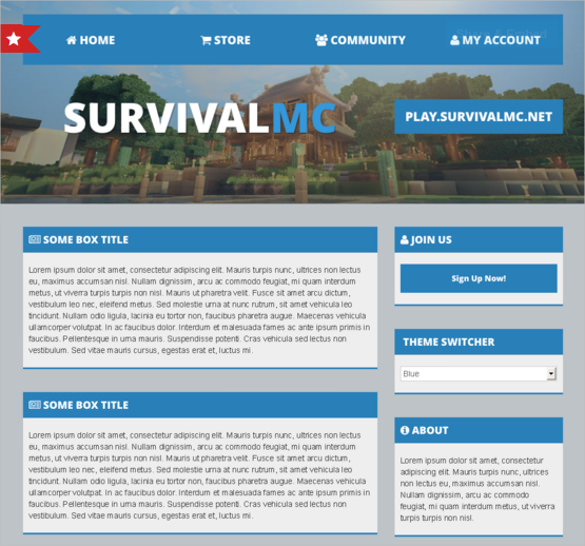 It's a neat and simple website theme which opens with a menu bar and big banner for good advertisement. The space below can be utilized to include your latest posts and you can even include a brief about your company on the page. You will get to choose from multiple color options here.
Free Simple Minecraft Website Template

You are getting a smart website template here based on the Minecraft theme. The banner on top includes your company message and social media buttons while the space below can be used for latest news. One of the most interesting bits of the theme is that it will allow you to include amusing series of screenshots on the homepage.
Minecraft Bootstrap HTML Website Theme $10
The bootstrap theme has come up with a very professional outlook which opens up with a vibrant banner on top with a menu bar over it. The illustrations are cute and you can also include a brief about the company on the same page. Advanced CSS3 has been used to create the logo which implies just simple editing & no detailed work on Photoshop.
Free Premium Simple Minecraft Website Theme

If you are looking for a website theme where you can enter elaborate textual details, this is the theme for you. You can include different sections on two sides and it also allows you to enter countdown timer. It even includes a calendar and the overall theme comes with a smart design.
Ultimate Minecarft HTML Website Template $18
Fully-Fledged Responsive Minecraft HTML5 Website Theme $15
Features include animated header background, built in MCM image option for background image control and more. With quality font icons and cross platform compatibility they are all set for your site.These templates are developed with Bootstrap based design and are bestowed with added features like Sticky Menu, Rotating Banner Sliders, Social Icons and custom buttons. These templates also provide various content and have advanced footer links as well. There are several kinds and types of website themes swarming across the Internet. Each website temple is packed with its own specialties. For this post, we have compiled for you a top-choices collection of Open Weebly themes. These themes are just like Weebly themes, just that the lineup of options and customization settings is a bit more vast and elaborate. The theme templates are wired with great set of features and all of them are a must-see and must-use! With an Open Weebly theme, you'd easily be able to wire your website with the best customization settings and features which will not only improve the look and appearance of the site, but also greatly enhance its functionality, impressing visitors and creating an even better website experience whenever they come and visit your website.
More in Website Templates