Website Templates
20+ Best Premium News Website Templates
News website administrators have a lot to gain out of a news blog or website built using HTML5 and empowered with CSS3, as managing such websites is much easier, and considering the daily admin activities that such websites need, this is certainly a great benefit. With premium news website template, you have a dependable framework that lets you share content quickly and in the manner you want. With Google Maps, jQuery, calendars, social sharing, and image effects such as slideshows and photo galleries, premium news website templates are already empowering the most popular news websites of the contemporary times. It's time for you to run through this list of the top rated and best in class premium templates that can help you create winning news websites.
Premium News Portal Website Template
News24 Joomla Website Template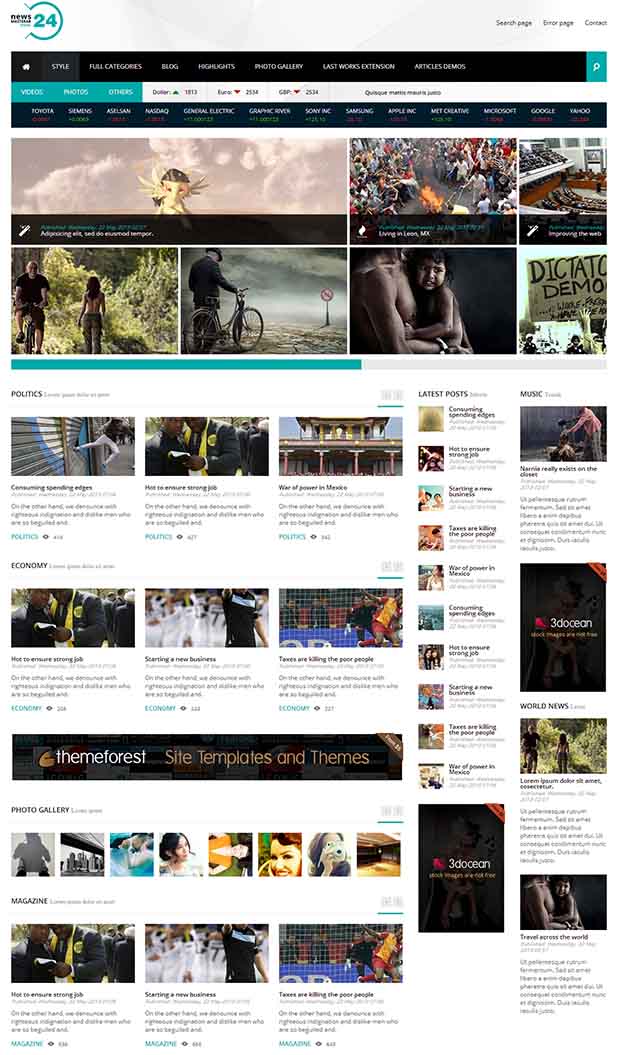 A perfect theme for those who like to stay updated as the responsive interface comes with retina supportive imagery. Usable shortcodes add to the flexibility whereas 4 preset styles can be innovatively used.
Science News Premium WebSite Template
Premium Cinema News Website Template
Responsive Latest News HTML Website Template
News Pro WordPress Website Template

5 color styles and some eye-popping templates are included in addition to the HTML5 markups. 6 layout options provide the needed flexibility whereas the customizable background comes in real handy for the professionals.
Technews WordPress Website Template

Stay updated with this beautiful and resourceful theme showcasing a mobile friendly interface and a one-click installation tab. Automatic updates are supported besides the exclusively Widgetized homepage and usable shortcodes.
Newspaper WordPress Website Template

A colorful theme having multiple features in search engine optimized layout and cross browser compatibility. Custom page templates look absolutely alluring besides the complete localization support for the professionals and designers alike.
Newsmag WordPress Website Template

This theme features fancy sliders and multiple post displays in addition to the extreme responsiveness. A well devised options panel is provided whereas the multiple color schemes and HTML5 markups make it highly popular.
Advanced Newspaper WP Website Template

This theme includes multiple category page layouts allowing better customizations in addition to the fully controllable sliders. Media Gallery template is up for grabs whereas the resizable layout enhances the reputation.
News Joomla Website Template

This theme has a Joomla backdrop which includes multiple posts and customizable sliders. Being extremely responsive, this theme also includes multiple color schemes and the cross browser compatibility for the professionals.
Sports News Portal Gallery Website Template
League news Joomla Website Template

Meant for the magazines, this theme can be customized based on user preferences with a responsive layout at its disposal. Featured sliders and custom posts add to the utility whereas multiple color schemes come in real handy.
DW focus WP Joomla Website Template

Advanced color palette is up for grabs whereas the extended admin panel provided the required support. Cross browser compatibility and complete localization are some of the other features besides featured fonts.
Webjournal WP Website Template

This theme showcases complete localization in addition to the cross browser compatibility. Being a responsive theme, multiple color variations are supported in addition to the custom menus and usable shortcodes.
Neuton WP Website Template

Drupal inspired templates are available out here with extreme responsiveness for the professionals. Other features include built-in colors and an SEO optimized layout besides the cross browser support for the professionals.
Nagara II Drupal Website Template

A bold and exciting theme which includes a responsive layout in addition to white labeled theme administration! Shortcode generators are present besides the Photoshop inspired images and an extended gallery.
JM hot news Joomla Website Template

A stunning theme featuring incredible layouts and a highly responsive interface! Publishing articles is made easy with the content support and multiple color schemes for the professionals in addition to the featured fonts.
Best News Portal Joomla Website Template

One can create on online portal with this theme and the featured components included. 6 clean presets are available whereas the Google charts provide the needed expertise in addition to the usable extensions.
Racing News Website Theme
The news WP Website Template

Retina ready designs are available whereas the cross browser compatibility comes in handy for the designers and professionals alike. A well-documented approach further enhances the usability besides the built-in bootstrap.