Website Templates
40+ Responsive Website Themes & Templates
A website doesn't just mean pages after pages of content. Yes, the content you provide in your website is certainly important. Especially if you're starting a website about a particular product or service. Then the content of the website must be of the best quality. But before that, you need to make sure people actually read that content. You May also See Responsive Blog Templates.
There is no point in creating a website, if customers do not seem to read beyond the first page. What you must understand is that all the people visiting your website have a very short attention span. You need to be able to capture their attention in that short span and the only way of doing that is by using responsive websites. You May also See Free Responsive WordPress Themes.
Hotels Responsive Moto CMS 3 Website Template $199
Would you love to show something specific to your visitors? Like hotel or jobs or places? Then here is the pick for you. It has You May also See Free Responsive HTML5 Website Templates.
A well-validated backend
Beautiful and responsive editable template
A very functional preset builder
Multiple color and font support.
By using this template, you can make sure that you are not annoying your visitors with unwanted or irrelevant data on the home page.
Computer WooCommerce Responsive Website Theme $59
If you are the one who is in each for a template that matches the selling of electronic goods like a laptop, this is the best choice for you. The characteristics of this template include You May also See Responsive Magento Templates.
Full width and easy sliders
Horizontal and vertical mega menu
Four child theme integration
Responsive and well-designed template that looks attractive
This template is designed with utmost style and comfort. This can accommodate as many menus and so you can add enormous products as well.
Blue Free Responsive WordPress Website Theme
Are you a personal blogger who loves to share your experiences with the world? Let it be a travel experience or a life story, Here is a nice pick for you. This template has
Clean and well-validated HTML codes for smooth functioning
Image organization that will make the site better
Right and left side bars
Responsive and attractive design.
This will suit photographers, artists, directors, painters and almost all sorts of bloggers.
Stunning Responsive Free One Page WordPress Website Theme
Are you the one who loves to be simple and humble? Then here is a one-page design for you. It's featured by
Simple but elegant one-page design
Responsive and stylish outlook
Localisation which is smart
Well-validated and clean HTML codes
This is cross browser compatible and 100% responsive too.
Music Events Responsive Website Theme
As the name, it's so simple yet and elegant template. The structure and design of the template is one of the most appreciable features. Along with that, it is characterised by
An eye soothing, responsive design
Easy to use backend
Customisable widgets
Sort codes and colours
The colour options and font integration of the template will allow you to customise it beyond expectations.
Cosmetric Website WooCommerce Theme $29
Won't you feel excited when you are given a Woocommerce supported template with a lot of customizable features? If you are onto the selling of beauty products, this template will fit your needs. Its features include
Custom widget for product highlighting
Product search and sort functionality
Google font integration for better appearance
Stylish and responsive design
From the design of your template, the user will be well aware that you sell quality and vibrant products.
Multipurpose Responsive Website Theme $49
Berg is an ideal template for Cafe restaurants, hotels, shops, and retailers. Along with its very stylish design, it's characterized by
Awesome Google font integration
A useful and easy drag and drop editor
Responsive and retina ready design
Neat and well-validated codes.
The 15 different types of home page menus and the vibrant presence of the colors will make your site stand out of the crowd
Responsive Business Website Drupal Theme
Nexus theme fits all needs. Let it be blogging or artistic profiles or NGO, It fits. It is characterized by
12 distinct and different blocks
Responsive and neat design
Well-validated HTML5 codes and CSS# animations
Custom widgets and useful plug-in support
This template is one of the best with the simplest design and the fastest performance.
Free Premium Responsive Website Theme
Basic is another well appreciated and recommended WordPress themes that can be used for any purposes. It features include
Beautiful and responsive design
Editable footer and header sections
Optional RSS forms and social media icons
Fresh and neat codes that work fast
This template works very well with simple products or can be used for personal uses like profile creation as well.
Responsive Free WordPress Ecommerce Website Theme
If you are a wise seller, this is your choice for the brilliant selling. This template is characterized by
Clear and crisp localisation feature
Neat and well-validated codes
Beautiful yet professional design
Useful and functional widgets
When the selling is wise, the template that you used should be wiser. And there is no other wiser template than free WordPress template.
Photo Blogging Free Responsive WordPress Website Theme
Do you know a lot of places to hang out and would like to tell it to the world? Then this template will be the best fit for you. Its features include
A beautiful design that can highlight pictures
Full width templates with beautiful images
Custom navigation and sliders
Easy editable and beautiful menu
This template will tell the places, your views and desires to the world at full voice.
Horse Responsive Moto CMS 3 Website Template $199
Do you love horse riding or care race? Would you like to host some competitions and a website for that? Then here comes a template which has
Custom tailored elements that suit your needs
Responsive and furious design
Bootstrap and HTML validated codes
Usable and customizable admin panel.
This template will show off your passion and intention with its colors and structure.
Magento Responsive Website Theme $84
Whether you are going to sell furniture or home appliances or grocery, this Magento template will fit all your needs. Its features are
An organized and visually appealing design
Easy and fast installation
Very appreciated user support system
Responsive and attractive design
This template has got a wide variety of options for you to try out with. This will ensure you a lot of site visits too.
Responsive Stylish Women WordPress Website Theme $59
The WordPress Theme Elle is a super stylish one meant for feminine related blogs and websites. The first look of the theme itself is very stylish and attractive. The theme has varied features to offers.
The very first feature of the theme is that it can be customized with any color.
It features search bar and also social media icons.
Other features include custom widget, different slider style and user friendly design.
On installation you will get a zipped folder for the theme and a set of instruction for its usage.
Fashion Responsive Website Template $75
This is a perfect template for websites for online stores. The template has been made responsive so that it can be operated from almost all devices.
Sides can be customized in the templates for various promos.
Images, menu and background videos can be customized.
Google map and social media is an added feature.
The template offers to have contact forms and testimonials where the customer names are provided with their images.
Responsive Free Masonry WordPress Website Theme
This theme is perfect for blogging and also for the portfolio websites. The responsive theme offers a number of features for your benefit.
The theme provides an elegant design for a much professional look.
Customize your fonts and designs to offer an attractive post each type.
The menu of the theme is clean and engaging and is also designed in slides.
The theme is SEO optimized and is compatible to almost all the major web browsers available.
Elegant Responsive Website Template $160
As the name suggest, this is a highly responsible theme and it very much compatible with almost all screen whether on desktop or tablet or even on a smartphone.
The theme features 4 different styles to be used.
Customized menu and quick buttons allows your visitors to browse easily.
Customized fonts, slide shows and others are added features.
The pages of the theme are high adjustable with various videos for the products.
Responsive Financial Advision Website Template $75
This is a responsive website theme that is perfect for websites related to finance. The 24 hours customer support acts as a back support for any problems that you face.
The theme features stocks photos that are free for life time.
It features a contact form for the visitors to leave a comment or feedback.
It offers customization of menu, widgets and design as per requirement.
The theme is made easy to navigate and also features various modern options such as social media.
Electronic Prestashop Responsive Website Theme $70
This particular theme is mainly designed for online stores such as jewellery, cosmetic, fashion or even for multipurpose stores. Some of the features that the theme offers are:
Support of multiple languages
Modules for latest products
Documentation of the user guide about how to use
Easy to customize options.
It is a responsive website theme that is SEO optimized and is compatible with almost all the available web browsers.
Clothing Responsive Website Prestashop Theme $30
Prestashop Theme is meant for fashion store such as clothing and watches and also for other items such as alcohol. The SEO optimized theme is also responsive in nature with other features.
The theme features more than 100 professional animations and other effects.
It has endless number of customization options.
It is supported by multiple skin and various Google fonts.
The flexible layout of the website is user friendly and is supported by CSS3 and HTML5.
Responsive Stylish Website Template $75
This is a template mainly for the ecommerce websites that are based on fashion. The attractive looking responsive website template offers you with a number of features.
It offers a number of customization options.
The interface is navigational and user friendly.
It offers various modern features too such as social media.
Extra features such as galleries and chat options make it super professional and worth an ecommerce site.
Multipurpose Website Responsive Business Drupal Theme
As the name suggests, this particular template is for all types of purposes whether it is a blog or a website or even a company portfolio.
The theme is clean and simple and is mobile friendly.
There is multiple numbers of drop-down menus and can be available in multiple languages.
Footer can be extended to 4 blocks.
The theme offers a professional look and also offers social site options to be with the modern time.
Busindess Free Responsive WordPress Website Theme
If you are searching a professional theme seriously for your business site, then take this theme. This is mainly for business sites and its main feature is its responsive nature.
It is also retina supported in case of graphs.
It has various layouts for blogs and various templates.
Various options for typography enhance customization.
The theme also offers Woocommerce and supports custom child theme with video tutorials.
Responsive Circus Joomla Website Template $75
As the template name reads, it is a perfect template made for the websites offering circus entertainment. This particular template also provides various features.
This template is responsive in nature and is supported by HTML and CSS.
The menu sticks to the top and drops down.
There are various color schemes to switch.
There are many more features to have such as Google maps, Google fonts and contact form with the template.
Modern WooCommerce Responsive Website Theme $59
The theme is perfect for any WooCommerce site and provides a very attractive look and design. It comes packed with a number of features such as:
As many as 6 numbers of layout designs.
Mega menu provided as vertical.
Images can be cloud zoomed.
Quick view option and slider that is full width.
The theme is responsive in nature and also offers customization, technical support and ease of working.
Music Artist Responsive Website Theme
The music theme is perfect not only for sites built on music but also for other artists such as photographers and designers.
The theme consists of unlimited layouts to arrange your pages.
It offers you customization option in just one click.
It includes gallery for both images and videos.
The theme allows customizing the background with animated colors and allows to share blogs on various platforms.
Responsive Auto Repair Car Parts PrestaShop Website Theme $139
AS the name indicates, the theme is made for sites that deals with auto repair and also sometimes that deals with selling of the car parts.
The responsive site theme has extremely user friendly interface to navigate.
It features mega menu and also mega layouts for designing.
Along with the layouts, there are multiple options for sliders and color switches.
The theme well supported by Ajax search, multiple languages and also multiple currencies.
Multipurpose Responsive Website Theme $39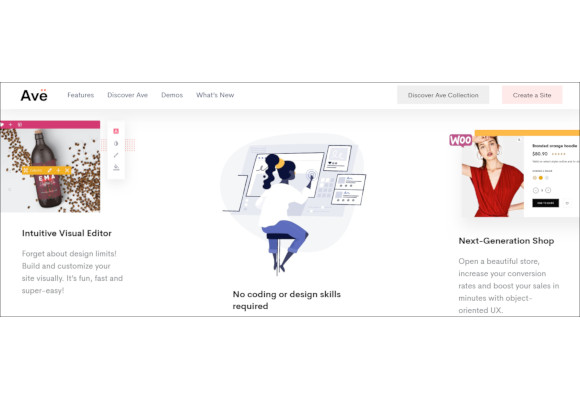 This theme is known to offer new updates in a regular basis. The theme is held perfect for multiple purposes and offers various new features for your help.
The theme is well documented that gives it a professional look.
It doesn't matter if you are not aware of the code knowledge.
Beautiful Minimal Responsive Website Theme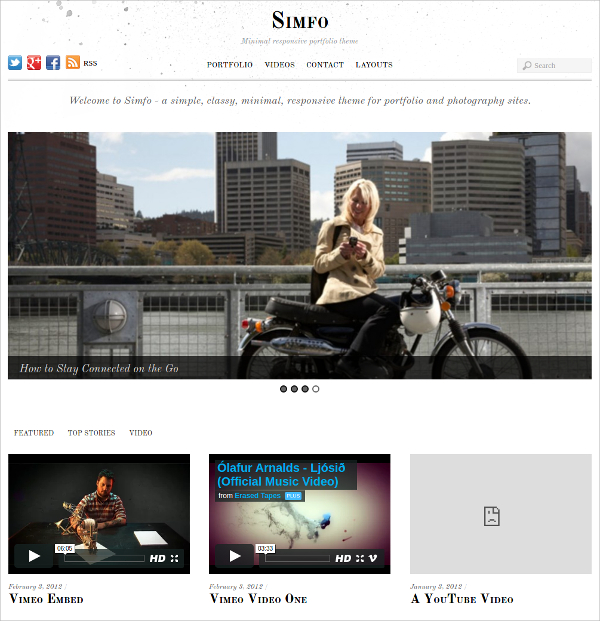 Simfo is a theme that is meant for blogging site but for various options such as travel, business or any company blogging site. The theme is not only interesting to known about but also is attractive look wise.
It features welcome message, and featured sliders.
It also features lightbox gallery and service highlights.
Customization is available for header, footer and skin.
The theme also has multiple layouts and also features child theme support.
WooCommerce Responsive Website Theme
Sell is a theme ready for the WooCommerce sites. The theme is present with a clean and user friendly interface that is easy to use.
The theme offers not only responsive option but also is compatible with various browsers.
Customization option is there for a number of options such as widgets and themes.
The theme video can be viewed before setting up.
The theme is absolutely SEO optimized and is also supported hugely by updated on regular basis.
Communications Responsive Website Template $69
This theme is a perfect piece for sites that have an option for communicating with their customers. Also this can be a perfect piece for the blogging sites that are communicative.
The theme is highly responsive in nature and is supported in iPhone iPad also.
The stock photos are there available for lifetime.
It features many different sliders for use.
The theme is supported by 24 hours customer support and also guarantees a good service each time to the users.
WooCommerce Mega Store Responsive Website Theme $59
The theme Glorious is best suited for various WooCommerce sites whether it is about fashion or home appliances. The theme features a number of options to make it worth.
The theme is well supported with documentation like installation guide.
It is well supported with a number of different layouts.
Various customization options are there to make a site worth working.
The theme includes various social icons and also is supported by video tutorials for learning.
Powerful Premium Responsive Website Theme
Dark Elegant is a drupal theme made exactly for business portfolio websites. It is not only clean in its interface but also beautiful to look at design wise.
The theme features different layouts, sliders and a drop down menu option.
It has 12 regions with customizable backgrounds.
It is supported by not only minimum but also various options of typography.
The theme is supported by multiple languages and is based on HTML 5.
Responsive boat is a responsive website theme that is best used by various corporate owners. It is not only user friendly but also has a colorful design to make it attraction to look at.
The theme features full screen layouts and of various types.
The layouts are designed with different effects, including animations.
It also features header and footer of the site as full width.
The theme though is best suited for the corporate use, but it can be also used by personal use or for business portfolio.
If you like a particular website more than others, it is probably because it is responsive. A responsive website makes the audience feel wanted, like they are a part of it and that they are involved. A responsive website is usually preferred because it is easy to use and navigate. If your website is really tough to operate, you're likely to see a decline in the number of visitors. So if you have decided to use responsive websites, you can look up Responsive Website Templates.
> Types of Responsive Website Templates
There are several types of free responsive website templates found online. Some of the commonly used ones are –
Free responsive website templates – Such free websites would be perfect for beginners who are just testing the waters. For them, the only way of getting responsive websites is to use free templates.
Premium responsive website templates – As the name suggests, such premium websites are of top quality. These are some of the best templates available on the web and would be of great use to you.
Responsive themes website templates – All websites have beautiful themes which appeal to the visitors. It needs to be attractive and well designed. For that, you could look up some theme templates online.
> Uses of Responsive Website Templates
If you've not made much progress with ordinary websites, it is time to upgrade to a responsive one. A responsive website would be the best thing you've ever done. You can make creating a responsive website much easier, by simply downloading responsive website templates. So what are you waiting for? You May also See Responsive PHP Templates.
> Tips While Using Responsive Website Templates
While using downloadable responsive website templates, there are few things you should keep in mind-
Make sure you keep in mind the purpose while selecting the template. The kind of template you select will largely depend on the kind of website you're planning to start.
Choose wisely when it comes to responsive website templates. Do not rush into the decision; go through all the options in front of you and make an informed decision.
Only choose customizable responsive website templates. These templates are really easy to edit and customize, which allows you to get exactly what you wanted.
> We Can Help You Out!
At template.net, we have some of the best templates in store for you if you're planning to download responsive website templates. So come on, give it a try and see for yourself.
Responsive website is the latest trend in website designs and most of all it has become a necessity now if we talk about promoting better SEO of the website. There is a wide range of responsive website templates online that can be utilized for any niche or business website. These templates carry a wide set of features a few of which are:0
JQuery sliders, responsive layout, flat design
Retina ready solutions
Easy customization options.
HTML5 CSS3 support