Rental applications, as the name suggests, are used by tenants to apply for rent to a   landowner. These application templates are mostly in the form of an application form which   all adult tenants must fill before applying for rent. These rental application forms are mostly   designed in Microsoft Word or a non-editable PDF format. These application forms are   mostly filled on an individual basis, and are the main source of information on the tenants   staying in his property.

Rental Application Form
The rental application form is nothing but a general KYC kind of a form which each member   of the tenant family must fill to apply for rent on someone else's property. Ideally, these   forms have the identity proof information of the tenant along with attested copies of the proof   certificates. The rent application forms are mostly created using PDF or Word.
Free Blank Rental Application Form PDF Sample
newlondonrental.com
Apartment Rental Application
Apartment rental applications are more or less the same as normal rental applications with the   difference of necessary information required by the apartment's security committee. These   rental applications are also designed in the form of Word or PDF, and contains information   on the personal identity of the tenants like the social security number etc.
Application for Rental Appartment Template PDF Format
on-site.com
House Rental Application
These are rental applications for standalone houses, and contain mostly the terms and   conditions as designed by the owner of the house. These rental applications are created using   Microsoft Word or PDF and have customisable information depending upon the choice of the   owner of the house. The owner may also add certain terms and conditions as well.
Basic House Rental Application Template PDF Download
ok.gov
Residential Rental Application
Residential rental applications are mostly synonymous as house rental application, with the   exception that such applications are mostly used in flats in an apartment. These application   templates focus more on security implications of the rental agreement and therefore may   contain multiple identity information. These applications are designed using Word or PDF   format.
Rental Application for Your Residential Appartment Download
rentlaw.com
Generic Rental Application
The format and the fields of rental applications differ from places to places and the nature of   the rental agreement. However, there is certain information which is common and generic to   all rental applications. These are present in the generic rental applications and mostly contain   basic fields such as tenant information, background information, identity information etc.   These are mostly designed using Word or PDF format.
Generic Standard Rental Application Template PDF
rentalleaseagreement.org
Basic Rental Application
Basic rental applications are same as that of generic rental applications, and mostly contain   the basic tenant information and other details which form a part of any of the rental   applications irrespective of the nature of the agreement. These rental applications are   designed using Microsoft Word or PDF format which are then customized as per specific   rental agreements.
Free Editable Basic Rental Application Word Doc Download
biggerpockets.com
Rental Agreement Application
Rental agreement applications invariably contain more detailed information on the terms and   conditions of the rental agreement, in addition to the tenant information and the identity proof   information. These applications are mostly designed using Microsoft Word or PDF and   contain information such as duration of stay, rental fees and other related information.
Agreement to Lease Rental Application Form Template
clearviewfarmsapartments.com
Rental Credit Application
Rental credit applications are those wherein in addition to the basic tenant information, in   depth information on the credit references as well as credit information are required as well.   Such applications add on to the security of the rental agreement in a way all the credit   references are cross-checked before finalizing a deal. These applications are designed using   Microsoft Word or PDF format.
Greenup Street Properties Rental Credit Application Format
greenupstprop.com
Rental Lease Application
A rental lease application encompasses rental residential application or lease application for   commercial usage. In case of residential applications, the format remains mostly the same as   the case with any other residential rent agreements. However, for commercial usage, these   application templates, designed in PDF or Microsoft Word, has in depth information on the   firm and its past history.
Free Application Form for Rental Lease Home PDF Download
wciuproperties.com
Simple Rental Application
Simple rental application, also known as basic rental application, is the most used application   format for general renting of residential houses and apartments. These application templates   are mostly created out of Microsoft Word or PDF format, and contain the basic information   on the tenant and the other terms and conditions of the contract.
Free Download Simple Application for Rental Appartment
landlord.com
Blank Rental Application
Blank rental applications are mostly used by independent house owners to rent out their   property such they can cater the application form as per their preferred format. Such   application forms are ideally signed off by both the parties after mentioning the agreed terms   and conditions. These are mostly designed in Word or PDF format.
Blank Residential Tenancy Rental Application Word Format
consumer.vic.gov.au
Rental Property Application
As the name suggests, rental property application need not be related to residential tenants. It   could also be related to renting out a shop. Therefore, depending upon the nature and the   complications associated to renting of the property rented out, these property rent   applications are designed either using Microsoft Word or in PDF format.
Printable Application for Tenancy Rental Property Template
winnipegrentnet.ca
Commercial Rental Application
Commercial rental applications and agreements are a lot more complex as compared to   residential rental agreements. These applications are mostly carved out in Microsoft   Word/Excel or a PDF format and have in depth information about the commercial player to   whom the property is rented as well as the detailed terms and conditions as to the number of   employees, nature or work etc.
Download Ccommercial Real Estate Rental Application Form
torreypinespm.com
Room Rental Application
Unlike residential houses, there are places where in a room is rented to any tenant. These   application forms generally has information on the tenant and the clauses of the rent   agreement such as number of rooms rented, rental fees, advance taken and others. These   rental templates are designed using Word or PDF format.
Room Licensing Rental Application Form Printable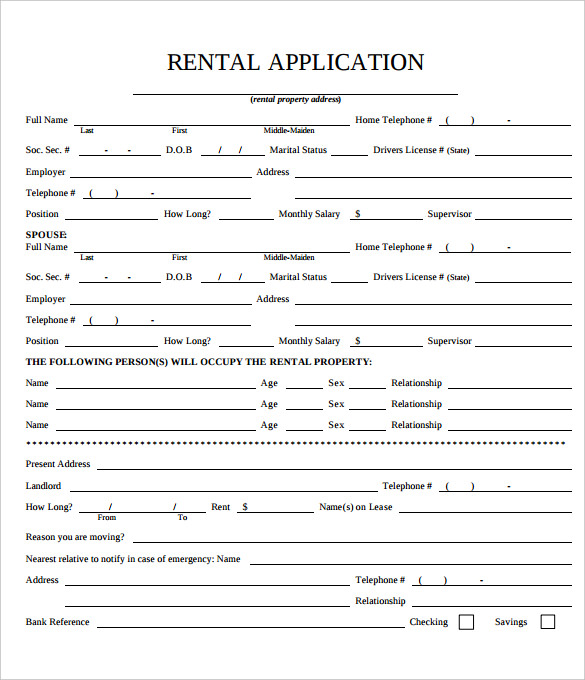 montgomerycountymd.gov
Rental Application Credit Check
Credit checks are mostly done on tenants when the valuation of the property rented out is   high. These checks involve cross checking the authenticity of the tenant from the references   provided by the tenant. These applications are mostly in Word or PDF, and contain fields   where in the tenant has to enter references information along with their contact details.
Authorization Rental Application Credit Check Form Download
landlordzone.co.uk
Landlord Rental Application
Landlord rental applications are basic rental application templates which are then customized   as per the needs and demand of the landlord. These rental application templates are designed   using Microsoft Word or PDF, and contain the basic tenant information fields plus the terms   and conditions or the other reference fields added by the landlord himself.
Download Private Landlord Rental Application PDF
landlordassociation.com
General Rental Application
General rental application, also known as generic rental application, are mostly used by   owners who wish to customize the terms and conditions, or the other information (apart from   the basic tenant information) which needs to be included as a part of the application form.   These rental applications are created using Microsoft Word or PDF format.
Free Editable General Public Rental Application Form Template
s3.amazonaws.com
Rental Application Denial Letter
The rental application denial letter is nothing but an intimation letter sent by the landlord in  the form of Microsoft Word. The denial letter conveys the message to the tenants that their   rental application forms has not been approved, highlighting the reasons of the rejection of   their rental candidature in a fair and legal manner.
Letter of Denial of Application Form Template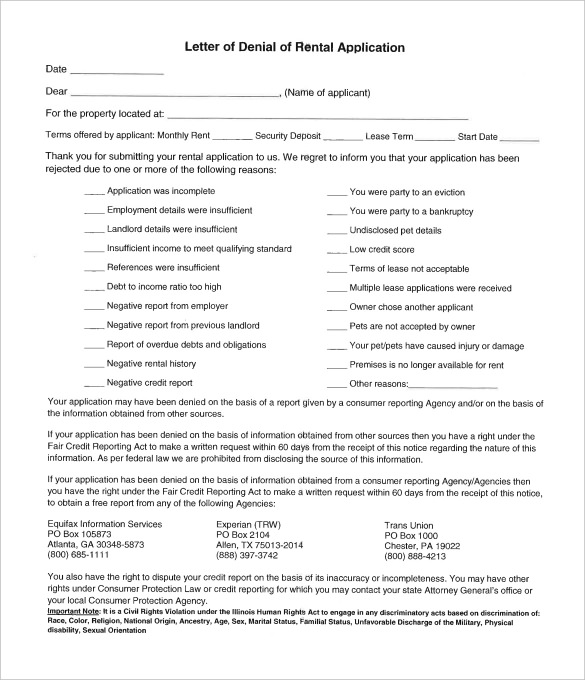 realoa.com