Are you into the music profession and looking forward to reach out to your vast audience out there? Well, you can go for the music business cards that are specifically designed for the music industry professionals. Whether you are a guitarist or the owner of a radio station, these sample music cards would cater to all.
Don't worry, today you don't need to design the music cards yourself as there are pre-designed music business card templates available online- whether you are a DJ or a pianist and so on.
Musician Business Card Template
Simple Music Band Business Card Template
Sample DJ Business Card Template
Music Business Card Template
Music Producer and DJ Business Card
DJ Business Card Template
Dotted Business Card Template
DJ Business Card Template
We have the most appropriate business card template for your DJ services here, with sound waves and the impression of an audio link- that instantly gives the impression of the amazing remixes that you perform at the nightclubs. The woofer at the left further complements the overall spirit.
Radio Business Card Template
If you are looking for a professional and smart business card to spread the word about your latest radio station, this template steals the show with the elegant and neat outlook. The red and black accents make an amazing contrast against the elaborate white presence. You have a clean space to include your name, logo, and contact details.
Guitar Business Card Template
If you are a pro guitarist looking to reach out to your target audience, this business card template comes with the perfect look and feel- with the grand guitar gracing the front side of the card. You can include your details at the back of the card where you have space for the name of your orchestra choir, your name, designation, and contact details. You can also see Simple Hospital Business Card Template.
Grunge Music Business Card
If you are a grunge musician, looking for a fitting business card, this business card template has arrived with the most complementary look and feel with its rustic appearance. The grey and black combo, laden with faded light effects, gives the perfect feel. The template comes with four color variations.
Business Card for Musicians
Hands waving in joy give the perfect impression of an electrifying nightclub where the crowd goes mad amidst the great feet-tapping music played by the musicians and DJs- and this is an ideal business card design for your musician profile. The purple top speaks of the vibrant aura usual with nightclubs.
Audio Cassette Business Card
Music Studio Business Card
Vector Music Business Card Template
Digital DJ Business Card
Musicians Business Card Free Vector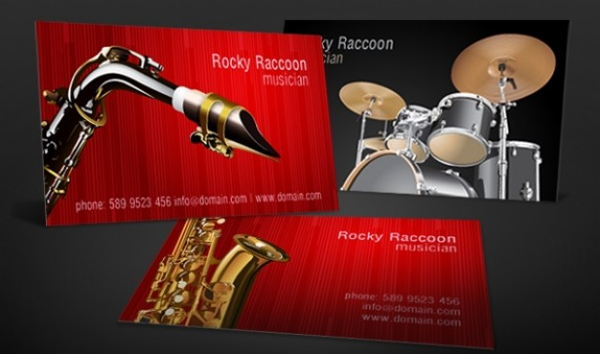 Piano Business Card
Iran Music Business Card
Modern Music Business Card
Music Business Card Free Download
Cherry Music Business Card
Flat Design Music Business Card
Bundle Music Business Card
Eli Music Business Card Template
Abstract Music Business Card
Phone Music Business Card Template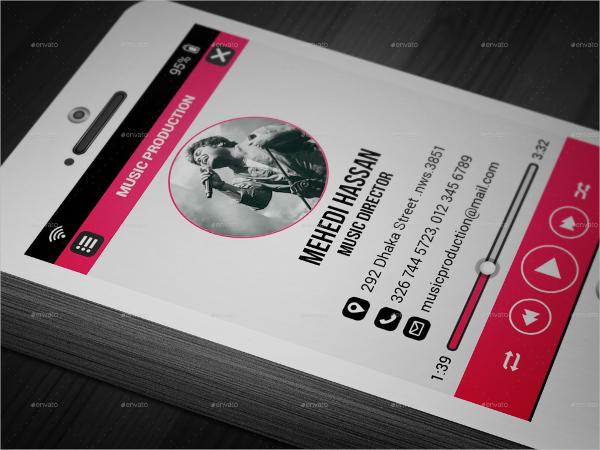 > What are the Benefits of Music Business Cards?
If you are a musician by profession, looking to spread the word about your performances to the music lovers out there, music business cards are what you need first. These cards will host your name, your designation in the orchestra group, the logo of your music studio as well as all your contact details.
Some of these cards will also offer you space to list your slogan. These cards are handy to carry and you can easily hand it over to your target audience. You can distribute these cards at your nightclub or the different events and venues where you perform. You can also see Elegant Non Profit Business Card Templates.
> Who do Music Business Cards Cater to?
As the name suggests, the music business cards refer to any professional associated with the music industry. It could be the DJs performing in the nightclubs or discos. Otherwise, if you own an orchestra group, you can use the music business cards to promote your orchestra group.
Then, these cards cater to any professional who plays musical instruments such as a guitar or violin etc.- and looking for events or functions where they can professionally flaunt their instrument skills before an audience. Besides, music business cards would cater to radio stations as well as music recording studios. There are many music business cards templates to look for online.
> How do the Music Business Cards Look?
Music is one of the most important aspects of the entertainment industry and hence the music business cards are always little different compared to the typical business cards for corporate houses. These cards are generally more vibrant and colorful compared to other cards for other industries. Some of them come with the illustration of a music instrument such as guitar on the front while you can include your text details at the back.
You can also have business cards with the illustration of sound waves or audio links. Then, there are music business cards with the impression of a super enthusiastic crowd head banging to the thumping music. You can also see Cool Business Card Templates.
Music business cards are indispensable whether you run a radio station or own a band. These cards would also be useful when you play musical instruments such as a guitar, piano or violin. The good thing is that you have the music business cards template online such as Piano Business Card Template which comes with a ready-made structure that you just have to customize with your data.