Business Cards
21+ Student Business Card Templates – PSD, Word, Pages
Student business cards are used by the students for the purpose of introducing their uniqueness from other students. This is similar also when an educational institution is being presented through the use of business cards. Business cards are the ideal and effective tool used for promoting not only business but also for the title of the people. Students can have their jobs easily by having teacher business cards. This will serve as a professional student business card used to boost one's identity and credibility.
Medical Student Business Card Template
Creative Student Business Card Template
Graduate Student Business Card Template
Student Business Card Template
Teacher Business Card Template
Law Firm Business Card Template
Photographer Business Card Template
Dental Business Card Template
Information Technology Business Card
Multi-Purpose Business Card
Medical Business Card Template
Premium Student Identity Business Card

This is a good template to use if you want to create identity cards for the students at your college. It includes all of the required information about the student, including a recent photo, name of school, birth date, roll number and much more.
Amazing University Free Student Business Card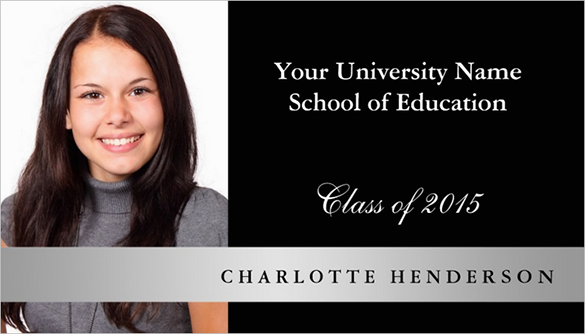 If you want to create a stunning and elegant business card while you are a student, then this is a good template. You can add your photo in the background along with the name of the university, school that you are attending, class and your name.
Creative Desining Student Business Card For Download

If you are into creative designing, then you should use this template. One side has various designing icons and the other side has all of the student information, including contact information, name and line of education.
Premium Engeneering Student Business Card Download

This is a good template that you can use to create a business card for an engineering student. This option is elegant, yet classic and you can write all of your contact information down, including email address, line of study and more.
Law Student Business Card For You
Astonishing School Student Business Card For You
Outstanding Premium Student Business Card
Professional Student Business Card Premium Download
Leather Student Business Card Holder
Navy Blue Student Business Card
Premium Student ID Business Card Holder
Websites provide different samples of student business card where students can make use of it to be their guide in creating their own or just customize the details presented and have it print afterwards. The templates for business cards provide time saving and cost saving for all and this is a convenient way to create a professional and well content business cards.
> What Are The Reasons To Use a Student Business Card?
There are many reasons that you should use a student business card, including having it available to give to teachers, students and companies. You can use these to make a statement and you will be able to hand them out to people you are interviewing with for an internship and much more. Also, these are ideal for giving to friends and others so that they have your contact information at the ready. You can use these if you are trying to get some work while you are at school so they can be handed out to potential clients and much more.
>

When to Use a Student Business Card?

These student business cards can be used for various reasons, including for identification cards. These templates can be used in many ways, which means that there are endless opportunities for using them. If you use them as an identity card, then you can write down all of the details about the student, including roll number, parent information and much more. Also, you can use these to give to professors, counselors and more to ensure that they have the most recent data.
>

How to Create/Write a Student Business Card

These are easily created and you can make them quickly with some great templates. Once you find the one that you must have, then download it and open it up with the editing software. You can customize it with a new photo, text, content, contact information and more. These days going to school mean you need to be prepared in advance, so why bother using boring and old style business cards when you can have a unique and gorgeous one?