While the name basketball may be familiar to most of you, netball continues to be a sport which hasn't achieved widespread recognition yet. However, the game is quite similar to basketball in terms of its requirements and even rules. One may even call the game a derivative of basketball itself. Are you interested in netball? Then you are surely going to appreciate the specialised certificate templates provided below. They have been designed specially keeping the sport in mind.
Netball Excellence Certificate Template

This netball certificate template comes with a subdued white background and a well defined border. Plus, the template appears to be extremely professional and dignified. Buy Now
Netball Participation Certificate Design

This certificate template comes in a standard size with allowance for bleed, a print ready format, Word and PSD formats, a CMYK colour mode and easy customisation of text and colour. Buy Now
Certificate of Netball Participation Template

This netball certificate template comes equipped with images of the game alongside the border. That certainly adds to the overall charm of the template as well. Plus, it is customisable. Buy Now
Netball Training Certificate Template

This certificate template comes with a bright red theme which goes very well with the overall purpose. Plus, you will be able to edit the template and customise it according to your needs. Buy Now
Appreciation of Netball Certificate PSD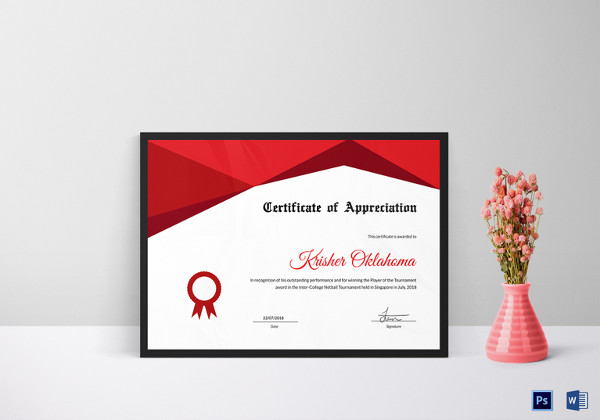 This certificate comes with easy customisation of colour and textual elements. Plus the colour mode used here is CMYK. Also, the template comes with high resolution images of 300 dpi. Buy Now
> Why go for Netball Certificate Templates?
The netball certificate templates would be perfect in a number of different ways. Let's see how:
The templates are versatile, practical, multipurpose, flexible and can be modified to suit your purposes.
The templates are 100 % customisable and editable. That means, most of the elements that you see on the template may be edited or customized. That includes the color, textual elements and the graphics.
The certificate templates come in a print ready format.
They are both user and designer friendly.
The templates have been designed by professionals who are aware of your needs and requirements.
> Why should Netball Certificates be Awarded?
Even though netball is quite similar to basketball, the latter has successfully gained widespread recognition whereas netball continues to be a grossly underestimated sport. Naturally, sports enthusiasts are trying their best to inculcate the spirit of netball and enhance its popularity through various coaching centres, competitions and championships. The promise of awards and certificates bring in a larger audience and guarantees more participation than usual. That is why such netball certificates are awarded. The thought of certificates and recognition motivates more and more people to participate in the sport. As a result, there has been an increase in the need for netball certificates. You can also see Tennis Certificate Template.
Are you interested in netball? Or are you organising a netball tournament? In that case, you are surely going to appreciate these netball certificate templates. These certificate templates have been designed specifically for the occasion and would be a great way to encourage more and more players to take part in the game.