One of the most common habits in the society today is to appreciate people, for the things they've done. Someone who deserves an award is almost always likely a winner, and, as such, he or she deserves a winner certificate. You may also see Certificate Templates.
Ideally, the goal of issuing a certificate as an award is to appreciate the efforts of the individual in question and to put value on the efforts they have put to work to earn the awards. You may also see Salary Certificate Templates.
Winner Certificate Template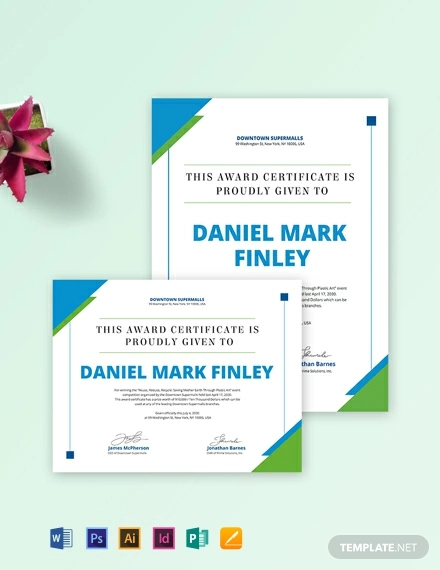 Simple Winner Certificate Template
Modern Winner Certificate Template
Winner Award Certificate Template
Winner Training Certificate Template
Darts Winner Certificate Template
Prize Winning Certificate Template
Prize Winning Appreciation Certificate Template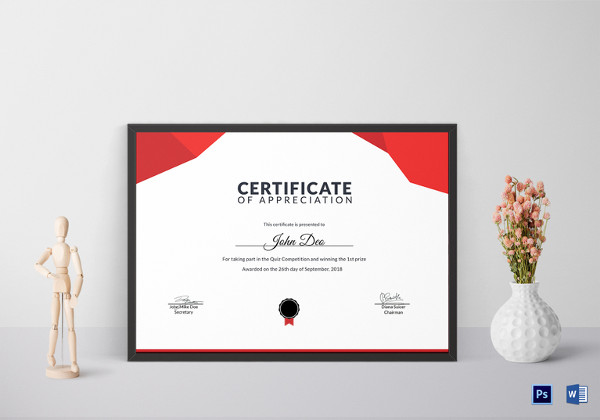 Prize Winning Achievement Certificate Template
Sports Award Winning Congratulation Certificate
Outstanding Student Winning Appreciation Certificate
Netball Winning Appreciation Certificate Template
Fencing Winning Appreciation Certificate Template
Contest Winner Certificate Template
The winner of a contest award deserves to go home with a certificate. By using this template, you will be able to prepare the best certificate for the winner in question. You may also see Certificate of Completion Templates.
Award Winner Certificate Template
The goal of this template is to help you prepare your awards within the shortest time possible. By issuing the winner certificate, you are showing the winner that you've put value in their efforts and hard work.
First Prize Winner Certificate Template
People who receive prices for the first time deserve recognition, and, as such, it would be great to use this template to create a gift or recognition certificate for them. The template is free to download and easy to use.
Competition Winner Certificate Template
If you are hosting a competition event and would like to give certificates to the individual or the winning team, you will find this template useful for preparing certificates.
Auction Winner Gift Certificate Template
Although receipts are enough proof that someone won an auction, it is important to give the winner a certificate to appreciate the efforts they put in the competition. Use this template for certificate preparation.
Win by Losing Winner Certificate Template
Main Prize Winner Certificate Template
School Winners Certificate Template
Certificate of Achievement First Place Winner
> What is a Winner Certificate Template?
A certificate template is an already designed certificate, and it is available for download, either as a premium package or as a free document. The preliminary purpose why the designer created the certificate templates was to help you save time and energy. That means that you never have to worry about creating a new template yourself. You may also see Certificate Template.
In fact, all you ever have to do is to download the template, customize it, and then feel free to us it to create the winner certificates. The reason why templates are significant is that they only take the shortest time possible to customize. Sometimes, though, editing the template is usually unnecessary.
> Why a Winning Certificate is Significant
The certificate tells the public about you. It enlightens people to know that you have experience in your respective field. Of course, earning a certificate isn't always easy, winning one is not an easy task either. So, when you get a winner certificate, you should treat it (or look at it) as a tool that expresses your knowledge in something, particularly what you love doing the most. You may also see Graduation Certificate Templates.
Moreover, the certificate appreciates your knowledge and experience in your areas of preferences and priorities. The certificate must be legit, though. It must come from someone else, not you. As such, you shouldn't create a certificate as an award for yourself. Of course, a certificate is like a trophy, you have to get it from someone else.
> How Can I Design a Certificate for Myself?
Imagine a student asking a teacher whether it is possible for the kids in the classroom to write their exams instead of waiting for the tests from the teachers. The first question that most probably comes to your mind is, are the students crazy? Yes, they are crazy. While this reads like a foolish example, it should make it clear to you that it is not possible to create your certificate. The award has to come from someone else. You may also see Funny Certificate Templates.
It is important to congratulate someone for the good job in whatever position he or she holds. Although a certificate might not be enough, you can use it as an award to appreciate someone, anyway. The good thing about certificates is that the holder can use it as an item of proof whenever necessary.