Certificates are emblems of recognizing a student's hard work and perseverance in different activities they partake in and other accomplishments they achieved. Every student feels a sense of worth and compassion when they get noticed from other people for their skills, talents, and knowledge. That's why a certificate has to look appealing to give that extra morale boost to young students in becoming contributing members of society. Fortunately, we have that for you. Below are some sample student certificate templates that you can customize according to the needs of your institution.
6 Steps in Designing An Eye-Catching Student Certificate
Step 1: Draft out a sample format of your certificate.
There is no right or wrong way of designing a certificate. However, it is essential to be wary of conventional styles so that it will look more professional and appealing.
Step 2: Select a theme.
Choose an appropriate theme for the certificate. It can range from participation, achievement, appreciation, awards, completion, experience, and many more.
Step 3: Choose an appropriate certificate template.
Now it's time to choose a printable certificate template. Make sure to choose one that matches your style and theme, and personalize it as much as you want.
Step 4: Place necessary text elements.
After choosing your desired template, it is now time to add the written information. Remember to include the title, presentation line, recipient, from (the one giving the certificate), description, date, and signature.
Step 5: Add the necessary graphic elements.
If you choose to add artworks or a background, keep it simple and not too overbearing so that the text is readable. For graphic elements, be sure to include the border, logo, seal, and lines (for certificates that are in fill-in-the-blanks form).
Step 6: Finalize and print it out.
Print out one copy of the certificate and proofread it carefully. Adjust the position or size of any type that needs it. Save the file and then print the final text of the document.
10+ Student Certificate Templates
1. Student Certificate of Excellence Template
Regardless of what academic level you're in, an award motivates and sparks the confidence of the student to do better in life. If you want to bring inspiration to your students, then download this Student Certificate of Excellence Template now. With its editable layout and high-quality design, making certificates during times of awarding and recognition won't be so difficult.
2. Student Leadership Certificate Template
If you have a student that places twice as much energy in his/her duties and responsibilities as a student leader, then you should award them with a certificate. Download this student leadership template now and award deserving students for showcasing exemplary leadership skills. It has a highly customizable design and stunning graphics that portray academic notoriety and honor.
3. Student Internship Certificate Template
Companies should give credit for their interns because it helps get productivity going and makes the company progress better. Good thing for you, we have a suitable template for that. Download this Student Internship Certificate Template now and enjoy the benefits of its editable layout and appropriately designed content to make a student's internship fulfilling and worthwhile.
4. Sunday School Student Certificate Template
Want to show appreciation to your kids for sharing their knowledge about the Lord? If you are, then get this Sunday School Student Certificate Template. With its fully customizable layout and graphic designs that match the theme, you can commemorate your students for being great followers of Christ. So download it now in all versions of Illustrator, InDesign, MS Word, Pages, Photoshop, and Publisher.
5. Outstanding Student Appreciation Certificate Template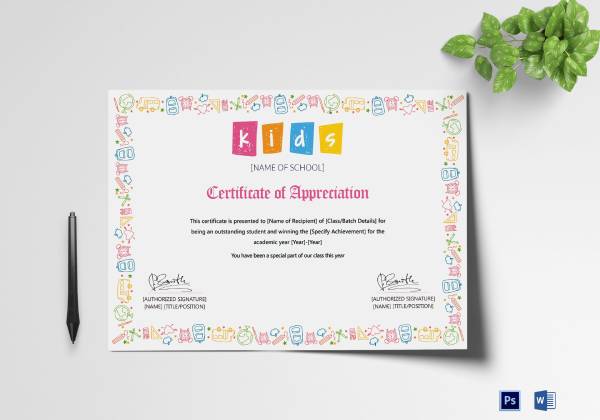 f you want to strengthen the confidence and self-esteem of your outstanding students further, then give them a certificate for their hard work and efforts in excellent service. Download this Outstanding Student Appreciation Certificate Template now. It has a colorful and professionally designed layout completed with creative standard fonts that you can personalize to your particular style.
6. Outstanding Student Recognition Certificate Template
Students who showcase astounding and remarkable outputs in their academics and extracurricular activities should have some document of recognition for their staggering results. Download this template now and utilize its fully customizable layout and state-of-the-art graphics to make eye-catching certificates for their achievements.
7. Free Student Achievement Certificate
When you acknowledge your student's dedication and perseverance during class activities, they'll feel a sense of worth and inspiration. Fortunately, we have an honorable certificate for you. This certificate template comprises a clean and polished layout complemented by its professional graphic designs customizable for your personal use. So download it now!
8. Free Student Attendance Certificate Template
If you're looking for a professionally made certificate of attendance for your school or other academic institution, then we have a suitable template for you. With its fully customizable layout and high-quality graphic designs, you can make stunning certificates all the time. So download it now or choose from other attendance certificate templates.
9. Free Student Appreciation Certificate Template
Show your students that you appreciate all their strenuous efforts in becoming influential role-models of society by giving them this Free Student Appreciation Certificate Template. With an easy to edit graphic design and layout, you can customize it anytime you want. So grab it today!
10. Natural Certificate Template
Download
If you're looking for a certificate that stands out and has a unique design, then get this ready-made template. It has an alluring natural design that sparks the creativity of the one possessing it. So download it now and incorporate various creative styles in making a certificate.
11. Multipurpose Certificate Template
Download
If you need a couple of multipurpose sample certificate templates for you to mix and match various styles, then you've stumbled on the right number. If you download this bundle pack, you'll never run out of creative juices for your next certificate design. So get it now.