Making any person be valued is one of the most elating gratitude that a person can have. In certificate of appreciation template, anyone can send their warm messages and be thankful for the contributions or help that a person has given to others. It is like the thank you Certificate Templates in sample format where the person can be given an award through certificates.
Specifying the message and having it noted to a specific person will make it special to the receiving individual. The template can be added with images, emblems and pictures that makes it worth to read by the appreciated person. You can also see Birthday Certificate Templates.
Appreciation Certificate Template
Organization Certificate of Appreciation Template

Buy Now
Employment Appreciation Certificate PSD Template

Buy Now
Certificate of Appreciation Illustration Design

Buy Now
Company Manager Appreciation Certificate Template

Buy Now
Student Appreciation Certificate by School

Buy Now
Army Certificate of Appreciation Template

Buy Now
Premium Company Certificate of Appreciation Template

Buy Now
Company Appreciation Certificate Design Template

Buy Now
Sample Health Certificate of Appreciation Template

Buy Now
Company Employee Appreciation Certificate Template

Buy Now
Snooker Appreciation Certificate Word Template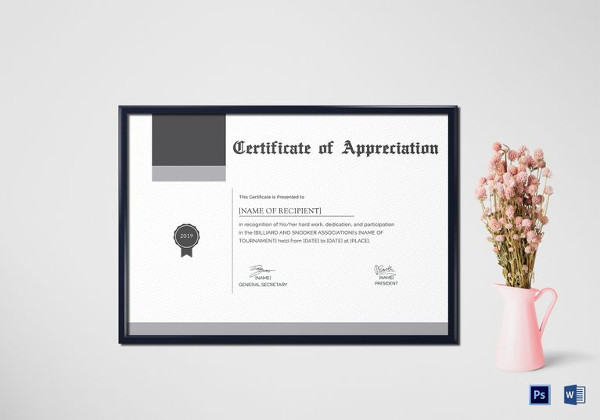 Buy Now
Catering Thank You Certificate Template

Buy Now
Appreciation Certificate of Skating Template

Buy Now
Simple Appreciation Certificate Template

Download
Parent Appreciation Certificate
Editable Certificate of Appreciation Template
These templates are regarded as one of the most valuable and are known for their tendency to be edited perfectly in the time of their use. These templates considered being the most stylish ones as they use various intelligent tools and designs that make them worthy of being used again and again.
Free Printable Sports Certificate of Appreciation Template
The popularity and demand of these templates are on a rise and that's because they are designed with special techniques and by the help of experts. These techniques help in a better output of the templates that make them different from other such templates and thus work becomes presentable too.
Example of Certificate of Appreciation
Certificate of Appreciation Format
School Certificate of Appreciation
Work Certificate of Appreciation
Certificate of Thanks and Appreciation
Free Template for Certificate of Appreciation
Fillable Certificate of Appreciation Free Template
Sample Certificate of Volunteer Appreciation
Sample Certificate of Appreciation for Donation Download
Certificate of Appreciation for Teachers Example
> USAGE
Why do I Need a Certificate of Appreciation Templates?
Certificate of appreciation templates is available in many different styles and designs so you have a lot of option before selecting any one of them for important events. These Best Printable Certificate Template are designed with utmost care and carry a lot of tools and widgets that help them become better and better every time.
How to Create/Make Certificate of Appreciation Templates?
Certificate of Appreciation Templates are made by the experts of the field and that's the best part about using them. They have been carefully made to cater to your needs so that you can save your time and jump directly to working on it. These templates will always come in handy because of their efficiency.
> TARGET AUDIENCE
These templates are used in various competitive arenas like sports or studies or any other such arena. You will see that these templates have the detailed information regarding the field and patterns and so these are required by all the small and big companies and organisations or institutions for the perfect work they can give you. These Word Certificates also have the latest designs and styles so that apart from the perfection, beautification and decoration of the work is achieved too. You can get these templates easily from any website because they are popular and are highly in demand.
> BENEFITS
Certificate of appreciation can become a reliable template for you because of the professional and formal nature that they have. They can be used to achieve several benefits.
With these templates, you can save your time as they have the structure already ready. You can also be more creative and add your content to it, as these templates are editable.
You will witness the appreciation you will get when you will use these templates, as they are beautiful and have the ability to attract everyone's attention.
These templates have been used at a lot of places and are in demands as well.
How to Write a Certificate of Appreciation
Certificates of appreciation are still significant today as they were in 2016. And, with so many Certificate of Appreciation Templates online and in print, there is no gainsaying that these documents are significant in the society today. To write the best certificate of appreciation, you need to keep a few things in mind. One, know what makes someone stand out.
In most cases, that will be the ideal reason for preparing the certificate. Two, determine the best sample template that you would like to use for the design. Three, choose friendly colors for your writing. These three steps should help you create a high quality certificate template.
How to Make a Certificate of Appreciation
There are two ways to design a Free Downloadable Certificate Templates: you can either use a customized template or create the file from the ground up.
Free Templates
You can create a high quality, customized certificate of appreciation by using already designed templates. The beauty with this is that it saves you time, money, as well as energy. All you have to do is to download a Free Certificate Templates with a single click of a button. And then, customize the file depending on whom you would like to award.
Creating the certificate from scratch
Creating a certificate template from scratch is the hardest way to do the job. But, it remains the number one way to create a high quality document. So, if you have some time for the task, it should be easy for you to create a high quality certificate in just a few minutes.
What to Write on a Certificate of Appreciation
The Name of the Recipient
The name of the person to whom you will issue the certificate should appear on a Free Certificate Template that you download. This is important because you want to recognize the achiever by their name. Of course, this is a great way for you and the society to accord them respect.
The Appreciation
This part tells the certificate holder why they have received the certificate. For example, the certificate of participation in a team building activity will have a title like "Certificate of Appreciation for Participation in Team Building".
Certificate of appreciation Wording templates has the tendency to become the best Certificate Templates as they have perfect style and design that make them look presentable. These templates are stylish and so they are used widely. They have special features and can be edited or modified according to your use. They are available for free as well.