While the gesture of giving appreciation can be done through countless of way it can even be done simply by telling it to the person you can make it a lot more meaningful to the person being honored. You can give them a certificate that indicates how they were able to serve the community, and you can do this during a special event in honor of them. Below is a collection of flyer design templates that can also be used as a certificate template, feel free to check them out.
88+ Church Templates in PDF, Word, Excel, PSD, Google Docs, WordPress, InDesign, Apple Pages, HTML5, Google Sheets, Publisher, Apple Numbers, Illustrator - START DOWNLOADING
Church Certificate of Appreciation Template
Pastor Appreciation Flyer Template
I really mean a lot for an employee to be appreciated by their employers, it would make them feel motivated to continue doing their best in their work. In a similar sense, it feels just as rewarding for a church leader to receive a token of appreciation from the community that he is serving, it simply means that he was able to touch the lives of the people as well as contribute to the strengthening of their faith. You may also see appreciation flyer templates.
Red Elegant Church Pastor Appreciation Template
The red and gold color scheme wonderfully makes this flyer template look luxurious, and if this is the look that you want for you certificate design, then don't hesitate to download it.
Blue Starlight Church Pastor Appreciation Template
If you are looking for something that's formal and modern, then the flyer template above may be the ideal one for you. This design comes in a landscape orientation, which is something that's quite unconventional to flyer designs but is common among certificate templates.
Colorful Minimalist Church Pastor Appreciation Template
To those who prefer an appreciation flyer design that's minimalistic but not dull, check out the template above. The great thing about this template is that even with its minimalist design, it brings depth and impact mainly because of the colors used.
What Is the Church?
Describing the church simply as a building for prayer is highly superficial, but still true. The church may be defined as a structure used by Christians as a place of worship and other spiritual activities, but there is a deeper meaning to it.
The church can also be defined as the people themselves, the Christian community that is praying and serving their Creator as a whole, and the church is usually led by a person who is appointed by a higher office. Depending on the denomination, this leader is referred to as a rabbi, pastor, or priest. You may also see church certificate of appreciation template.
Rustic Chalkboard Church Appreciation Templates
What Is a Pastor Appreciation Certificate?
Previously, we mentioned the primary purpose of appreciation certificates, which is for employers to show to their employees that the latter's good performance and status in the company has been appreciated. Now, we will be talking specifically about Pastor Appreciation Certificates, which is only slightly different than that used in businesses. While this form of certificate is also for expressing appreciation for their efforts and loyalty, these are issued by the community to the pastor.
Commonly, pastors are appointed to a particular church and will remain there for a duration of six years before they are appointed to a different church, unless the pastor is already 65 years or over, then they can choose which church to serve. With regards to the pastor appreciation certificate,
they are usually given by the community either on the pastor's natal day, on their anniversary at that church, or near the end of their term. This is simply to show to the pastor that their services to the churchgoers and the community, in general, have been appreciated. You may also see risen church flyer templates.
Good Shepherd Church Pastor Appreciation Template
Vintage Church Pastor Appreciation Banquet Template
If you're looking for a vintage style event flyer template, then the one above may be perfect for you. Though it doesn't provide you with a space for the image of the person being honored, the overall look is already enough to make this design formal and presentable.
Simple Formal Church Pastor Appreciation Template
Colored Gradient Church Pastor Appreciation Template
Most Common Forms of Certificates
Certificates can either refer to something that's in printed form, but it can also refer to something that is found on a computer. But regardless of the type of certificate, they share a common purpose, which is to confirm or authenticate some qualities of a person, an object, a program, or an organization. You may also see women church flyer templates.
1. Birth Certificate. A birth certificate is a legal document that is issued by the hospital which indicates all the vital information of the birth of a child. A birth certificate can also be a certified duplicate copy of the original document, which also contains all the necessary information gathered and the circumstances that occurred during the delivery.
2. Death Certificate. A death certificate is a document that is issued by a medical professional—usually in hospitals—to certify that a person is officially deceased. Another way to define this is that it is a tool used by a practitioner for declaring the date, time, place, and cause of a person death, and this is then logged in an official register of deaths.
3. Gift Card or Gift Certificate. Also known as a gift voucher or gift token in Europe, this is a pre-loaded money card that is commonly issued by banks or retailers to be used as an alternative to actual cash when making purchases. The reason why retailers give these out is to promote their industry and to entice the recipient to keep coming back to their store. Some gift certificates are redeemable only at authorize retail stores, and some may even have an expiry date. However, there are also gift certificates that are generic—such as the ones issued by Visa and MasterCard—which have no limitation as to where you can use them.
4. Authenticity Certificate. Also referred to as Certificate of Authenticity (COA), this is a seal or a small sticker that is affixed to a piece of paper for the purpose of authenticating a valuable item. For computer COAs, they have an assigned license number on them and they are used to verify that a program is genuine.
Appreciation vs. Recognition
People commonly use appreciation and recognition in a similar sense as if they can be used interchangeably. During awarding ceremonies, even though the award is given to a person in appreciation for their performance, many people would still wrongly use the word "recognition".
The reason for this choice in vocabulary is simply because it sounds much extravagant than "appreciation". But you know what? Those two words actually have a very different meaning, which is why they should not be used interchangeably. To make it clear, here are some differences between recognition and appreciation. You may also see anniversary flyer templates.
1. Appreciation can refer to something that is long-term, taking notice of a person's overall achievement, and can help in developing that person's loyalty and respect; while recognition is usually short-term and will usually be applicable to specific successes and accomplishment. You may also see free church flyer templates.
2. The gesture of showing appreciation is almost always verbal with such examples as "thank you", "you did great", or "thank you for the efforts". Recognition, on the other hand, can be done without saying anything, it's mostly about taking notice on something that has been done. You may also see Easter Sunday flyer.
3. Appreciation is non-judgmental, it neither speaks of the end-result from the person's actions, whether it turned out good or bad. Recognition, however, is only given out of the positive outcome. You may also see free holiday bbq flyer.
Modern Royal Church Pastor Appreciation Template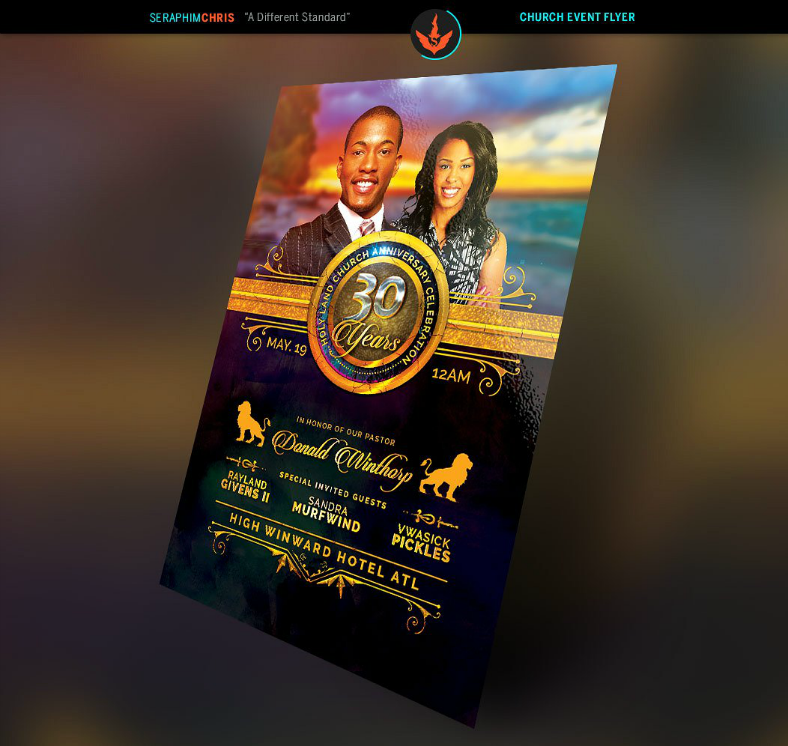 Dark Themed Church Pastor Appreciation Template
How can you make your elements stand out from its background? Make the background dark, of course. As you can see from the flyer template or certificate format above, the dark background not only helps in making the foreground elements highly visible, but it also puts depth on the design.
Purpose of Appreciation Certificates
These documents are commonly issued by an employer to its employees who have excelled in their performance, have been loyal to the industry, and have shown utmost support to the growth of the organization. The issuance of these documents simply shows that their efforts have been greatly appreciated and that they have been seen as an asset to the company. The purpose of appreciation certificates is mainly to boost the morale of the employees and motivate them to maintain their excellent performance. You may also see chalkboard flyer template.
Advantages of Giving Appreciation Certificates
We previously mentioned that appreciation certificates are given from one person to another for the purpose of appreciating the receiver for their services and level of commitment, and this can bring out a lot of positive vibes on both ends. While the issuer can feel some sense of fulfillment for being able to contribute to someone else's happiness, the recipient will get most of the positive impact since they will come to realize that all their efforts were indeed noticed and appreciated. You may also see contest flyer template.