Certificate Templates
11+ Sample Death Certificate Templates
A death certificate template is a legal document presented by the government to certify the truth of a person's death. The certificate contains all the information relating to the person's name, the gender, the nature of the death time and the date. Further, the certificate includes the place where the death occurred. The death certificates templates works as a permanent record of the person's death. It is used for insurance, family and legal purposes.
Sample Dog Death Certificate Template
Editable Death Certificate Template in Word
Death Certificate Templates
A death certificate is a legal document of a person who had passed away. It is prepared and issued by authorized authorities. It is a necessary certificate that you need in official proceedings. You need this certificate for loans and insurances. If you are planning to create a death certificate for your pets, you can create your own. It should have the name of the deceased, along with the date and time of his/her death. You can check out Death Certificate Templates available online. They are editable and easy to create.
Death Certificate Template in Word Sample
However, you can also make a sample death certificate for various reasons. Some may make it for Halloween purposes and others may design them to commemorate the death of a friend or a loved one. Some people would also use them to play a prank on their friends. You can Also See Doctor Certificate Templates.
Wicked Witch Death Certificate
U S Standard Death Certificate PDF File

cdc.gov
Disney Haunted Mansion Death Certificate
Statement of Death Certificate by Funeral Director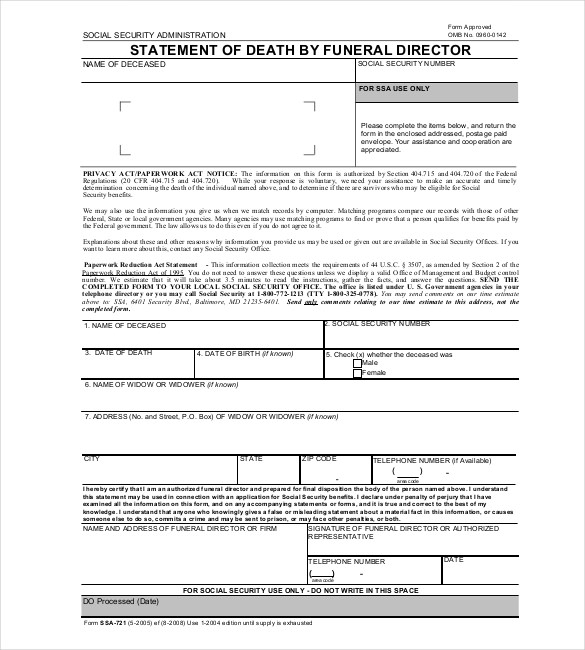 ssa.gov
Creepy Death Certificate
Fetal Death Certificate Template

health.ny.gov
Death Certificate for Work

hooverwebdesign.com
Duplicate Death Certificate Template For Free Download
Duplicate Death Certificate Template Creator Download

doombuggies.com
There are several blank death certificates templates to choose from. Some are superiorly designed and will look exactly like an authentic certificate. Designers can make them using identical security transcript paper, water markings and embossed seals. Such a certificate will also include any other information present in an authentic certificate.
You may also check out Medical Certificate Samples. To be certain that your sample death certificate is more close to a real one, you have to spend some funds and obtain it in a more professional way. In this world of internet and computers, nothing is impossible. You may also see Certificate Samples