It is good to motivate employees or students and the best incentive for them is rewarding them with certificate of participation. It is good to show someone appreciation for participating in a meeting, event, school events. It will encourage them and make them feel special as well as boost their self esteem. It is a great thing to acknowledge their commitment to the event or meeting. You may also like Achievement Certificate Templates.
Certificate Participation Template Download
Certificate of Achievement Template
Baseball Participation Certificate Template
Certificate of Participation Template Download
Premium Participation Certificate Template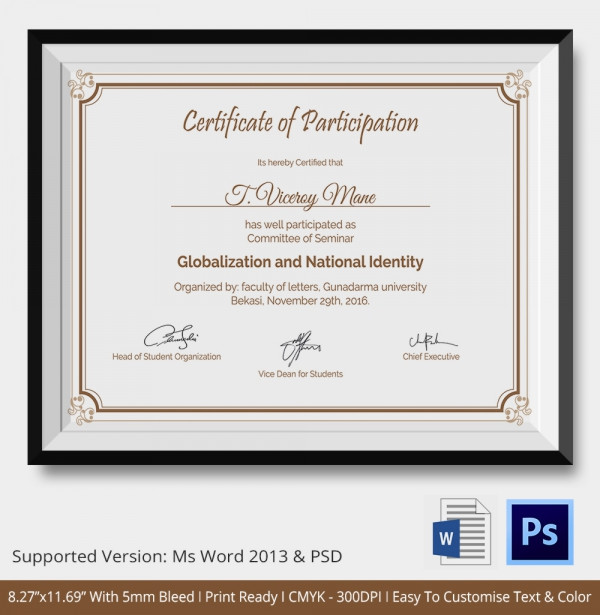 Certificate of Participation with Modern Blue Frame
Sports Participation Certificate Template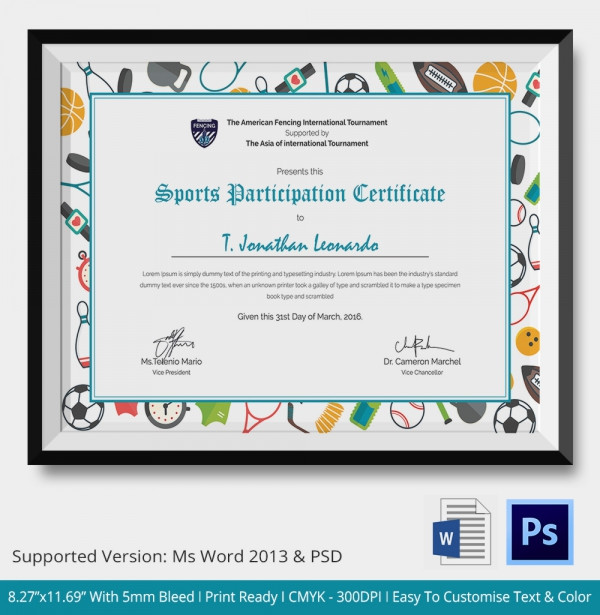 Printable Certificate of Participation Template
Training Participation Certificate Template
Template for Basketball Participation Certificate
Soccer Participation Certificate Template Download
Formal Meeting Participation Certificate Template
Free Printable Seminar Participation Certificate Download
If you are sponsoring or hosting training events such as seminars, talks, conference award the participants with certificate of participation. Doing so is very simple and easy procedure. Use a Participation Certificate Templates, Certificate Templates to design a fancy and professional certificate, which will make them feel special and appreciated.
Instead of wasting a lot of time and money to draft a certificate from scratch use the blank certificate template, Free Certificate Templates from the internet to design your own certificate on your personal computer by filling in the necessary information to already design template.
It is good to give your attendees or participation certificate so that may remember it or use it to add to their resume. Certification of participation acts as proof that an individual attended an event and participated. It contains the name of the attendee, the course he/she participated in, date and the names of the organization.