Meeting Minutes
Board Minutes Template – 11+ Word, PDF Documents Download
Our website gives you an extensive and wonderful range of sample board minutes template that can serve you a lot and can make your work interesting. These templates are available in beautiful patterns and styles that help you in beautifying your work. These templates have the proper formats that help you in making your work easy and they also save your time. You can also see School Meeting Minutes Template.
These templates are present in great quality and fine print that can always leave an impression. You have the choice of editing and customizing these perfect looking templates according to your need and choice. You can print them or download them from our website in PDF format. You can also see Minutes Template.
Simple Board Meeting Minutes
Premium Board of Directors Meeting Minutes Template
Regular Board Minutes
asbo.com
Regular board minutes deal with small type of meetings that takes place usually at a daily basis. These meetings are to be maintained as records, no matter how inefficient they are. When it comes to keeping a record of these meetings then the best option to choose is the Regular board minute templates. These regular board minutes templates deal with meetings such as the election of the general directors, the election of the managers, appointment with senior and junior officers and many more.
Special Board Minutes
Special board minutes deal with laws and rules and techniques related to the company that needs alteration. Be it a business or an alteration in the business process or something then the best way to take care of the records of such special meetings are by special board minutes templates. The special board meeting minutes deal with big decisions that need to be taken by the company; such as removal of the directors, alteration of laws and many more.
Executive Session Board Minutes
The sensitive and confidential, rather the private board minutes are dealt in the executive session board minutes. The matters that come into the executive session minutes are like the wages of the executive officers, the compensation received by staff, the deals and confidential letters that are to be discussed and sent to the company a deal is made with; all comes under the executive session board minutes. Other than that, if there is a decision, complaint or issue that needs to be dealt with, is also written down in the board minute templates under this category.
Board Minutes for Taking Actions
cieh.org
Every board minutes need to have each and every detail of the meeting that takes place. Whatever actions, discussions, and decisions taken during the meeting is noted down in the board minute templates for taking actions. If there is an action taken without the meeting, then even that is noted down under these board minute templates.
What is the Purpose Behind Using the Board Minute Templates?
The main purpose behind using board minute templates is to keep a record of all the possible actions that take place in a business agency, or company or a corporate office. Now when these templates are created, since they are either printed or attached to an online document, they can be referred to at any time under any circumstances. These board minute templates come in to handy since they act as a reference text for upcoming meetings or appointments. You can also see Board of Directors Meeting Minutes Template.
Corporate Board Minutes
nacdonline.org
Blank Board Minutes
apna.org
Writing Minutes for Board
Who can use Board Minute Templates other than Directors?
All the staffs, employees or business officers and directors present in the room can use the board minutes templates. The reason behind this is to keep each and every individual updated with whatever has been done and has been taken place in all the meetings. You can also see Committee Meeting Minutes Template.
Unit Board Minutes
web2.acbl.org
Official Board Minutes
bese.louisiana.gov
Draft Unapproved Board Minutes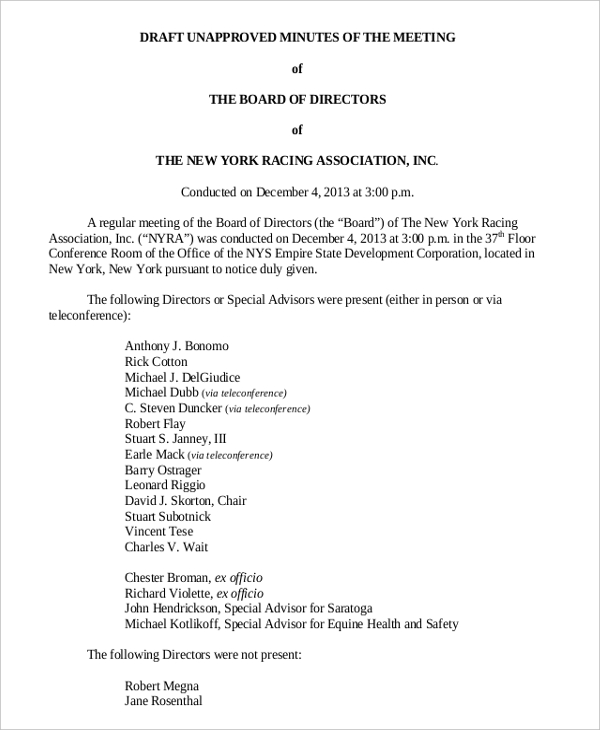 nyra.com
Does work get easier after using Board Minute Templates?
The board minute templates make work much easier for all the people using them. They do not need to be written down. These templates come with a common definite professional format that can be used as a standard template by all companies. Since they are predefined templates, one simply needs to fill in the mandatory details and complete their board minutes. You can also see Free Meeting Minutes Template.
In Short We Conclude
The templates provided by us have been precisely designed by professional designers on the grounds of professional formats. If there are any alterations that need to be made, then the suggestions are openly negotiable. These templates are available in all types of formats such as PSD PDF, MS word and excel.