Time is valuable and if you have got a meeting round the corner then you will certainly want it to be precise, to-the-point and timely. One of the best possible ways to materialize this is to use a Staff Free Meeting Minutes Template. These are neatly defined documents that include details about attendees, subjects to be addressed and time slots allocated for different topics. The use of this template ensures the hitch-free materialization of staff meetings. With this template, you can make sure every topic is touched upon with precision while keeping the duration in check. The best thing about these templates is their ready availability online in customizable formats.
Sample Staff Minutes of Meeting Template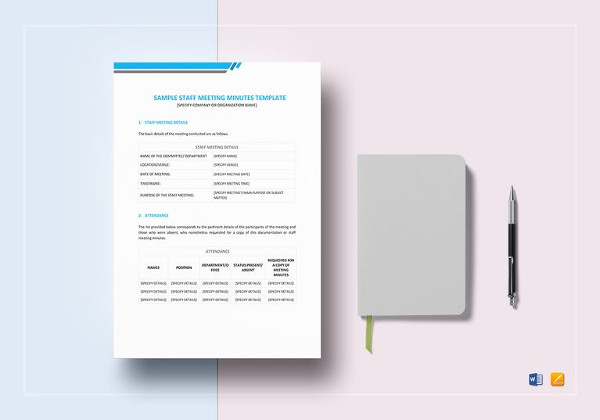 Download Now
Minutes for a Formal Meeting Template

Download Now
Team Meeting Minutes Template

Download Now
Editable Business Meeting Minutes Template

Download Now
Project Meeting Minutes Template to Edit

Download Now
Corporate Meeting Minutes Template in iPages

Download Now
Committee Meeting Minutes Word Template

Download Now
Sample Staff Meeting Minutes Template
School Staff Meeting Minutes Template
Staff Meeting Agenda Template
Sample Staff Meeting Minutes Template
bostonpublicschools.org | Sample Staff Meeting Minutes Template is a detailed template with all the required details being addressed. The objectives in neat pointers and the division of time, minutes and activity will leave nothing to guess.
School Staff Meeting Minutes Template Format
The best way to get prepared for a School staff meeting is to have a School Staff meeting template at your disposal. It is a simple document that includes details like location, time and other important specifications of a staff meeting. These templates have been designed keeping in mind the purpose of a staff meeting. So, you don't run the risk of missing out on any important aspect of the meeting.These are easily available over the internet and you can grab one as per your requirements from the available choices. Owing tothe support itextends to school staff meetings, a School Staff Meeting Minutes Templatecan be considered a must-have.
Staff Meeting Minutes Template Sample
vhitrec.org | Staff Meeting Minutes Template Sample has the agenda details on the top and then the rest of the information is presented in a boxed layout. Download this format for a complete document.
Staff Meeting Minutes Template Example
ferris.edu | Staff Meeting Minutes Template Example is divided into two parts. The top half is just for the meeting details such as location, timing etc while the lower half addresses the meeting purpose.
Sample Staff Meeting Minutes Free Download
Sample Staff Meeting Minutes Free Download contains two boxes with date, attendees and facilitator details in one and the agenda items in the second one along with the allocated time.
Example of Weekly Staff Meeting Minutes
If you are looking forward to a weekly staff meeting and in no mood to miss out on its important aspects, then you should opt for aWeekly Staff Meeting Template without a second thought. It's a standard document elegantly designed to suit your purpose. These templates include every minute detaillinked to the meeting and will not leave you guessing for anything. They also allow you to customize and use them according to your specific needs. You should invariably refer to these templates for quality results.
Tired of trying to remember what problems need to be addressed and what decisions need to be taken? This collection of templates is full of tables and texts in order for you to classify the different aspects discussed. You may also like to take a look at our meeting minutes templates. They are available in different designs and layouts and you will be sure to find one suited to your needs.
Why Staff meeting templates?
A meeting involves a group of people that discusses on subjects of interest. The fact that staff meetings have become mundane over time makes it challenging for participants to develop interest in any of the discussed topics.Chaos and lack of order only add to staff meetings' dying popularity. So, the need of the hour is to make them interesting by allowing them to progress according to its set agenda.Making a staff meeting sticks to its agenda is possible only with a staff meeting minutes template. With a staff meeting template you can assign each and everyone a time slot to share their views. In short, these templates are a boon to organizations such as a school.
Staff meeting template is essential for all kinds of staff meetings. You can choose to pay money for your download or search for options that offer free services. No matter which option you choose, you should look to getting quality templates only. They are absolutely easy-to-use and hence, can be used by anyone.
If you have any DMCA issues on this post, please contact us!