Meeting Minutes
Board of Directors Meeting Minutes Template – 12+ Sample, Example Format Download!
Business meetings and discussions involve a lot of pressure and stress that one needs to go through while making a final decision for a particular issue. Since meeting includes a lot of professionals directors and business stakeholders, each one of them having different mindsets and ideas, it becomes highly important to keep a record of everything that has been shared and discussed.
Tracking the important headings and recording the quotes said by critical analyzers is imperative to ensure that you and your business progress in the right direction. Our board of directors meeting minutes template serves as a perfect solution to document all of the important findings of the meeting without taking any extra stress. You can easily record, create, and prepare a detailed layout of the meeting minutes and share it across for future referrals.
Premium Board of Directors Meeting Minutes Template
Easily document important information that has been discussed during the Board of Directors meeting by downloading our professionally designed sample template. This premium ready-made file is customizable to suit the culture and purpose of your organization. Using this legally compliant board sample document will make things simpler and convenient for you as it has everything you'll ever need for a meeting.
Sample Board Meeting Minutes Template
Make a detailed report for an upcoming board meeting by instantly downloading and using our sample "Board Meeting Minutes Example" template. This ready-made sample meeting minutes template will help you create an effective meeting minutes document to record what will be discussed in the meeting. It is also compatible in the available file formats presented so that users can easily use and customize the document to suit their needs.
Minutes of Meeting of Directors First Template
During a board meeting of directors, decisions are made that tend to have a great impact on the status of the organization, which is why it is necessary to treat every minute with utmost importance. Ensure that everything is in place when you make use of our customizable "Minutes of Meeting of Directors First" template that has professionally written content. Download it onto any of the file formats now!
How to Plan the Board Meeting Minutes in 5 Steps
Step 1: Make a List of Attendees
The first step to do when it comes to planning a board meeting minutes is to make a list of the attendees of the meeting. Write the name of the board of directors along with their contact details and status indicating if they're present or absent for the meeting. After that, make a list of other participants who will be attending the meeting along with their respective designations.
Step 2: Call to Order
Next, specify the name of the person who has presided over the meeting along with the time that has been decided for the meeting. Followed by this, insert a copy of the previous minutes of the board meeting.
Step 3: Report of the Head
After the call of order, present a report of the president by listing the meeting minutes agendas. Any points that have been emphasized by the president in relation to the financial status and operational dynamics of the organization should be mentioned as well.
Step 4: Budget Plan
The relevant points that are discussed in terms of the budget plan should be stated in this section. The questions that are raised in the meeting along with any terms that have been agreed upon should also be mentioned. You can make use of a tabular column to keep your presentation neat.
Step 5: Announcements and Follow-ups
Towards the end of the plan, specify the agreements along with announcements and other important matters that have been discussed in the meeting. End the plan or report with details mentioning the adjourning date as well as the subsequent date.
Editable Board Meeting Minutes Template
Sample Board of Directors Meeting Minutes Template
Sample Minutes of Meeting of Directors Template
Board of Directors Meeting Minutes Template Example

frontiersd.mb.ca|
Board of Directors Meeting Minutes Template has a large space allotted for the logo followed by the minutes, and the meeting details such as location, date, and timings of the meeting.
School Board of Directors Meeting Minutes Template Format

charterschooltools.org|
The above-shown "School Board of Directors Meeting Minutes" template is a well-written template that helps you to record and monitor the thoughts that are shared in the general body meet and helps you trace down the progress of the projects discussed. The minutes of the meeting template enables you to record almost everything in detail along with the names of people who have quoted a particular instance or solution to the problem. You can easily customize the template to meet the particular culture and desired purpose of the organization's meeting agendas. Since there is no standardized level of content and format for board minutes, this highly customizable and personalized meeting minutes template is ready to cater to all your requirements associated with keeping a record of a particular school board meet.
Board of Directors Meeting Minutes Sample

educause.edu|
Board of Directors Meeting Minutes Sample gives attendant details and other members present followed by the president's report and retired member's details.
Board of Directors Meeting Minutes Template

Board of Directors Meeting Minutes Template has a refreshing design that addresses the attendance, the president's report, and the consent agenda, amongst other details.
Church Board of Directors Meeting Minutes Template

ecfa.org |
The Church Board of Directors Meeting Minutes Template lists all the important and crucial items that are required to be discussed in the meeting. The template includes a lot of other layouts including free Board Meeting Minutes, Board Member Portfolio, Sign-In Sheets, Church Name Change Form, and other important templates to ensure that you do not find any hassle while noting down the important findings of the meet. The board meeting minutes serve as a quick guide to the church board members and helps them to understand what was discussed in the previous meet or session. Additionally, maintaining minutes of the meeting also helps you to avoid a prolonged, unorganized, and boring meeting with great ease.
Corporate Board of Directors Meeting Minutes Template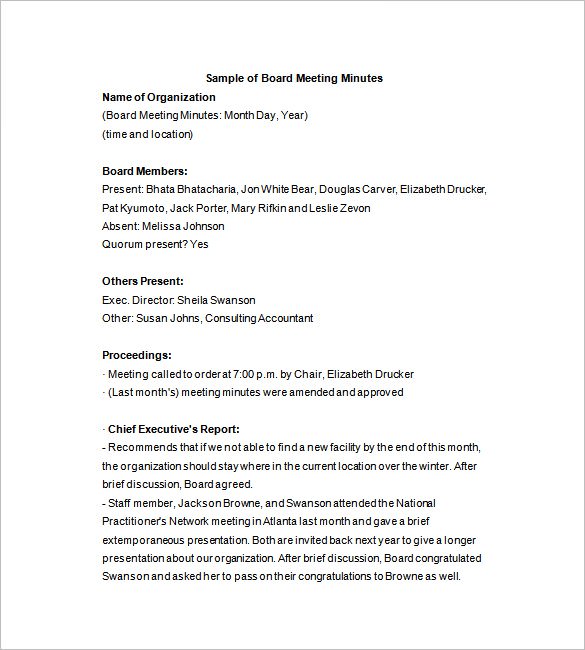 managementhelp.org|
The Corporate Board of Directors Meeting Minutes Template is one of the best solutions to keep track on all the important findings and notions of a particular business meet. Since the board of directors for a corporation holds an annual meeting, you can easily use these templates to record and present the details of the past year without missing a single entry. Presenting a detailed meeting minute at the beginning of the corporate board meet helps all the stakeholders and business owners gain a quick recap of what all has been shared in the previous meet. Additionally, the detailed document also helps them to decide on actions and strategies that the organization will be following in the next year to experience immense growth.
First Board of Directors Meeting Minutes Template
Board of Directors Meetings Minutes Template includes layout, designs which facilitates a quick yet thorough proceedings of the meeting. It will let you include all the vital decisions taken during the meeting and also will let you assemble them in chronological order for ease in future use. So try our well-designed templates for a smooth minute recording. (Also, see meeting minutes template)
Conclusion
All of these templates are available in various MS Word and Adobe PDFs versions to meet your desired purpose at large. It is important to consider that a board of directors meeting is indispensable, and you must record all the proceedings for future use. These templates enable you to get an attractive, professionally-designed, and detailed meeting minutes without spending a single dollar from your profits. Since there will be a large number of free templates available over the web, you can easily choose the one you need and transform it as per your requirements.