Board Meetings hold more importance than the normal meetings. It's because they assemble all the sample board members at one place to discuss the game-changing plans. Also, Board Meetings hold the center stage in electing the potential decision makers through a voting system. Because of this reason, Board Meeting minutes need to be captured so acutely. And there is no better way of doing it than recording the minutes template. Below are some Board Meeting Examples.
Editable Board Meeting Minutes
Sample Board of Directors Meeting Minutes Template
Printable Board Meeting Minutes Template
Simple Board of Directors Meeting Minutes Template
Easy to Edit Annual Meeting Minutes Template
Minutes of Meeting of Directors Template
Business Meeting Minutes Template
Church Meeting Minutes Template to Print
Corporate Meeting Minutes Template in Word
Editable Minutes for a Formal Meeting Template
HOA Board Meeting Minutes Example
goldpoint.com
Are you a part of HOA (Home Owners Association)? If yes, how does your community go about with the shared and common amenities? How do you record the actionable points in your board meetings. This HOA Board Meeting Minutes Example helps you note the challenging and rewarding points associated with your board meetings.
Non-Profit Board Meeting Minutes Example
bigsurcharterschool.org
Non-Profit Board Meetings encourage participation of all board members such as Treasurer, Vice-President, Managing Director, Vice Chairman, Chairman, Secretary, President, etc. These meetings are conducted to discuss copious things in detail. Are you looking for a Non-Profit Board Meeting Minutes Example? Here's what you should look at.
Advisory Board Meeting Minutes Example
colorado.gov
Any success in business is a cumulative effort. That said, the essence of valuable suggestions and advice is priceless. In this regard, an effective Advisory Board acts as a stupendous ally for any organization. But are the minutes getting recorded? Pick this example and have a real-time check.
Annual Board Meeting Minutes Example
statoil.com
Is your Board getting ready for the Annual Meeting? Then don't let the discussed points slip like sand (you know how it slips through your hands). If you want to escape from the ill-fated occurrence, track the show with this annual board meeting minutes example.
Church Board Meeting Minutes Example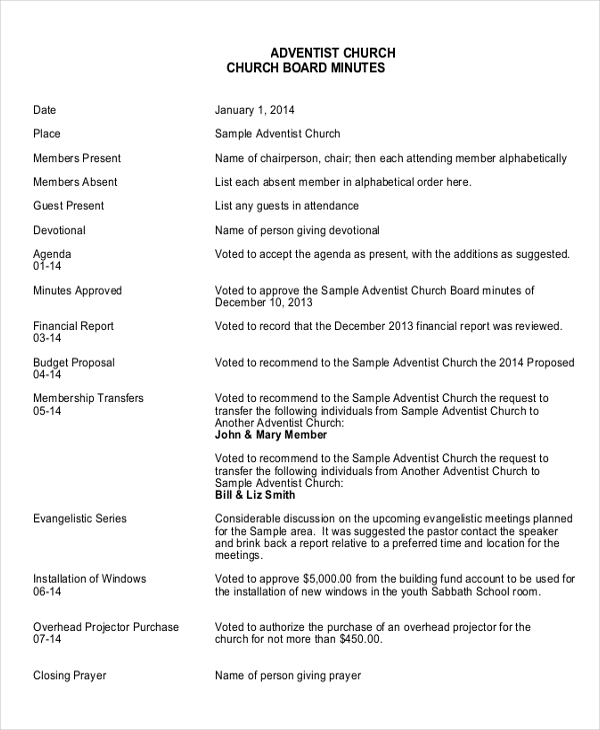 squarespace.com
Church Board Meetings are mostly filled with elders and the topics that come to the discussion are 'business items' rather than the reality of Christ. Equip your Church Board with this Church Board Meeting Minutes Example for an effective discussion.
First Board Meeting Minutes Example
agence-public.coop
Is the stage all set and the curtains about to rise for your company's First Board Meeting? Then empower it with this First Board Meeting Minutes Example. Remember 'He who is well prepared has half won the battle'.
Management Board Meeting Minutes Example
dcya.gov
Board and management are distinctly different. While Board fosters growth and development of a firm, management, on the other hand, tries to enforce the governance. Management Board Meetings are generally convened by the Chairman or Chairperson. They help the management to come to preliminary conclusions. As a rule, the management meets a certain number of times every year. This Board Meeting Example is a great read out for newly funded companies.
School Board Meeting Minutes Example
schoolzineplus.com
School Boards serve their communities in several ways such as overseeing the students, corroborating the school programs, ensuring that the boards are accessible to the public, etc. This School Board Meeting Minutes Example is an education watchdog. Put it to the job now.
Monetary Policy Board Meeting Minutes Example
boj.or
Policy Board of Directors (PBD) is another decision-making body that takes the right action on key matters affecting the interest of the organization. It is responsible for the policy making and reshaping. However, you cannot conduct policy board meetings on just the trust policy. There should be a proper checkpoint to assess and evaluate the action work. This Policy Board Meeting Minutes Example can be used for all kinds of policy meetings such security policies, monetary policies, procurement policies, etc.
Example of Minutes of Bank Board Meeting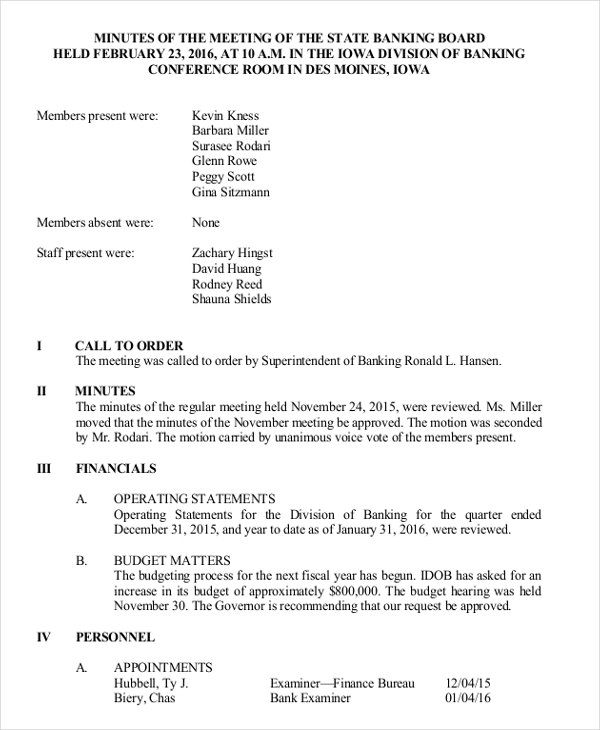 idob.state.ia.us
Bank Board Meetings discuss different ways out to manage the complexity and risks that are now present in the society. Is your current meeting going to represent the legacy of your Bank Board Meetings? This step-by-step minutes example is specially designed for Banks aiming new highs and to reach new milestones.
> Things to keep in mind while writing Board Meeting Minutes
Don't go digital. Use pencil and paper.
Don't record everything that you see and/or hear.
Listen for clues and ask for clarity.
Leave ample white space for later modifications.
Always use a positive language.