Meeting Minutes
15+ Non Profit Meeting Minutes Templates in Google Docs | Word | Pages | PDF
Minutes are a crucial element for every organization as they help you document the different aspects of a board meeting in a systematic manner. They also act as proof of the undertaken topics for discussion and important decisions taken by the board members in the process. Meeting minutes templates are an excellent tool for a hassle-free minutes document for your Non Profit organization.
Table of Content
7 Steps to Create an Efficient Non-Profit Meeting Minutes
Meeting minutes are important documentation of all the attendees and the undertaken decisions in a board meeting. They can be short and to the point or long and detailed as per the requirements of an organization or the specific event. Given below are 5 steps in which you can create well-structured meeting minutes for the next board meeting.
Step 1: Download and Use an Editable Meeting Minutes
Are you scared of leaving out any important points in the upcoming board meeting? Although meeting minutes are an essential procedure, they can appear to be a tedious task most of the time. Select from our wide range of minutes templates provided for your ease and convenience for achieving clear minutes.
Step 2: Write the Date, Time, Venue and Purpose of the Meeting
Meeting specifications like the date, time, venue and purpose must appear at first for the ease of attendees. This will ensure ease of reviewing a specific meeting in the future. Well-structured simple meeting minutes will easily help you create efficient minutes according to your liking.
Step 3: List the Meeting Attendees and Meeting Chair
Mention all the individuals attending the meeting. This task is made easy by business meeting minutes which can be edited to suit your preference. It is important you note down the names of all the present people and their key points of discussions for proper documentation of the event.
Step 4: List the Agendas of the Meeting
Agendas provide a direction to the meeting and therefore is necessary for minutes. By listing important agendas in board meeting minutes, you will see that the task of discussing and implementing them becomes easy. There is reduced confusion and a better understanding of tasks at hand if they are clearly mentioned.
Step 5: Provide Action Plans and Dates of Implementation
Listing action plans and their dates of implementation will help in the clear and structured recordings and understanding of the meetings. This process is important for reference purpose as well as future action plans will depend on it. You can even make simple family minutes for structuring action plans for both the present and future.
Step 6: List the Suggestions and Prospects
Action plans are not possible without proper suggestions as they are the ones which go through rigorous reviewing and discussions before being successfully implemented. You need to list the prospects for future action plans to shed light on the topics which need attention. Therefore include these options in your next meeting minutes.
Step 7: Close the Meeting Minutes
Check your minutes for errors to maintain accurate content. This will increase the value and reliability of the minutes. Mention your name as the minute's taker and sign the document after the process.
15+ Non-Profit Meeting Minutes Templates
1. Non-Profit Meeting Minutes Template
A printable nonprofit meeting minutes template will make it easy for one to understand where the organization stands and what it needs to further do in the future. This will help the nonprofit to have a clear understanding of its achievements and further its goals. By using it as a reference, the areas in which the organization needs improvement will also become evident.
2. Non Profit Organization Meeting Minutes Template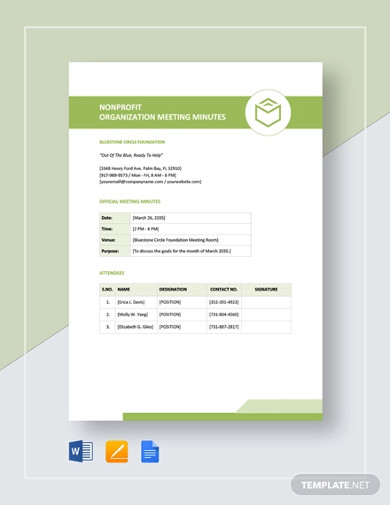 Use a non-profit meeting minutes template to properly create the format and draft the undertakings of the meeting. It will give direction to further discussions and action plans required to be done by the non profit. The task is made easy by the given template and it also has scope for further customization according to the needs of the organization.
3. Free Non Profit Meeting Minutes Template
Our free meeting minutes templates are print-ready and easily customizable. Keep a track of all the activities in a structured manner and use it for both official and personal purpose. This template helps provide ease of use and organized recordings of meetings as per your preference.
4. Free Non Profit Board Meeting Minutes Template
Make use of the simple yet detailed free non profit board meeting minutes template in Word which covers all the important aspects of a board meeting. It makes the process of documentation a non time-consuming one. Even though it is well-formatted you are given the liberty to quickly edit the document easily.
5. Free Non Profit Board Meeting Agenda Template
This extremely easy yet equally helpful non profit board meeting agenda template will make sure you do not break a sweat while drafting all the activities in the meeting. All you need to do is fill in the information in the easy format of the template. If need arises, you can easily edit the document.
6. Nonprofit Corporation Meeting Minutes Templates
A corporate minutes meeting template helps in drafting important plan of action in a meeting. It can be be used well for professional use. You will easily be able to document the important undertakings of the meeting. Further, it will give you ease of reference for future use.
7. Nonprofit Board Meeting Minutes in PDF
With the help of a board meeting minutes template, you can easily record the undertakings of such meetings which require much detail and accuracy. Board meetings are very important and require extreme care as an organization's board members can carry out major plans.
8. Sample Nonprofit Meeting Minutes Template
A non profit meeting minutes sample template will provide you a clear understanding of the achievements and goals of the non profit. This is important as there needs to be a constant communication between the various stakeholders and the organization. The trust is to be maintained and it comes through clarity of action provided in details in the minutes.
9. Nonprofit Corporation Meeting Minutes in PDF
Nonprofit corporation meeting minutes template provides not only the undertaken actions and plans in the meeting, but also provide a legal protection to the organization if need arises. Therefore it is important to justly maintain minutes for the smooth functioning of an organization.
10. Nonprofit Board Meeting Minutes Template
Board meetings are extremely important and crucial for organizations as a lot of significant changes are brought about through these meetings. It is therefore important to note down complete and accurate information. This helps in providing reliable documentation of the actions carried out by the board members.
11. Nonprofit Meeting Minutes Template
Confused about where to start? Here is a sample of a good nonprofit meeting minutes template for reference. Important points like who should write the minutes, what should be included, confidentiality issues and more are provided. So get this template in PDF now!
12. Nonprofit Meeting Minutes Example in PDF
Given non profit meeting minutes example template will give you a clear understanding of the content of the minutes and its importance. It is simple and to the point and great for reference. It is easy to customize too.
13. Basic Nonprofit Meeting Minutes Template
This basic nonprofit meeting minutes will provide you the correct format and a clear understanding of the commonly occurring error in creating a minutes. It is extremely helpful as a reference for your further minutes drafting.
14. Nonprofit Meeting Minutes Format in PDF
A detailed understanding of the nonprofit organization and the roles and responsibilities of the board members is provided in this nonprofit meeting minutes template. The duties and liabilities of the board members are stated as well to help you get a clear understanding of the nuances of such meeting minutes.
15. Simple Nonprofit Meeting Minutes Template
This simple nonprofit meeting minutes template provides you a gist of the various roles and responsibilities of a secretary. With an overview of the the various duties and accountability issues of the secretary, information on the importance of recording and maintaining communication by the organization brought to focus.
16. Nonprofit Meeting Minutes in PDF
Given nonprofit meeting minutes in pdf provides detailed information on the roles and responsibilities of a board member in a charitable organization. A board member is expected to have certain qualities and needs to commit to the cause since much power is vested on their shoulders. It is good to refer to the documents to have a better understanding of the nuances of nonprofit and to create a better meeting minutes for the purpose.
More in Meeting Minutes