Inspirational
31+ Amazingly Cool Coffee Arts that will Inspire you
Do you often admire the interesting artistic works topping over your cuppa at your favorite café? Well, coffee arts are really something demanding great precision and skill that command much kudos. Are you looking to explore some more artistic specimens on the steaming mugs? We are here with our fantastic list of stylish coffee art works that you just cannot miss. We have compiled a really cool list of coffee art works that are sure to please every coffee art lover out there. Our list is quite versatile and includes diverse designs ranging from leaves to faces to animals to celebrities to signs and so on.

Dog Latte Coffee Design
flickr.com | If you adore dogs and can't have enough of them, then this coffee art is sure to take you by surprise. Adorned with the cute face of an adorable furry creature, this art gives a whole new meaning to the cuppa. If you are a hardcore animal lover you would prefer to forego drinking the coffee.
Rosetta Best Coffee
The beauty of nature is ethereal and even seems surreal at times. The shapes of certain leaves can often leave you dumbstruck. Take a look at this coffee art that depicts a stunning design of a beautiful leaf. Created using cocoa powder and foam, the art is sure to enhance the taste of your drink.
Wave Heart Coffee
The waves in the ocean that come and go of their own accord can leave your heart aflutter. If you have a special love for oceanic waves hidden somewhere in your heart, then this coffee art surely depicts it well. One look at this would fill your heart with unexplainable joy.
Heart Plant Coffee
Plants are what help sustain life on earth. This coffee art which has been done up elegantly using cooca powder and foam depicts this aptly. This only enhances the look of the cup of coffee but also displays a truth of life that we often prefer to overlook in our busy schedule.
Tulip Coffee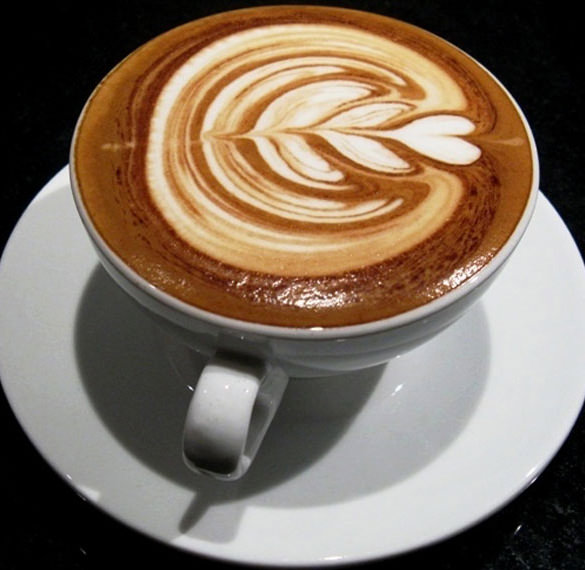 There is no denying the fact that tulips look mesmerizingly beautiful and fill our hearts with love and romance. Get this heady mix of feelings with a mere glance at the coffee art which depicts this romantic flower in a very apt and artistic way. Present this to the love of your life.
Love Presenting in Coffee
Want to open up your heart to that special someone in your life? Thinking of doing it in a very authentic and novel way? Well, why not depict the feelings in the hot cup of coffee with this beautiful coffee art. Your partner is sure to go all weak kneed on seeing this.
Best Bear Desgin Coffee
Ladies find teddy bears extremely adorable and can't help coo when they see one. If the love of your life is madly in love with these toys, then go ahead and surprise her by presenting her a cup of coffee with this coffee art. Depicting an adorable bear this is sure to make her heart aflutter.
Best Heart Coffee Design
When it comes to the matters of the heart, there is no hard and fast rule as to how you express these. However, doing this with a love poem or a bouquet seems to passé. Why not try this beautiful coffee art design instead? The art would speak volumes and get the message through.
Rabbit Coffee Art
There is hardly anyone who is not mesmerized by rabbits and the cartoon characters that depict these furry creatures. If you or your loved one is completely in love with rabbits, then this coffee art is surely for you. Adorn your cuppa with this art to add more fun to your coffee break.
Bulldog Coffee Latte Art
This amazingly stunning coffee art made from cocoa powder, foam and chocolate sauce would leave any coffee enthusiast vying for more. Get this done for your coffee, when you are celebrating a special occasion with friends. This art is sure to make the occasion more special and memorable too.
Heart Baby Latte Art
Burning Coffe Art
Flying Horse Coffee Design
deviantart.com
Snoopy Coffee Best Art
Catr Coffee Art
Swirly Coffee Design
thedesigninspiration.com
Mouse Coffe Design
metro.co.uk
Hypnotic Coffee Art
Old Man Coffee
Heart Design Coffee
Bear Latte Coffee Design
Flying Dragon Latte
Sad Coffee Art Design
Lion Coffee Art
Coffee Tattoo Art
Best Coffee Art in Cup
Butterfly Latte Art Coffee
Coffee Genie Art Latte
Loco Coffee Cappucino
Monkey Coffee Art
Leisure Coffee Art
twitter.com