Inspirational
22+ Amazingly Cool Paper Art Designs
"Art is not what you see, but what you make others to see"Yes! It's true. Art is an ultimate way to express your creativity. Different artists express thoughts in different ways. There is no end point to the art. From sand sculptures to tattoo designings, artists are trying to express creativity in numerous ways. One such is Paper Art Designs. It is an inexpensive art form. An artist requires a paper and scissors to create an amazing paper art designs. Next time, if you find some time take a piece of paper and try to mold that paper into some creative piece. Till then, have a look on some beautiful and mind blowing paper art designs.
Het Parool – World Cup Paper Art Design

Source The love for Football is very ingeniously portrayed in this World Cup paper art design. If you look closely, you can see the amount of attention given to each and every detail in this design.
Download OREO – Flavor Love Paper Art Design

Source This cute and creative paper art design of Oreo looks as good as the real thing. Seeing the texture of the biscuit, I would never have imagined it as a paper art design.
Shoes Up – Flora Paper Art Design Download

Source Inspired by nature, this is a gorgeous paper art design of flowers, shining bright on the cover of Shoes Up magazine. The amount of time spent in perfecting those details is praiseworthy.
Paper Art Design Happy Snacks

Source This paper art design is a treat for all snacks enthusiasts. It is creative, colourful and an absolute perfection. Especially the way those individual pieces have been suspended to bring the entire design together.
National Hotdog Day Paper Art Work Download

Source A simple yet creative design to honour the National Hotdog Day. Those grill marks on the sausage were an absolute must. It makes the sausage look more natural, real and ready to eat.
Paper Art Design Inspired by the Classics

Source Crafted for a new breed of gentleman, this paper art design targets a new generation of stylish, young entrepreneurs, in the early stages of their promising careers, who are ready to suit up in a clever way.
Paper Art Nearly Normal Fruilt Calendar

Source This paper art design is a part of a calendar made for Nearly Normal, a creative company in the centre of London. It definitely brings something extra to the calendar. What do you think?
Interactive Paper Craft Art Design

Source This is a handcrafted infographic made entirely of paper. This interactive illustration describes the story of the artist's project about bringing together analogue and digital media in a whole new way to create a thrilling reading experience.
Hummingbird Paper Art Design Download

Source The colour combination used in this paper art design is creative and looks so beautiful. The vertical cuts on the feathers is pure genius. It makes the entire design look more real and lifelike.
Paper Craft for Wipro Winsights Art Free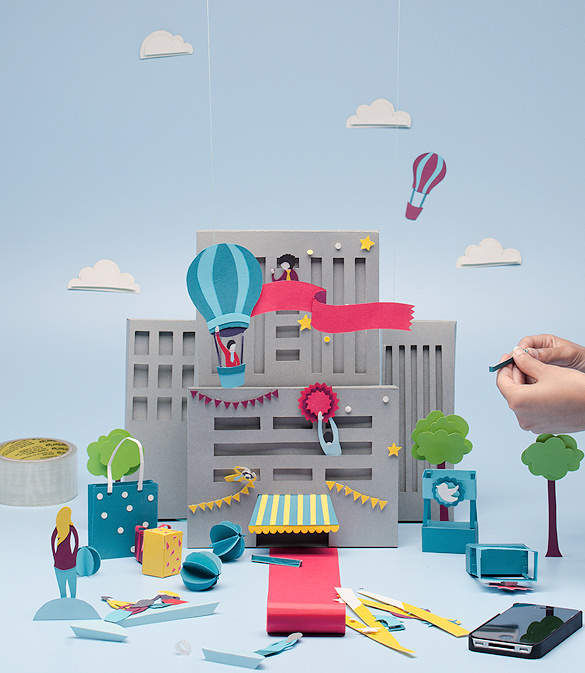 Source This design focuses on the consumer. Today, consumers are smarter, more demanding, and more opinionated than before. The art metaphorically highlights how businesses are rigorously working towards building their relationships with their customers.
Paper Chef Rubio Art Design Download

Source This is a very amusing and witty illustration where the chef is trying to cook the stubborn Octopus who just doesn't want to go in. Love the colourful and visually attractive crate full of veggies.
Hipster Art of Papercut Design

Source This cool hipster paper art design is so fun and quirky and groovy. Loved the clever use of small black strokes to indicate the texture of the beard, and the tattooed hands.
Slow & Low Paper Art Work

Source This is a simple and minimal paper art design work where the artist is trying to portray his slow start in this field. And according to him slow and steady wins the race.
Paper Sculpture of Famous Monuments Download

Source The artist here has created a paper art design of different famous monuments across the world. Some of them include The Big Ben, The Taj Mahal, The Twin Towers etc. It is a great concept.
Just "Make" It Design Paper Art

Source
Snask – Show What You do Best Paper Art

Source
Map of Colombia Paper Art Design

Source
Oupas Camera Paper Art Design

Source
Pizza & Chill Paper Art Design

Source
Alimenta Tu Imaginación Paper Art Design

Source
Back to Basics Electronic Gadgets Paper Art

Source
Creative Lemons Videography Paper Art Work Download

Source
Ciudades Imaginarias Paper Art Work

Source
Paper Pizza Party Art Design

Source
> Conclusion
Paper art designs can be very tricky to make. There are many paper art designs tutorial online which can help you to make paper art cards, paper art crafts or paper art blogs. Another type of art is quilling paper art designs made of quilling strips. After all, art is an ultimate way to express your creativity.
More in Inspirational