Inspirational
02+ Easter Nail Designs
Easter is one of the best times of the year. It's a grand celebration no doubt. A festival of this caliber obviously calls for you to deck up fashionably. While you may wear the spiffiest of apparels on the day, it seems totally legit to spruce up your nails as well. There are heaps and heaps of Easter Nail Designs out there to inspire and impress you. You could pick between subtle and elegant designs or bold and unconventional. You may also see Easter Card Template To help you, we have handpicked the latest Easter Nail Designs examples trending these days! Take a look and be blown away!

Easy Easter Nail Designs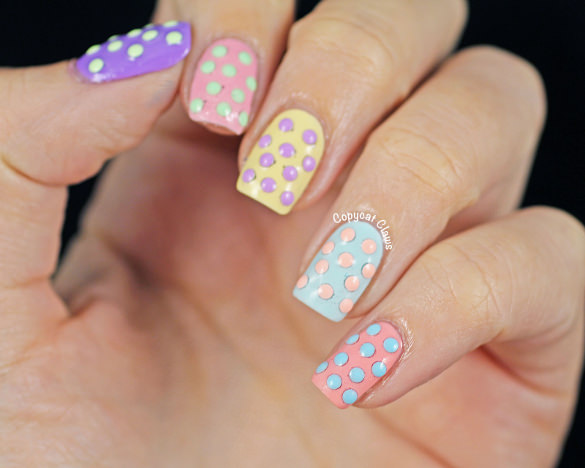 goodhousekeeping.com This design features contrasting colors in the evergreen fashionable polka dot style. The finished look is both classy and elegant. In spite of being so stylish they are relatively easy to paint on one's nails. Colors feature violet, sky blue, pink and yellow.

Easter Nail Art Praktic Ideas
prakticideas.com The very essence of Easter is the bunny, or namely the Easter bunny. This design incorporates the Easter bunny in a cute yet simple fashion. Design features broader thumb nail for a face and two fingers (middle and ring) with ears.

Stylish Easte Nail Designs
This design plays on colors and patterns to bring out the Easter egg shell look on ones finger nails. It is easy to paint as most people have a practice of drawing on Easter eggs, and if done properly look extremely stylish and trendy.

Victoria's Secret Bikini Nails Design
frame.bloglovin.com This design inspired by Victoria's Secret is a swimwear for your nails. The design features a base coat of paint, preferably gold in color and adorned on the top by parallel colorful lines. To be done with a steady hand for best results.

Best Easter Nail Art Design
allforfashiondesign.com This may possibly be one of the more intricate design patterns themed around the Easter holidays. Here all the nails form a canvas together to paint one picture. A picture depicting the colors of life, the joyfulness and beauty there is to life and the beginning of life.

Easter Bling Nail Desings
nailartgallery.nailsmag.com For those who prefer a bit of bling and flash to their nails, this design is sure to be a hit. Using an array of materials heavily tinted towards pink this unique set of nails can be yours. The design features small faux diamond stones along with glitter nail polish for the extra bling effect.

Pastel Easter Eggs
This sublime is design is just right for those who prefer the quiet beauty prevalent in nature. Using mild shades of blue, yellow and green your nails can feature a grassy outlook as seen during day time or night. This requires a certain level of expertise to bring out the beauty in such simple strokes.

Nails Film for Easter
unhas-decoradas.org This design is one that is reserved strictly for the professionals. The design imbues a detailed cartoon drawing of two rabbits sticking their head out of a chocolate egg while the text reads "Feliz Pascoa". The design is cheerful, festive and guaranteed to turn heads.

Easter Nail Designs Free
These nails are preferred by those who want free from the orthodox nail designs of our world. The design is centered on square cut long nails with a glossy coat. The tips are then decorated with two types of glitter for added effect. Pink glitter and silver glitter shards are used.

Easter Nailswag
Enailcouture.com Another design that is strictly for the professionals. With the aim of turning your nails into a jewelry item or accessory this design features an elegant gold finish coat of paint then decorated with studded faux diamonds. The design flows through all 5 fingers.

Easter Pink Nail Design with Egg
akamaihd.net This design is one of the classics, a pearlescent shade of pink. Simple yet elegant is the design mantra for this piece. The design is suitable for persons of all ages and tastes and preferences as it is both easy to draw on as well as a head-turner.

Glitter Nail Design for Easter
Another glitter based nail design. This particular one relies more on refined taste rather than a large abundance of glitter to crowd the limited canvas of the fingernail. A glossy rosy pink tinge is then decorated with mild amounts of gold glitter and multicolored tiny stones.

Easter Nail Art
This design is a classic mix of the popular pink and sullen black. The pink or salmon color is drawn as the base and the black is used to draw shapes and sceneries upon it in minimalistic style. This particular design features butterflies and flowers to celebrate Easter.

Nail Art for Easter
instagram.com This is a 3d design using all three stylish elements for fingernails, namely polish, glitter and decorative stones. The base color is a glossy pinkish hue covered by golden glitter. Then above that the stones are added for further effect of both color and texture.

Nail Designs for Easter
This is a very unique design using the technique of scraping the nail polish of your finger nail to form various designs. This specific design features straight lines drawn into simplistic two-dimensional shapes like triangles and straight lines. Though easy to draw, this design is extremely stylish.

Easter Nails and our BeBe Bartoons
instagram.com This Easter nail art design is based around the bartoon BeBe and it's characters. Popular designs under this include a lady bug, a panda bear, and an elephant. The color palette used is pink, blue, shades of yellow and green.

Nail Art Designs for Easter
instagram.com This design is an excellent balance between the 3d nail designs and simple one-colored nail designs. 8 of the nails are decorated is a graduated hue of light and deep purple. While the two ring fingers host a design of bunnies made with stones and other 3d materials.

Easter Fingernail Designs
One of the simpler designs playing on the Easter texture. This design features teardrop polka dots in white on multicolored backgrounds. This is joined by a bunny upon the ring figure drawn with white and black nail polish upon a pink background.

Easter Nails Design
This is a very cute design perfect for your fingernails it features two major shades, pink and white. One finger portrays a sleeping bunny while the other is seen as munching on a carrot which is drawn on the broader thumb fingernail.

Nail Art Easter Designs
This design is featured on a silver background and captures the effect of Easter quite beautifully. The nails portray alternative patterns on Easter eggs and cute white bunnies with pink cheeks and noses. Very easy to draw and quite stunning when finished.

Easter Egg Nail Art
This design is aimed at those who have exceedingly long fingernails. The nails are given a special tapered shape and painted a bright pink shade. The ring fingers are then decorated with an added coat of golden glitter to bring out the style and contrast

Easter Bunny Nail Art
This is a very cheerful and colorful design using minimalistic approach to your nails. The colors used here are purple, sky blue and sea green to make exotic spiral and triangular patterns on your nails. The finished design has high aesthetic appeal and looks extremely neat. If you have any DMCA issues on this post, please contact us!